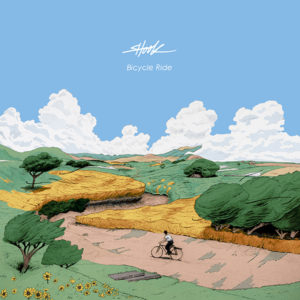 SHOOK is Jasper Wijnands, a composer, producer and musician based in The Netherlands.
His life took a turn when he was diagnosed with Pancreatitis in 2016, but during his illness, he remained determined to continue making music. The follow-up to his previous album 'Continuum', Wijnands has musically documented his journey to recovery on 'Bicycle Ride'.
Influenced by jazz and anime soundtracks, the music of SHOOK captures a moody virtuoso ambience, recalling AIR and RYUICHI SAKAMOTO.
This template is no better represented on 'Wind On The Water', a marvellous instrumental passage with gentle piano and calypso flavoured synth textures. On 'Love Trip', Wijnands brings his own voice into proceedings and compliments the optimistic mood of the album started with 'Wind On The Water'.
Capturing latter day CHINA CRISIS, 'I Will Be There' features the vocals of Juliet Klaar for a story of reassurance in love through hardships; it's a beautiful piece that shows an appreciation for the simple things in life.
Wijnands said:"During my recovery I spent a lot of time with my dear Juliet. She was always there for me during my illness. It felt natural for us that we made a song together. We spend many days together in our living room / music studio, and we wrote lyrics and recorded together until the late hours which resulted in the creation of 'I Will Be There'."
With a sweet melody and pulsing arpeggios, 'Hello Sky' is another instrumental that projects optimism and the high feeling of life itself. Meanwhile, the synthy cacophony of 'Deep Dive' is marvellously padded by some swimmy string machine and provides some rhythmic swing.
Bringing some acoustic guitar into the mix, 'Close Your Eyes' adds some AIR, especially with its gorgeous feminine whispers, while the self-explanatory 'Between Spaces' would be ideal company for a peddle past some meadows. In fact, if the sounds used were just a little more avant garde, this wouldn't be far off Alison Goldfrapp and Will Gregory's soundtrack for 'My Summer Of Love'.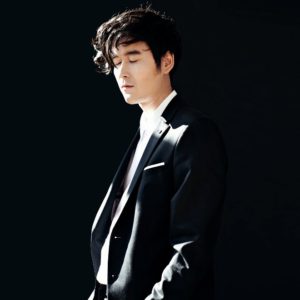 To close, there is the 'Bicycle Ride' title track itself, a tuneful oriental tinged piano dominated piece that Sakamoto San probably wouldn't have minded composing himself.
Jasper Wijnands makes good use of his vintage keyboards and modern tech throughout the record, reflecting his positive spirit in the face of adversity.
Leagues above the majority of that dreaded chill-out music which afflicts many beach bars, 'Bicycle Ride' should be on the playlist for your upcoming summer vacation.
SHOOK plays the following instruments: DSI Prophet 08, DSI Prophet 12, Roland VP550, Fender Jazz Bass, Korg Polyphonic Ensemble PE1000, Yamaha CP70B Electric Grand Piano, Moog Minimoog Model D, Moog Polymoog 203A, Arturia Minibrute, Yamaha Acoustic Guitar, Yamaha Stage Custom Drums
---
'Bicycle Ride' is released on 26th June 2018 in CD, vinyl LP and digital formats, pre-order via https://shook.bandcamp.com/album/bicycle-ride-lp
https://www.facebook.com/shookshookshook/
http://instagram.com/shookmusic
---
Text by Chi Ming Lai
23rd June 2018