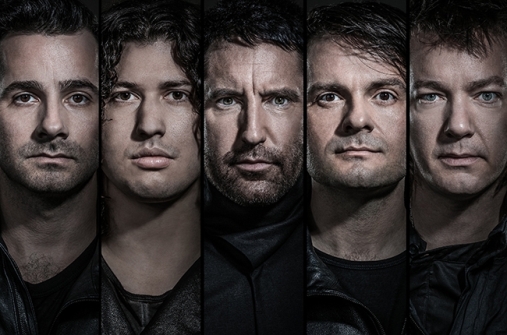 With the decline in physical music sales and the pressure on artists to generate revenue from the live shows, the paying public now has much higher expectations when it comes to seeing a band live.
With gig ticket prices rising steadily and the re-sale market taken into consideration too, the desire to see your favourite band often sees your bank account taking a serious hit.
For that reason you would have right to expect value for money, not just in terms of show length, but how the visuals are presented. The image of NINE INCH NAILS (from both a design aesthetic and the act as a live experience) has shown just how much Trent Reznor cares about the visual identity of the band – with the birth of the 'Tension' tour in 2013, it was his intention to create a show which created a film-like experience for the audience, that "started off one-way and then musically and visually evolves to keep your attention".
Prior to their retirement in 2006, the NIN live experience back then was often a sensory overload, with the band playing behind a large net screen for some songs with huge projected images overload on top of them. This was taken a stage further on the initial 'Tension' dates using an innovative LED curtain which dropped in front of the band upon which computer generated graphics could be overlayed.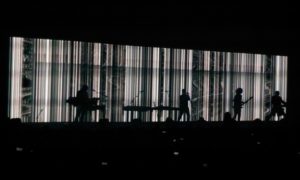 Unfortunately, this element of the show has been dropped for this part of tour, but even without this, the tour really sets the standard for how live electronic / rock music should be put across with Reznor investing a huge amount of his own money into the lighting so that it fulfilled his vision. What is also interesting is how fluid this process is.
For some acts, it would be tempting to stick to a winning formula and use the same lights and songs for a long world tour, but at the risk of the process becoming playing by numbers after several dates. On this tour, songs are regularly rotated, so for the fan happy to follow the band and catch several dates, there is the added bonus that it remains a fresh show experience for them too.
Joining Reznor onstage are long-term cohorts Robin Fincke and Alessandro Cortini, sadly missed however was the legendary Pino Palladino who played some 2013 dates. But his shoes were ably filled by Cortini, Fincke and drummer Ilan Rubin who were interchangeable on their instruments, switching effortlessly between guitars, synth and bass throughout the evening.
Tonight's show gave the band an opportunity to showcase material from all stages of their career, with the more recent material from 'Hesitation Marks' slotting in well alongside older tracks from 'Pretty Hate Machine' and 'The Downward Spiral'. Opening track 'Somewhat Damaged' from 'The Fragile'opened the show, its ascending four note guitar riff giving way to layers of electronics and pounding drums from Rubin.
At a NIN show there are some songs you are guaranteed to hear, early on this included the now familiar one-two sequence of 'March Of The Pigs' and 'Pigs', despite the thematic link, both tracks polar opposites of each other, the first being a dynamic call to arms, the second a slower, loping, more melodic track.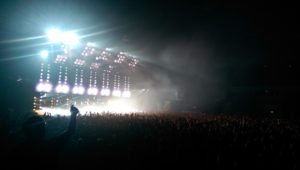 With 'The Great Destroyer', NIN turned the Nottingham Arena into one massive club venue, with Reznor and Cortez both behind a bank of electronics, warping and glitching the extended outro for the song, silhouetted against a shifting LED backdrop. Fan favourites 'Closer', 'Hand That Feeds' and 'Head Like A Hole' were saved for the latter part of the set, before the band closed the show with 'Hurt'; despite nearly being ruined by a mass out of time clap-along, this as always proved to be the perfect gig closer.
An anthemic yet, brutally honest song famously covered by Johnny Cash, it was a crashing climax sealing an astonishing show. Although not quite measuring up to the last RAMMSTEIN tour in terms of being an out-and-out jaw-dropping spectacle, this tour has raised the bar for how electronic and rock music should be presented live.
The instrumentation was perfect, live drums were used when they were needed and not added in to try and reinforce that "we are now A ROCK BAND" a la current DEPECHE MODE, plus there was barely any audience communication as it wasn't needed; the music and the visuals on show did all the talking.
The only negative that could be applied to tonight's gig is that having seen footage of the earlier 'Tension' shows, these ones are certainly stripped back in terms of budget and lack the variation of the moving screens. The original references to TALKING HEADS iconic 'Stop Making Sense' are sadly gone too, probably a financial decision, as it has become apparent in interviews that the earlier full-blown shows, despite being completely mind blowing were losing money due to the production costs involved. Even taking all of this into account, this is a tour that people will be talking about for several years to come, a real sonic and visual treat for the senses.
The best way to sum up this show review is to leave you with a few words from REPUBLICA vocalist Saffron who witnessed the London O2 Arena date: "Now that's how it's done..! NINE INCH NAILS were amazing at O2. Extraordinary sound and lights. If your ambition isn't to present your music as well as this, give up……"
---
NINE INCH NAILS tour North America throughout Summer 2014
https://www.facebook.com/ninofficial
https://twitter.com/nineinchnails
---
Text and Live Photos by Paul Boddy
7th June 2014