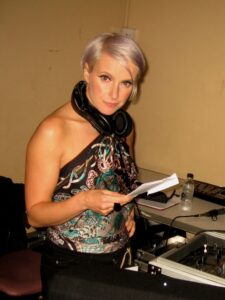 Sarah Blackwood has been a striking presence on the music scene since 1995 when she first found fame as the lead singer of DUBSTAR.
Together with Steve Hillier and Chris Wilkie, she scored hits with lush kitchen sink dramas such as 'Not So Manic Now'
, 'Stars'
and 'No More Talk'
. In 2002, Sarah formed female synthpop duo CLIENT with Kate Holmes and signed to Mute Records via Andy Fletcher of DEPECHE MODE's Toast Hawaii imprint.
After four acclaimed albums, DUBSTAR reformed and played a sell out comeback show at The Lexington in London last year. A new album 'United States Of Being' is now being prepared for release.
She warmed up for the imminent recorded return of DUBSTAR with great pair of feisty numbers 'Justice'
and 'Beautiful'
for FOTONOVELA's 'A Ton Of Love' collection which also featured MIRRORS, MARSHEAUX, KID MOXIE and SECTION 25's Bethany Cassidy.
Sarah Blackwood kindly chatted to ELECTRICITYCLUB.CO.UK about her recent and forthcoming projects.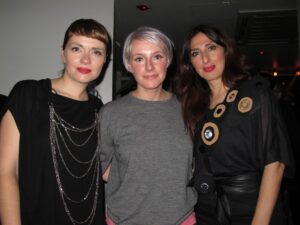 You've had two numbers 'Justice' and 'Beautiful' on the FOTONOVELA album 'A Ton Of Love', what were the recording sessions like?
I had such a wonderful time. George Geranios from FOTONOVELA invited me out to Greece to do it.
I spent the days hanging out in the sunshine with Sophie and Marianthi from MARSHEAUX and the evenings with the boys singing. It was just a fabulous week.
We even managed to take in a couple of gigs, including the PET SHOP BOYS, which was a very special evening. It was lovely being around creatively busy people, seeing the girls set up and how they fit it all into their daily lives…
George really is a force of nature, he never stops having ideas and is very inspiring to be around, just lots of goodwill and the feeling that anything is possible. They were so enthusiastic and encouraging and it was a real privilege to be involved.
The DUBSTAR gig at The Lexington last April was very emotional for you?
It was lovely to be back on stage singing those songs again. Felt like I'd come back home the long way round, which I suppose I did in a way. It was a very special evening. We were just testing the waters to see if it would work again and were pretty overwhelmed and humbled by the positive response of the audience. There were people who had travelled from Europe, never mind the other side of London. Every single person was there to support us and were there specially. I have never done a gig quite like it and it still brings a tear to think of it now.
So how is the new DUBSTAR album coming along?
There's a question! Musically I'm happy with what's been done.
We did a new track at The Lexington and also when we appeared at Tynemouth Priory. So hopefully musically the material we have done works well.
Did you ask former producer Stephen Hague for his input?
Yes, I've always liked working with Stephen Hague. He's a good friend as well. He has done some good work for us once again. In a curious twist, we're neighbours – and as well as producing some of my favourite tracks, he also helped redesign my kitchen last summer, with some suggestions for two well-placed skylights. You don't get more versatile than that!
CLAUDIA BRÜCKEN covered DUBSTAR's 'The Day I See You Again' on her album 'The Lost Are Found' which was produced by Stephen Hague. What did you think of it?
I love Claudia and it was a real honour to have her cover the song. I think she sang it really well and it suited her voice.
How do you plan to release or service music in future? What do you think of the concept of crowd funding?
I personally think it's a great idea getting the fans involved… to stake an interest in the album and help to pay for it. I think it's special. It builds a community and a bond that is missing from mainstream music. With downloading and entire back catalogues available at the click of a button from the comfort of the sofa, I think we are all appreciating music less and less and losing respect for the amount of work physically and emotionally it takes to put out an album.
If the fans pay before they buy, it makes business sense for the artist and builds up a sense of anticipation and excitement for the fans which I think is sorely lacking in the industry these days. Having said that, it puts massive pressure on you as an artist if fans have put their faith and hard-earned cash up front for your work! That situation is almost the theme for a song in itself!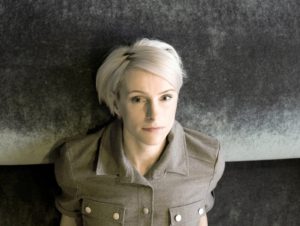 In terms of networking, you're known to be very pro-active as far as communicating with fans is concerned….
I think that was inspired by the THE LIBERTINES' legacy!! CLIENT tried to be very connected to the fans. In DUBSTAR, we update our Facebook page on a regular basis. There have been a few classics I have to say… Chris has an attic full of stuff and I'm so glad he's such a hoarder as it has ignited a lot of lovely memories.
I think you have to nurture your fans and let them spread the word. To me friend / peer recommendations face-to-face or via Facebook newsfeed mean a lot more than being force fed the cr*p on the radio and TV talent shows. I'm a complete recluse these days and just enjoy discovering music for myself and appreciating it on my own terms.
Sometimes I realise I've accidently tapped into the next big thing, like when I heard 'Addicted To You'
by AVICII… but my goodness what a cracking vocal! But mostly its word of mouth recommendations or when wandering round Top Shop with Shazam… I do think I need to get on Twitter more these days. Maybe that should have been my New Year's resolution. Err, for 2013!
You're DJ-ing again soon between VILE ELECTRODES and SPEAK & SPELL. What can those attending the event expect from your set?
Well… after being inspired by the MARSHEAUX girls, George has been encouraging me to use Ableton live. I think song selection is still really important but to combine that with putting your set together in a different way, something a little more interesting than just merging records into each other just has to be done. That was great when I used to DJ off 7" singles and that was so much fun, just flinging them on and seeing what happened… sometimes when I'd had a few too many wines, I accidentally ended up playing obscure B sides!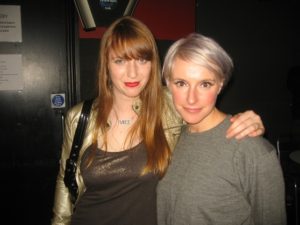 But times and airline baggage weight restrictions have moved on and it's time to do something a little more exciting with the technology available. There… I've said it. I have to do it now… no more excuses!!! Now I have to go turn my flat upside down looking for the Ableton package!!!!!
I love VILE ELECTRODES, and I'm looking forward to seeing and hearing them live. I wish I could carry off Anais' costumes! As a Depeche fan, SPEAK & SPELL do a mightily impressive job. It will be a great night!
What are the mainstays in your DJ set? Are there any songs that have surprisingly gone down really well?
I have fond memories of playing an electro-goth night in Gothenburg. I took the plunge and played the Jacques Lu Cont version of GWEN STEFANI's 'What You Waitin For' and 'Borderline' by MADONNA. I thought they would hate it and immediately demand NITZER EBB but the sight of them pogo-ing in unison in their platforms and fluorescent hair flying really enjoying it was an unforgettable sight and made me very happy indeed.
You sang 'Question Of Time' in Basildon when you DJ-ed. What made you choose that particular song?
I just love that song. I remember seeing it on 'Top Of The Pops' and just fell for the strangely uplifting relentless melancholy. I never dreamed that 15 years later I'd be touring with Depeche. Crazy!
Of course, you supported DEPECHE MODE as part of TECHNIQUE prior to becoming CLIENT and have duetted with Martin Gore on 'Overdrive'. What have been your favourite memories of DM, both as a fan and personally?
Blimey. Have you got all day??? I just feel extremely lucky to have been in their universe for a while. It was a very special time. It was the early days of CLIENT when Kate and I were just exploring and appreciating each others' talents and popping out for the weekend to play massive gigs with Depeche which was just so glamorous and beyond amazing. They were so welcoming, took care of us, invited us to travel on the jet with them (!!!) and generally made us feel part of the Depeche family.
I remember one gig it was so cold and Andy's lovely wife was waiting by the side of stage with coats to wrap us in the minute we had finished playing. It was stuff like that. Me trying out a pre show vocal warm-up and Dave popping his head round the door and saying "Ah there's the angel"… I was a puddle of goo on the floor…
We supported them in front of 145,000 people in Leipzig, it was one of the first shows with them and I was practically crippled with nerves… and I got out on stage and there was one person at the front with a "Sarah" banner; I was so touched. It's just moments like that that make being in a band so very special. So thank you…… you were a career highlight!!
Also, the most obvious one was writing Martin a letter asking if he'd like to contribute to 'Overdrive'.
We didn't hear anything and assumed he wasn't interested and were due to mix it when the file came bouncing back across the ether in the nick of time… complete with his vocals! It was apparently one of the first recordings he did by himself in his home studio so a double honour!!
As a fan, my boyfriend had never seen them live so we took the opportunity on this tour… but I insisted we went to Germany as the European shows are just something else. The fan reaction just sends shivers up my spine. We went to Munich and when 'Behind The Wheel' came on, the lights just turned into the crowd on the vocal arpeggio bit…you know the bit…and all you could see was a sea of hands. I have never seen him lost for words before. It was a Moment. I wept during 'Home' too. Martin's vocal that night was nothing short of astonishingly beautiful. He held that note it seemed like forever…… frozen in time…… awesome.
What else is on the horizon for you?
I don't want to rush into anything (yeah, I know…) but I'd be disappointed with myself if I wasn't doing something live again quite soon. It's amazing how your voice feels like it changes over time, and I think taking a period of time off from doing loads of regular gigs is a very good creative experience.
---
ELECTRICITYCLUB.CO.UK gives its warmest thanks to Sarah Blackwood
FOTONOVELA 'A Ton Of Love' featuring vocals on two tracks by Sarah Blackwood is available via Undo Records
---
Text and interview by Chi Ming Lai
3rd June 2014, updated 10th May 2017