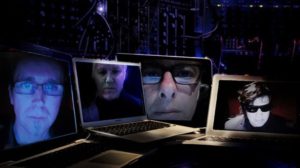 For many followers of electronic music, the producers and engineers who work behind the scenes and are credited in small print on the classic albums we know and love are often seen as being just as important as the artist themselves.
One only has to listen to the last few DEPECHE MODE albums to hear what sort of an impact a producer can have on a band's overall sonic palette and direction; sometimes the guiding hand of a person outside of the band can make the difference between an acceptable album and a truly excellent one.
This brings us neatly onto NODE, a producer supergroup if you will, featuring Flood (DEPECHE MODE / NINE INCH NAILS / ERASURE / GOLDFRAPP), Ed Buller (WHITE LIES / SUEDE / PULP / THE PSYCHEDELIC FURS), Dave Bessell (KILLING JOKE / SUEDE) and Mel Wesson (Movie sound designer including 'Inception' / 'Batman Begins' / 'The Bourne Legacy').
The group released their debut album 'Node' in 1995, but have waited 19 years to deliver its follow-up 'Node 2' on the DiN imprint set-up by respected UK synthesist and programmer Ian Boddy. Using mainly analogue modular synthesizers, NODE wonderfully resurrect the sound of ambient electronic giants TANGERINE DREAM, KLAUS SCHULZE and ASHRA but with an added digital twist.
Ed Buller, Dave Bessell and Mel Wesson all kindly spoke about their musical influences and the joys of all things analogue…
What was your concept for the new album and how does it differ from the first NODE one?
Ed: There really was no concept for either. We just turn up and play. We had Mel which changed things a bit.
Dave: I don't think we really thought of it in conceptual terms, we don't like to over think things but rather prefer to go with our gut musical response. So in that respect we are similar to bands such as CAN we just like to get in a room and play.
Mel: Get in the studio, plug the gear up and make a noise…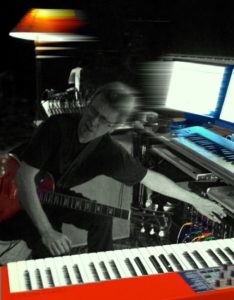 19 years is a pretty long time to wait for a follow-up album, even by KRAFTWERK standards!
Dave: Yes, we took a long lunch break!
Ed: Yes… it really wasn't deliberate. But we had jobs and then Gary disappeared…..
Mel: Agreed… let's hope we don't have to wait that long for the next one!
Did you have defined roles within the project or was it a bit of a musical free-for-all?
Ed: No, not really. The roles overlap. We each favour a particular sound I suspect, and only Dave is irresponsible enough to play guitar, although I suspect it's only time until Flood rocks up with a flying V. But part of what makes us unique is each doing their own thing.
Dave: The roles are unspoken but semi-defined, someone might mainly do bass, someone mainly the sequencing but it can all suddenly change around in the middle of playing. The important thing is to listen carefully to each other and be able to react musically to the unexpected.
Mel: It's hard to say, no one told me what to play, I just did what seemed natural. I've always been fascinated by textures, soundscapes, I suppose I found an outlet for that within the NODE structure but it's a very fluid structure.
The opening track on the new album, 'Shikansen East' as well as featuring some epic TANGERINE DREAM style sequencer driven passages, has an ambient ENO-esque sound to it…
Ed: None of that is intentional. It's the first time we have ever recorded sections to be edited later. I'm pleased with the result but also mindful that despite some planning it still sounds like us… loose!
Dave: I find it hard to judge influence wise, it's really for others to say what they hear in it. Certainly if someone hears those influences then I am quite comfortable with that, these people aren't rubbish after all!
How reliable was the equipment used on the latest album as vintage analogue synthesizers have a heavy reputation for breaking down and going out of tune?
Ed: Justly deserved, but you can't do this if you're after reliability or consistency. We had problems, but we all have our cub scout "analogue synthesizer user" merit badges….
Dave: Old analogue stuff can be cranky for sure. We had our share of technical problems and tuning is a constant battle on some machines but I hope the results speak for themselves. Convenience is not always the best way to judge an instrument!
Mel: All the equipment has foibles that's part of the experience, expect the unexpected! My Moog 3C's tuning is amazing, really rock solid, Ed couldn't believe it… he's convinced there's some secret modification but it's original! I can't say the same for my Synthi A, but unpredictability is what EMS is all about, it's all part of the creative process.
Ed, you must be used to dealing with some pretty big egos with your production day job, how different was the process of working on the NODE
tracks?
Ed: Much worse… between Dave "you call this tea?" Bessell and Mel "I don't do pavements" Wesson……!
It's hard to talk about NODE without mentioning the legendary German electronic band TANGERINE DREAM, what are your favourite albums by them and why?
Ed: I really like their early stuff. I'd be hard pressed to pick a favourite amongst 'Phaedra', 'Atem', 'Rubycon' and 'Ricochet'… all sublime.
Dave: My favourite album of their's is 'Rubycon'. I like it because in my opinion it is the most fully realised version of the sound they perfected in their early years and in places it comes close to living up to their classical influences. I hear bits of Ligeti, Debussy and Steve Reich in there.
Mel: 'Phaedra' was the first TANGERINE DREAM album I bought and it changed my perception of electronic music, for me it was a gateway album to their earlier work such as 'Atem'
and 'Alpha Centauri'
which was only available on import. I loved that classic Franke, / Baumann / Froese line-up; 'Rubycon', 'Ricochet' and 'Encore'
are all great albums.
What do you think of the term 'Berlin School' which now seems to have been applied to sequencer-driven ambient electronic music and do NODE fit into that box?
Ed: We do really… but it's sort of like calling us a blues band…..
Dave: I don't have any strong feelings about the term. Like all genre descriptions it's useful short hand in some situations and limiting in others. What I really think though is that genre is the least interesting aspect of music.
Mel: People like labels… I think we have our own box but it's definitely a 'Made In Berlin' box! Germany was an amazingly creative place in those days, a lot of experiment musicians breaking away from the obvious band format, using new technology, we're obviously influenced by what happened then but we've added our own signature, music should always be an evolutionary process.
When you launched the first NODE album, you did a rather unusual promotional gig at Paddington railway station. Who's idea was that and what was the overall experience of playing electronic music to half-asleep commuters?
Ed: It was my idea. I went to boarding school in Reading and from the age of 12 used to travel home via Paddington. I always fantasized about playing a gig there. I thought it would be a good alternative to a cathedral.
Dave: Playing to half-asleep commuters was fun but it would have been better if we had had some sleep ourselves the night before. Lack of sleep on our part made the whole experience completely surreal, at one point I looked down into the audience and saw a member of the government looking back at me. Very odd!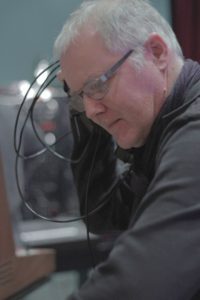 Mel, being the new guy in the outfit, what do you think you've brought to NODE?
Mel: PPG synthesizers and a measure of restraint when things started to veer towards Prog!
Are there any plans to do anymore live shows like the one you did at the EMMA Festival in 1995?
Dave: It's something we are looking into, nothing we can announce yet but we will let everyone know if we can sort something out. We are not your average band and so we are looking for something interesting and a bit out of the ordinary. Of course there are practical considerations too, we would want to use the full analogue rig and that comes with some constraints!
If each of you were stuck on a desert island (with power and a speaker system) and could only have one synthesizer, which one would you choose and why?
Ed: TONTO….. just cos!
Dave: I would take my Macbeth M5n semi modular. Of all the synths I have used, it's the one that seems to give me access to the sounds I am looking for with the minimum of fuss. It's a combination of interface and sound which seems to be in perfect balance. I also like the fact that it has no memories and pre sets. That fits very well with the NODE philosophy of capturing the moment.
Mel: A VERY large modular… multi voices so I can write complete pieces as a 'one man band', maybe something I've never used before, perhaps a Buchla… I figure I'd finally have time to learn how to use it! I'd also keep the boxes so I can light a fire to attract passing ships!
---
ELECTRICITYCLUB.CO.UK gives its warmest thanks to NODE
Special thanks also to Ian Boddy (no relation)
'Node 2' is released by DiN and available from http://www.din.org.uk/din/
https://www.facebook.com/nodesynth
---
Text and Interview by Paul Boddy
9th June 2014