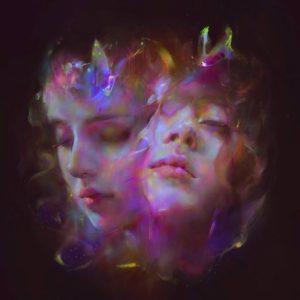 Older music enthusiasts often express their despair about how things are "not what they used to be" with regards young new talent.
Often, the radio airwaves are bombarded with either autotuned pop wannabes or angsty folkies acting far too old for their years.
So it has been quite refreshing to come across an act who are genuinely quirky and out there, as well as rebelling by not towing the X-Factor party line despite having only just left school.
Norwich duo LET'S EAT GRANDMA were just 17 when they released their debut album 'I, Gemini'
in 2016 with a nod to American freak folk pairing COCOROSIE. Despite not being related, the pair presented themselves as twins but over the two years since, Rosa Walton and Jenny Hollingworth have developed their own lives and identities.
Like any friendships formed during childhood, this was inevitable so when Walton formed her first relationship, Hollingworth found herself a new social circle while developing an interest in electronic music and vintage synths.
Now coming together with a new found confidence as individuals, their experiences have manifested themselves onto their second album 'I'm All Ears'
, resulting in a more much diverse record compared to their debut. Like a TV show with eleven scenes, 'Whitewater' with its electronic backbone acts as the album's futuristic instrumental theme while offset by rugged bursts by cello.
The feisty single 'Hot Pink' is a celebration of femininity that comes over like a baby ZOLA JESUS meeting CHARLI XCX; this is perhaps not totally unsurprising as the latter's Glaswegian producer SOPHIE is also behind the studio controls here, along with Faris Badwan of THE HORRORS.
The brilliantly wonky synthpop of 'It's Not Just Me' is an indication of how much LET'S EAT GRANDMA have evolved. Still maintaining the core character of Walton and Hollingworth's delightfully odd harmony attached to their subversive spirit, there are clear points of melodic accessibility too.
The percussive 'Falling Into Me' is structured into several different sections using some varied musical palettes, showcasing the duo's willingness to think outside the box for interesting song arrangements. A combination of guitar and string machine colours the more introspective 'Snakes & Ladders', while 'I Will Be Waiting' sounds not unlike FEVER RAY attempting a CHVRCHES number.
The organ-led instrumental 'The Cat's Pyjamas' effectively acts as an intro to 'Cool & Collected' which at nine minutes makes an epic statement about insecurity. Despite the progressive influence of GENESIS, the very slow build perhaps stretches things out a bit too much. But to their credit, it's an indication of LET'S EAT GRANDMA's sense of ambition if nothing else. That ambition is more successfully realised on 'Donnie Darko', their eleven minute tribute to the troubled teenager haunted by a monstrous rabbit-like figure.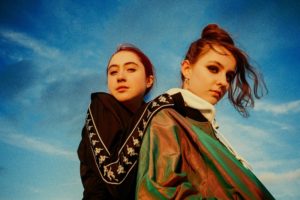 Utilising melodic guitar reminiscent of THE DURUTTI COLUMN at the start before morphing into a wonderful movement of cascading electronics set to a metronomic beat, there are also some passionate reflections in an afflicted vocal style recalling POLLY SCATTERGOOD on the subject of human suffering. And then without warning, 'Donnie Darko' drifts into a glorious synthony before calming to its conclusion.
While not perfect, this album has plenty to enjoy about it. A personal record that retains a degree of innocence while establishing an understanding of more worldly issues, 'I'm All Ears' marks LET'S EAT GRANDMA as an act of great potential who will only get better and impress further.
---
'I'm All Ears'
is released by Transgressive Records/PIAS in CD, double vinyl LP and digital formats
LET'S EAT GRANDMA 2018 live dates include:
Vancouver Fortune Sound Club (30 August), Seattle Bumbershoot 2018 (31 August) Portland Doug Fir Lounge (1 September), San Francisco Rickshaw Stop (3 September), Los Angeles Moroccan Lounge (4 September), Chicago Empty Bottle (6 September), Toronto Drake Hotel (7 September), Montreal Bar le Ritz (8 September), Allston Great Scott (10 September), Brooklyn Baby's All Right (12 September), Washington DC U Street Music Hall (13 September), London Heaven (27 September), Utrecht TivoliVredenburg (3 November)*, Brussels Ancienne Belgique (5 November)*, Cologne Live Music Hall (6 November)*, Berlin Tempodrom (7 November)*, Hamburg Docks (9 November)*, Stuttgart LKA-Longhorn (11 November)*, Munich Muffathalle (12 November)*, Milan Fabrique (14 November)*, Lausanne Les Docks (15 November)*, Luxembourg Den Atelier (16 November)*
*opening for CHVRCHES
https://www.facebook.com/thelegofgrandma/
https://twitter.com/thelegofgrandma
https://www.instagram.com/thelegofgrandma/
---
Text by Chi Ming Lai
Photo by Charlotte Pattmore
8th July 2018, updated 9th July 2018