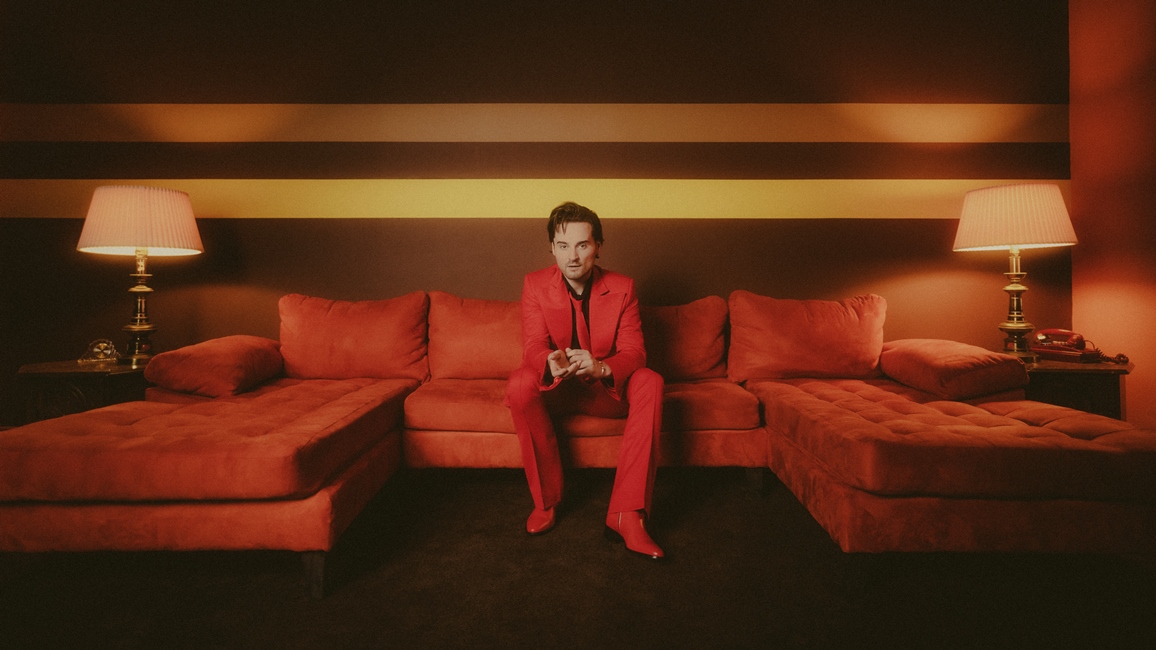 Having lent his voice to FM-84, TIMECOP1983, FURY WEEKEND and SUNGLASSES KID, Ollie Wride is back to follow-up his 2019 debut album 'Thanks In Advance'.
Evoking a Trans-Atlantic flavour in his retrowave pop, the music of Ollie Wride is almost tailor-made for the American market. New songs like 'Juliette', 'A Matter Of Time', 'Victoria' and 'The Way I See It' maintain the standard showcased on 'Thanks In Advance', fusing classic synthesized pop sensibilities with melodic FM rock.
He played his first US show at Troubadour in West Hollywood in the summer and has since supplemented this with a wider stateside Fall tour. But he will return to the UK to play a special show at London's prestigious Scala with support from PARALLELS. After a long flight from the US, Ollie Wride caught up with ELECTRICITYCLUB.CO.UK to talk about aspects of his past, present and future.
It's been 4 years since 'Thanks In Advance', how do you look back on the making and reception for it?
Time certainly flies… but in a lot of ways it feels like a lifetime ago, so much has happened since then, both on the world stage and in my personal life. I feel it still stacks up, I listened through for the first time in a while the other day and it brought a smile. Diving back in, there were a few moments I forgot, I love it when you're surprised by what your former self was thinking.
In hindsight the record feels like a concoction of my limitations breeding innovation? There's a lot of hope and unbridled energy bottled there; I definitely had something to prove at the time venturing out alone – but it also doesn't feel disconnected from FM-84 where people ultimately came to know me from. The reception was overall, overwhelmingly positive, snagging the top spot on the iTunes charts in several countries was a bonus – it's something I never expected but it's wonderful when your creative output is embraced.
The FM ATTACK remix of 'I'm A Believer' and its video was a nice way to round off the campaign?
The remixes came later than the original record release, the intention was to bridge the gap between the genre and community that gave me a platform and a slightly more electronic direction than the original release. What better way to cement the remix releases than to hand over the reins to my peers and producers who I was a fan of? FM Attack was among the first artists that I delved into when I was introduced to the genre. His approach stayed true to the original sentiment of the song but also took it far enough that it would resonate with perhaps the more avid synth listener. I was already planning the 3rd video in the trilogy and the track seemed to fit the flagship role to round off the campaign and drive the deluxe version of the record.
Since then you done one off singles with Michael Oakley, Jess Frye and a number of producers like FURY WEEKEND and SUNGLASSES KID, how have these collaborations helped keep your creative momentum going?
I'm always writing and producing, a lot of folks don't make the connection but everything you've heard me on I've either written / produced or co-written and co-produced. Something that I have a huge interest and passion for. Rather than being "just the vocalist", which always sounds like it's devaluing the discipline of great vocalists and separately skillsets I've worked hard at.
I'm incredibly fortunate to do this as my full time job so creative momentum isn't usually in short supply at my house. That said, occasionally circumstance affords the opportunity to step outside of my usual wheel house and work with friends and other artists in and outside of the genre. In those instances mentioned, Michael Oakley and I have racked up a lot of miles together now. I collaborated and top lined on his last 2 records and he co-produced and mixed 'Thanks In Advance', work aside, he's a close friend and a joy to be around.
Ed Gamper (SUNGLASSES KID) is another example of a chance connection evolving into a close bond. 'Stranger Love' emerged out of the early days of the pandemic coming about very quickly from a spark of inspiration I had following one of his social media clips. The chord progression really resonated with me and so outcome the lyric and melody. It's a mainstay in my show and a personal favourite from the first album cycle. In any instance, I approach collaboration with an open mind and whatever is best for the song attitude. It's so easy to get in the way of yourself and overthink these things, so the advantages of collaboration practically speaking serve as a wonderful sounding board. Many hands make for light work, but don't let too many spoil the broth!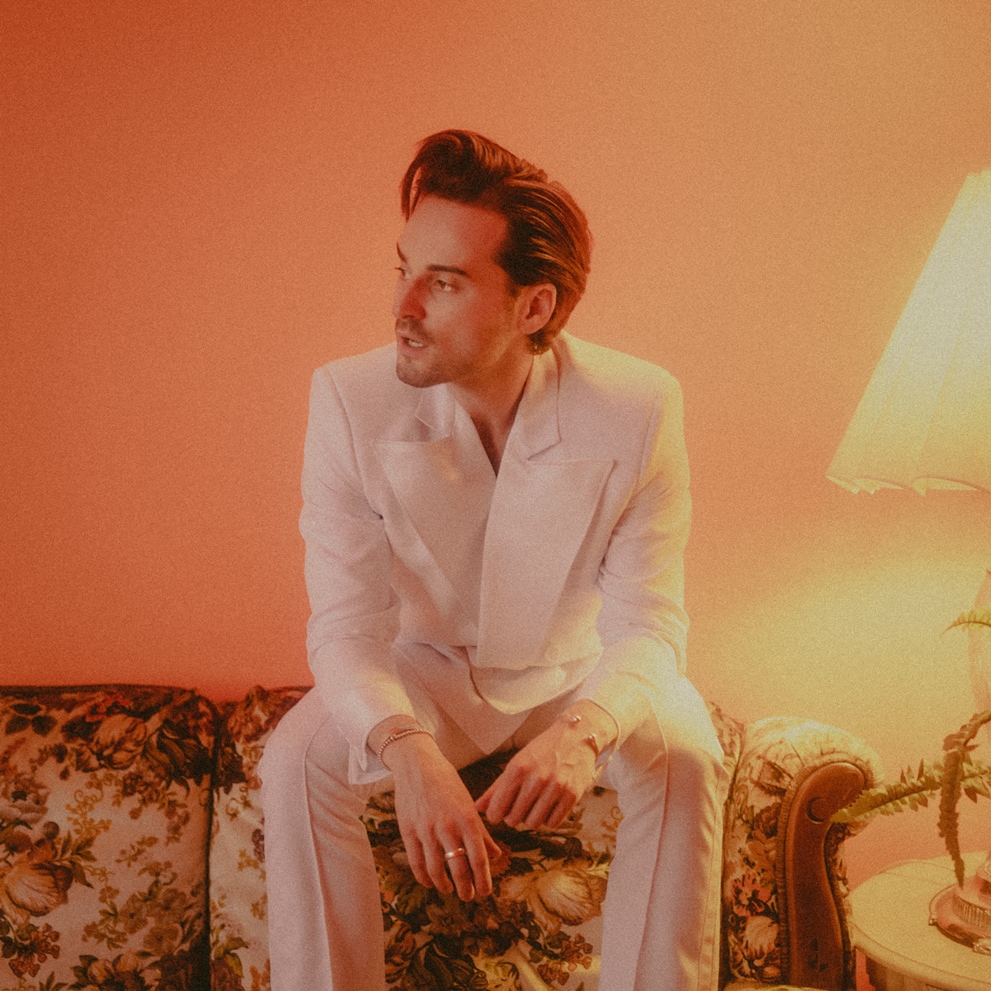 You first became known as the voice of FM-84 and there was a new song with Col Bennett 'Bend & Break' which came out in 2019, what was the story behind this?
That's right, we embarked on a pretty extensive tour of North America including a big date at Brixton Electric in London that was a real pinnacle for us at the time. As I recall Col and I wanted to create something that featured an audience participation chant – something that is always given a great deal of thought during the writing process. Essentially, the song is about the pursuit of your passions at all costs and enduring the hurdles and hardship in order to sustain them. It was the first song we had put out since 2017 so it acted as this proclamation that "Hey, we're still here everybody!" – encapsulated in the line "No our music it ain't done, coz I found our revelry… on the highways and in the dancehalls that filled our history" something I'm particularly proud of. Col's synth work on that record is luscious, definitely a nod to Peter Gabriel which is always a good move in my book.
What did you think of Ed Sheeran's popwave single 'Overpass Graffiti'? You know, when I first heard that played on BBC Radio 2, I thought it was you!!
Any association with major artists putting out great music into the world is a wonderful complement in my book. Hopefully, it won't be too long until it is actually an OW record that you hear!
You've signed a deal M3 Recordings, how do you hope this will help you in your wider breakthrough?
Yes, I signed earlier this year having being introduced to the label through my dear friend David Schuler (THE BAD DREAMERS). I was so immersed in the creation of album 2 that as I was approaching its completion playing excerpts to my trusted nearest and dearest – the general consensus was, the record deserved a bigger platform and a wider audience… and in order to do that, you need to find the right team to help elevate the machine. Not an easy task, especially being independent for a few years now.
I think there's a common misconception that signing to a major totally changes your reality, I guess to some extent it informs it, however the work really begins and there's a process and a consideration to everything. Ultimately, me as the artist has to lead the charge and have the vision but where the label comes into play is helping facilitate that… so I will only have a clearer picture when the campaign gets started and the new album is released! However, I'm cautiously optimistic that being under the Sony Music umbrella will help turn the dial towards 11!
Is it all 'A Matter Of Time'?
Depends on your outlook really! I wrote that as a quasi self-help exercise or a mantra to live by. We all experience hardship and adversity, but I am someone who tries to retain vehement belief and positivity. Even if you don't believe… believe, believe, believe! Through trial and error, I've slowly learned to only worry / take action on what's in my control and not what is out of it.
A single 'Juliette' came out in 2020, who is she and is this song a pointer of how the new album will sound? Have you altered your approach much since 'Thanks In Advance'?
Truth be told, the names I opt for are generally selected due to their syllabic nature. The stories and sentiment behind the songs are genuine however. I actually wrote that with my dear pal Josh Dally, who spawned a lot of the lyric on that one – it was somewhat of a role reversal and I helmed the arrangement and production. We're 3 years on from that cut… so the new album is definitely a step up and away from the first record and collaborations. I wanted to go bigger and have a body of work that sounded like a heavy hitting body of work. So there's been a huge amount of time and effort building the sonics, production, the entire album features live instrumentation leading the charge and the synthesizers and sequencers are working in service of the songs. Akin to 'Tango In The Night', 'So' etc…. That's the biggest distinction.
There was a single recently entitled 'Victoria', are we getting a concept album about all the girls you've loved before?
I don't kiss and tell!
On 'Cherry Avenue', you've let your inner Michael MacDonald come out?
Nice spot! I'm a huge fan of THE DOOBIE BROTHERS, those sketches you're referring to that I've posted on my Instagram are ideas that I'm trying out away from the next official release. I've become a lot less precious about sharing works in progress in recent times, given album 2 is on the cusp of release – these additional concepts give a little insight into my process and experimenting with different palettes and feels. I'm a sucker for Yacht Rock and those timeless melodies of the late 70s early 80s, so here's me picking up the baton.
'Landslide' is not a cover of the Olivia Newton-John song but it does feature a funky synthbass… what tools do you like writing and pre-production?
Everything I write starts at the piano, my beloved CP70, from there I build the rhythm track. I try to capture the nucleus of a song very quickly… and from there work on all the clever bits. I think the worst mistake you can make is to lead with the production before you have the song, for me at least, you've got to establish the message first and foremost otherwise it's like building a castle upon sand. I work in Logic, I'm not a huge gear head but I have a few key toys; Dave Smith OB-6, Yamaha CP70 and I invested in a really great vocal chain – UAD 6176 with the optical compressor coupled with SE Electronics Rupert Neve RNT condenser microphone.
'The Way I See It' is the newest single, how would you describe it?
It's the second single taken from my upcoming sophomore record, a nu-disco, funk doused, avant-garde production with all the hallmarks and hooks of sophistipop as a joyous musical recourse to the adverse times we have all experienced these past few years.
Essentially, it's a song about mindset and how we see ourselves faring against adversity in the world. Initially emerging from the early days of the pandemic, with a new found abundance of time on my hands distanced from friends and family, set against the backdrop of a world that appears to be cracking – there was still a lot to be grateful and hope to cling to. I couldn't help but take stock of where I am in life and why these relationships matter most; it felt only natural to explore a more contemplative lyric in an attempt to articulate how our lives hang in such a delicate balance between having and losing it all; and the challenges of maintaining positivity against the odds – a concept I feel we can all relate to.
You played your first US solo headline show at The Troubadour in Hollywood, how was that for you?
Humbling, exhilarating, awe-inspiring. As a British musician, venturing to America and selling out what is probably the most famous music venue in the world is the stuff of dreams. You enter the history books when you play there. Having sold it out once before with FM-84, stepping out on my own steam was a nerve wracking challenge, there's a great amount of expectation and pressure to deliver. It also gave me a renewed confidence having been away for so long. It truly meant the world and I'm tremendously thankful to all those who came and supported.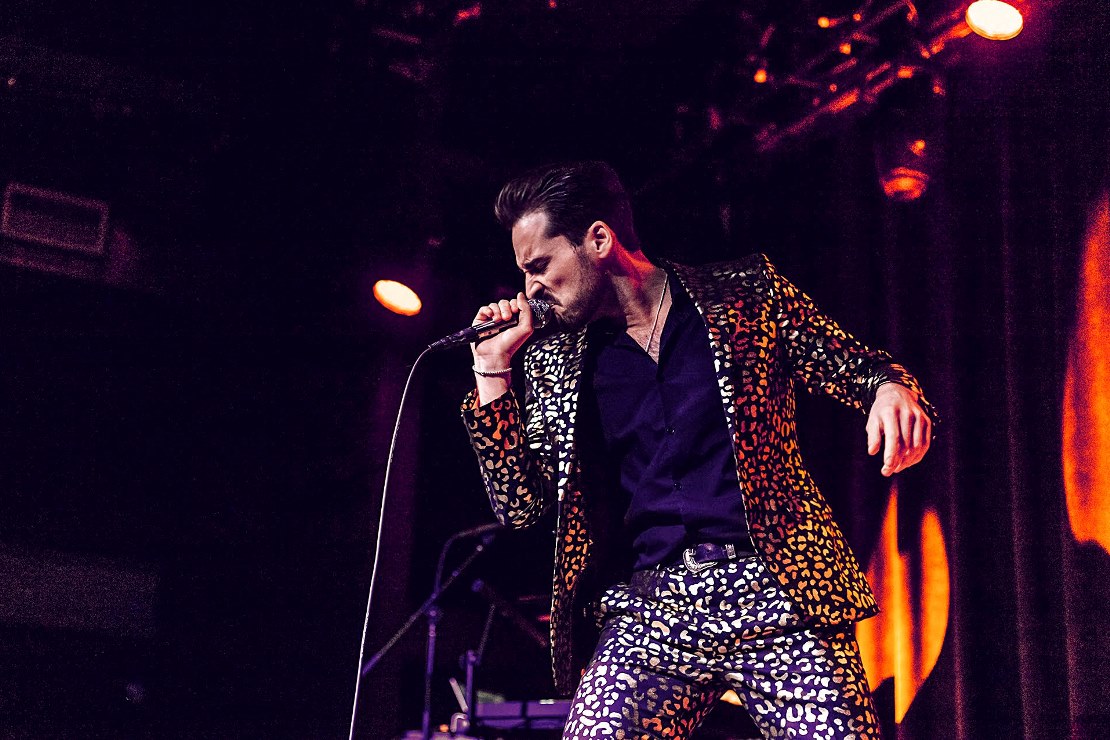 Coming up is a London date at The Scala which was made famous by SPANDAU BALLET in their breakthrough TV appearance back in 1979 and which THE MIDNIGHT also played, what have you got lined-up in terms of format and band personnel?
I've been fortunate enough to have played the majority of venues around London in my time. From dive bars to the O2 Arena… the one that always stuck out that I haven't played is Scala. This will be my biggest solo show to date following Lafayette back in 2021 – so I'm brimming with excitement! The band gets bigger, the production more heavyweight… I always try and better myself from the last show, the last tour. I care immensely about the show and all its facets to give the fans the most entertaining experience I can. Whilst I don't want to give too much away, you are certainly in for a treat – my shows go hell for leather… "Deaf 'em, blind 'em, and leave 'em wanting more!"
What are you hopes and fears as you approach the sophomore stage of your solo career?
I am a cautious optimist. I've been at this a hot minute and learned a lot. Signed, dropped. Majors, indies… having it all and losing it. I won't pretend that it hasn't had a bearing, you definitely develop a Teflon skin.. So the older I get, the less I concern myself with the things out of my control, and focus on what is… The world is in a state of immense change, it's easy to succumb to the endless deluge of information and headlines; it's all noise and the majority of it is not good for you (in my view) So the challenge is how does one navigate whilst being informed and not get sucked into the vacuum?
This album cycle feels very different, predominantly due to the huge impact the pandemic had on my trajectory and plans in 2019 – I literally had to begin again… but also, I've had a great deal of time to create without any external influence or pressure, it's been on my terms and informed by my experience during that period of adversity, cemented onto record; the sum of which I consider to be my best work yet and the production an entirely different level from anything I've been involved with or outputted before. I hope the sophomore stage demonstrates a renewed energy and focus – as well as the continued increase in audience… after all, without them none of this is possible AND for them I am eternally grateful.
---
ELECTRICITYCLUB.CO.UK gives its sincerest thanks to Ollie Wride
Special thanks to Stuart McLaren at Outland
'Juliette', 'A Matter Of Time', 'Victoria' and 'The Way I See It' are available via online platforms at https://linktr.ee/olliewride
The album 'Thanks In Advance'
is still available via New Retro Wave
Ollie Wride plays London Scala with support from PARALLELS on Sunday 22 October 2023, tickets available from https://scala.co.uk/events/ollie-wride/
https://www.facebook.com/olliewrideofficial/
https://twitter.com/OllieWride
https://www.instagram.com/olliewride/
https://open.spotify.com/artist/1anhHn744LbctzF9EHpvea
---
Text and Interview by Chi Ming Lai
14 October 2023