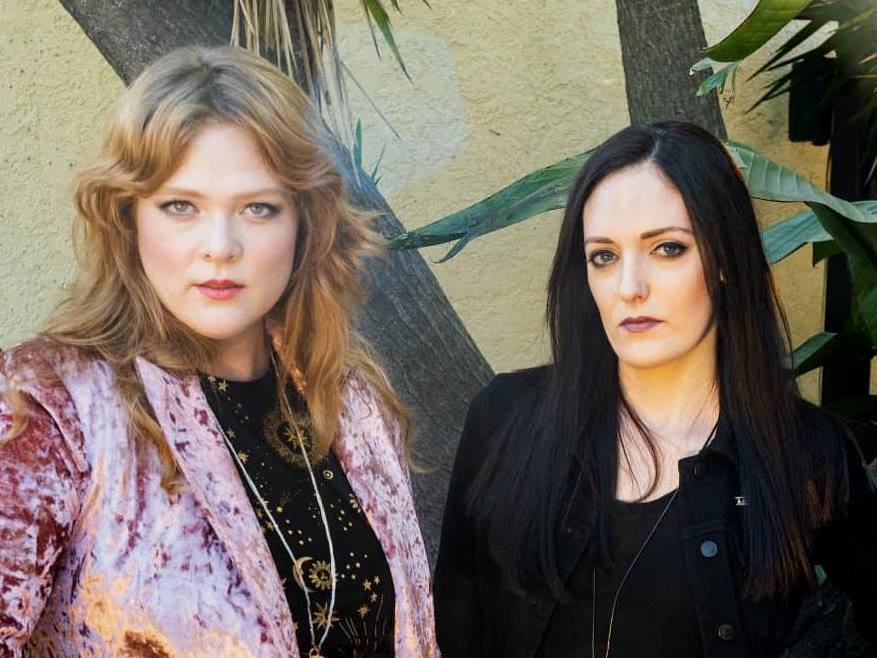 PARALLELS and GLITBITER are the respective music vehicles of Torontonian Holly Dodson and New Yorker Florence Bullock.
As PARALLELS, Dodson has already released four albums, the most recent being 2021's 'Supersymmetry' and in the same year, 'Journey's End' from the soundtrack of the short film 'Proximity' with fellow Canadian RADIO WOLF won Best Song at the 2021 Los Angeles Film Awards.
Meanwhile, there have been two GLITBITER EPs 'Short Stories' and 'Glass & Steel' plus a number of collaborations including with synthwave trailblazer BETAMAXX on 'Skyhigh' from his 2019 long player 'Lost In A Dreamworld'.
Both now based in Los Angeles, Dodson and Bullock have come together with the latter joining the PARALLELS live set-up. They have their biggest show yet when they open for popwave's leading star Ollie Wride in West Hollywood on Thursday 15 June 2023.
In a break from rehearsals, Holly Dodson and Florence Bullock spoke to ELECTRICITYCLUB.CO.UK about the fruits of their LA union and more…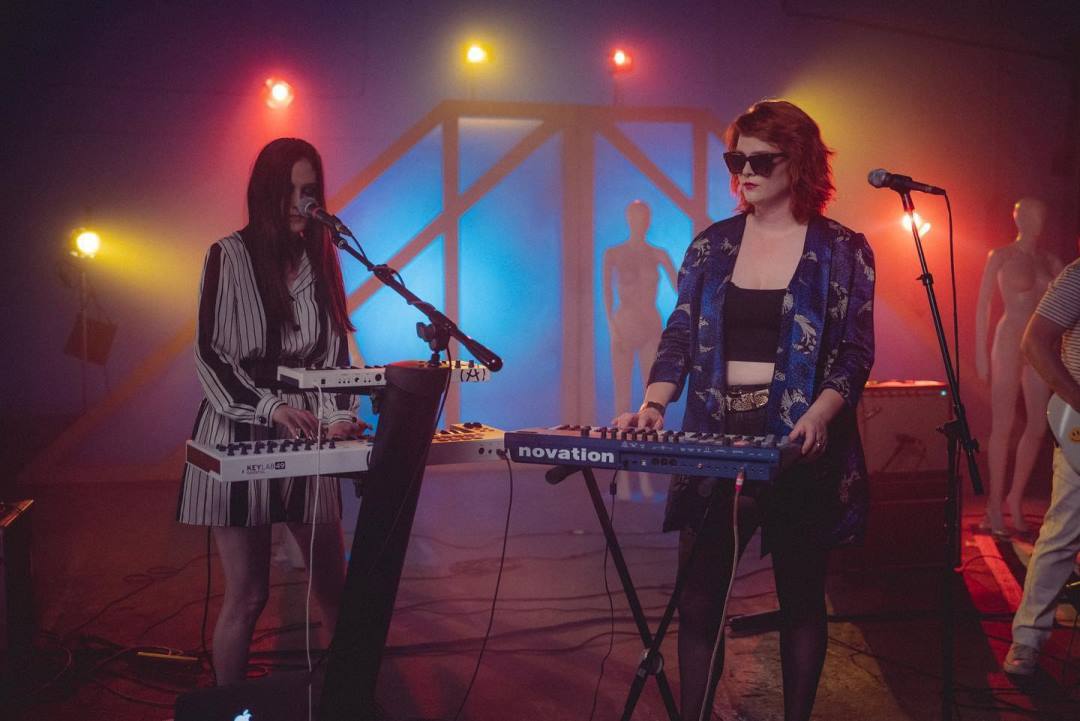 How did you first become aware of each other?
Holly: I first met Florence when we were on tour with NINA a few years ago and GLITBITER opened the show for us in LA – and that was a gateway to discovering her music. We hung out a few times at synth events, eventually bonding over synths and music production, and LA goth nights and have been friends ever since.
Florence: When I discovered Synthwave, PARALLELS was a name that came up a lot, so back in 2018, I was stoked to see that they were playing a show with NINA, in LA. On a whim, I asked my manager at the time, to see if I could play the show, and I think she got a "yes" back from the promoter within 10 minutes. That show was the first time I met Holly in person and little did I know that I was the start of a beautiful friendship.
So was the 'Vienna' remix for PARALLEL's deluxe reissue of 'Visionaries', the first collaboration? How did that come together?
Florence: Yes! I was honored to be asked by Holly to remix a song off of 'Visionaries' for its 10th anniversary, and I got to choose 'Vienna'. Remixes are always a challenge for me, especially when the song is so good, to begin with, but it was such a pleasure to work with stellar material. I'm also humbled by the cohort of other remixers on the 'Visionaries' reissue.
Holly: Yeah! I love Florence's productions – she has such a unique sound so I approached her about being part of the 10-year Anniversary. I basically let the artists pick whatever song they were drawn to, so was really excited when she picked 'Vienna' – she put this mythical, dark forest, haunting spin on it and I loved it from first listen.
What are your favourite tracks by the other?
Holly: 'See You In The Trees' and 'Blade' are two of my top favorites, GLITBITER was also featured on ASTARAPART's album 'Sky Pixels' with a song called 'Skybridge' – it's epic and sweeps me away to a magical dreamworld.
Florence: 'Dry Blood' has been in my rotation for years, so I have to mention that one. Even more so, now, since it's so fun to play live, and I get to duel synths with Holly. If we're talking newer stuff, I obsessed with 'Handle With Care'.
How did the idea for playing live together come about? Which artists did you bond over?
Holly: I think we mostly bonded over the synth scene – but I was looking to put together a new PARALLELS line-up and do a tour post-lockdown. Florence immediately came to mind on keys and vocals, and maybe she didn't know what she was getting into at the time haha – but she said yes! So it's been awesome sharing the stage with another synth-queen, I feel like that's sort of rare.
Florence: I still can't believe that Holly trusted me enough to play keyboards for her, haha! But I couldn't say no to being part of such an amazing project, and working with such talented musicians. We honestly mostly bonded over our mutual musician friends, especially those in the synth world.
What was the thinking behind The Factory Sessions? How did you find the filming?
Florence: I'll leave it to Holly to talk about the vision, since it was all her! But on my end, I was along for the ride, and it was such a fun and unique experience. Despite it being sweltering hot in the warehouse where we filmed, I loved every second, and even got to wear something other than black clothing.
Holly: In putting together a new live band, new life was injected into the songs… some I've been playing forever! So I wanted to showcase that in 'The Factory Sessions' EP. We named it after Factory Records and sort of the idea of getting back to this project's roots – revisiting some of those Factory Records artists that initially inspired the PARALLELS sound.
We filmed 6 songs in one day and it was a lot! But I wanted it to be live off the floor – so we put ourselves under pressure to make it happen. Luckily director Brad A. Kinnan could keep up 🙂
You have this gig in Hollywood opening for Ollie Wride in Hollywood, what can those present expect?
Holly: Yes! We can't wait to play the legendary Troubadour – I can't believe the acts that played on that stage. We've also been jamming with a bass player so fans are going to get the full band treatment – Florence on keys, Colin Knighton on guitar, Christopher Pedraza on drums and Walter Bernath on bass, and of course me on vocals + keys. We're absolutely thrilled to get to share the night with Ollie Wride – I'm such a fan of his, plus it's his stateside debut so there will be lots of love!
Florence: An absolutely incredible show. Seriously, if you can still get tickets by the time this comes out, RUN to the box office. First of all, you don't want to miss Ollie. He is seriously one of the most incredible performers out there, today, and he definitely has a spectacular set planned for the audience. As for us, PARALLELS is now a five piece on stage, so expect your favorite synth parts mixed in with a bit more rock 'n' roll. It's been so fun rehearsing these last couple of months, and I can't wait for everyone to hear what we have in store.
What else musically have you each got coming up?
Holly: PARALLELS have a little tour planned for the fall – so over the summer I'm going to start planting the seeds for a new record, which would involve some new co-writes and exploration into different styles. I'm looking forward to challenging myself in that way.
Florence: GLITBITER and a handful of other creative endeavors were put on a bit of a hiatus, this past year, while I dealt with some medical issues. But things are finally going in the right direction, so I'm hoping I'll be back on the production train in the coming months. It's been way too long.
---
ELECTRICITYCLUB.CO.UK gives its warmest thanks to Holly Dodson and Florence Bullock
PARALLELS 'The Factory Sessions' EP + 'Supersymmetry' are available digitally from https://parallels.bandcamp.com/
GLITBITER 'Short Stories' + 'Glass & Steel' EPs are available digitally from https://glitbiter.bandcamp.com/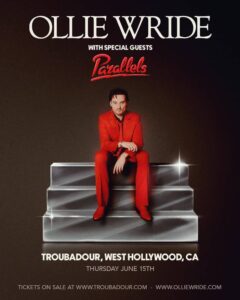 PARALLELS open for Ollie Wride at Troubadour in West Hollywood CA on Thursday 15 June 2023
http://www.iloveparallels.com/
https://www.facebook.com/Parallels
https://twitter.com/iloveparallels
https://www.instagram.com/iloveparallels
https://www.facebook.com/glitbiter
https://www.instagram.com/glitbiter/
---
Text and Interview by Chi Ming Lai
13 June 2023