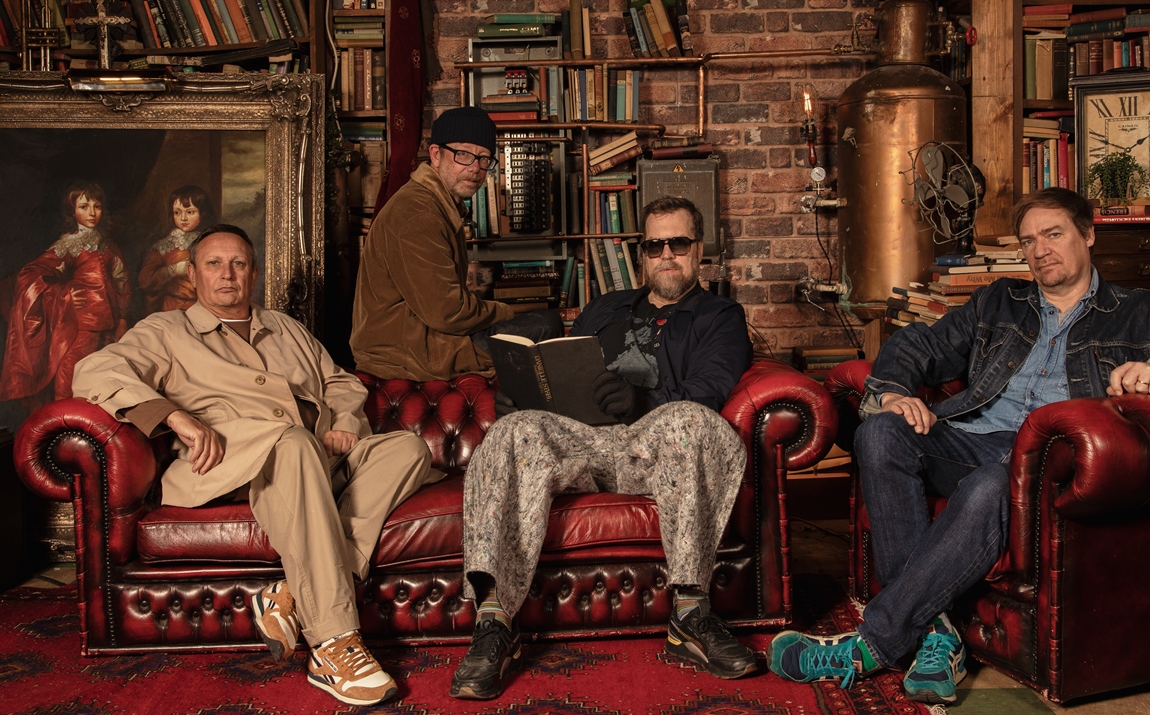 A supergroup comprising of John Grant, Stephen Mallinder, Ben "Benge" Edwards and Phil Winter, CREEP SHOW released their acclaimed debut album 'Mr Dynamite' in 2018.
The histories of the individuals involved have been more than well documented and since then, John Grant has released two solo albums 'Love Is Magic' and 'Boy From Michigan' while Stephen Mallinder had two of his own 'Um Dada' and 'Tick Tick Tick…'.
Busy boy Benge co-produced all of those bar 'Boy From Michigan' while he has also been working with Neil Arthur in BLANCMANGE and FADER, as well as John Foxx. Not to be left out, Phil Winter has been back with his experimental folk band TUNNG for two albums.
All this without forgetting the regular Mallinder / Benge / Winter project WRANGLER who released their third album 'A Situation' in 2020. However, there was always this sense that the Bella synth union which was CREEP SHOW had more to offer…
Produced in Cornwall at Benge's MemeTune complex as a bunch of sonic experiments using vintage synths before the tracks were taken to Iceland for Grant and Mallinder to record their vocals, the new album's title 'Yawning Abyss' was inspired by "a cosmic event horizon" that Mallinder observed from his attic window while standing on a chair!
Opening proceedings with a punchy backing track, 'The Bellows' is like a blippy PET SHOP BOYS with layers of treated and vocodered vocals before being countered by enticing Middle Eastern resonances in the synth solo. A commentary on crypto currency, 'Moneyback' offers avant rap alternating between Grant and Mallinder which echoes the former's 'Voodoo' while the accompanying vorsprung durch technik is rather engrossing.
The futuristic-flavoured 'Yawning Abyss' title track takes the pace down to a grooving midtempo with slight voice filtering on Grant's delivery. 'Matinee' sees Mallinder get growly and as the track builds in size and tempo to a darker art-funk, it enters a close encounter of a different kind and becomes particularly ominous in the middle eight.
Moving into trancier house, 'Wise' is mysterious and minimal, bolstered by a barrage of synthetic noise. There comes another eccentric twisted rap on 'Yahtzee!' and despite the inherent weirdness, there are hooks within the squelchy sonics and frantic machine rhythms. 'Bungalow' though is conventional in comparison and perhaps comparable to a John Grant solo ballad; dressed with ivory flashes, harp runs and a synthetically sourced choir, with echoes of John Barry, this is akin to electronic Bond theme.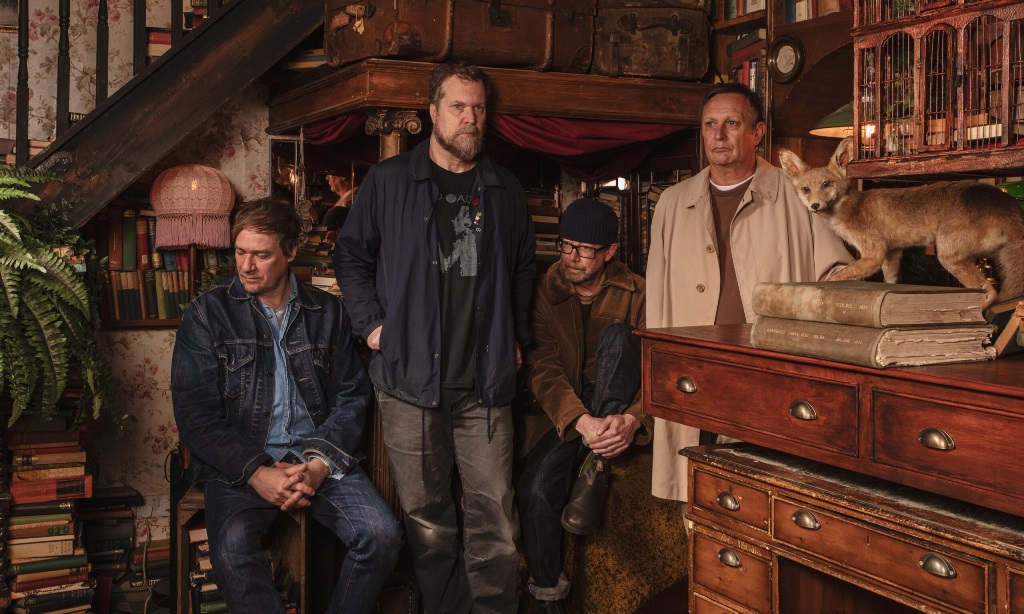 With schizophrenic voices penetrating from all sides indicative of the band name, 'Steak Diane' is an abstract experiment featuring bass guitar and reggae inflections to head into the final straight. To conclude, 'The Bellows Reprise' offers a shorter drum-less instrumental take on the album opener that adds the dramatic 'Blade Runner' sweeps of Vangelis.
Despite the tensions and menace captured within the music, the fun and camaraderie that was quite obviously had by the quartet in making 'Yawning Abyss' comes across, making 'Mr Dynamite' seem guarded in retrospect. Even the group photos for this album are more relaxed with everyone comfortable with the sophomore dynamic that now ensues. Straightforward in its approach with no egos or pretensions, 'Yawning Abyss' is an excellent experimental joyride.
---
'Yawning Abyss' is released by Bella Union on 16 June 2023, available in the usual physical and online formats via https://ffm.to/yawningabyss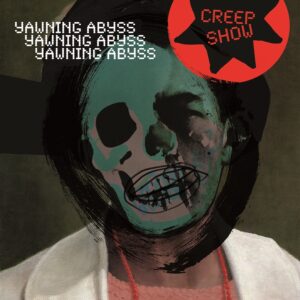 CREEP SHOW 2023 UK live dates:
Exeter Phoenix (15 June), Brighton ACCA (16 June), Jodrell Bank Blue Dot Festival (21 July), Hebden Bridge Trades Club (22 July), Latitude Festival (23 July), London Village Underground (25 July)
https://www.facebook.com/creepshowmusic/
https://twitter.com/CreepShowMusic
https://www.instagram.com/creepshowmusic/
---
Text by Chi Ming Lai
Photos by Chris Bethell
10 June 2023