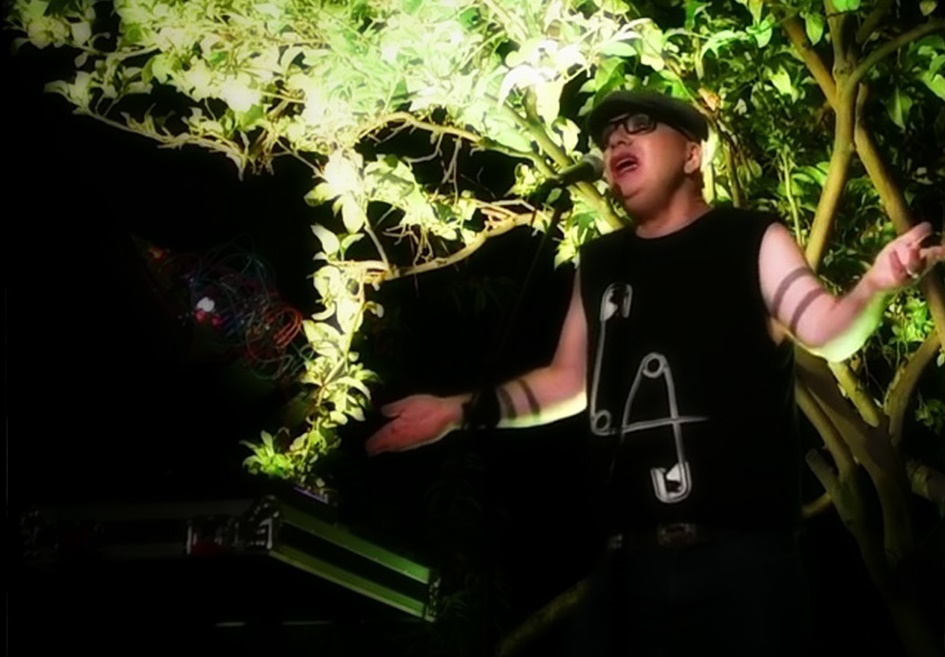 From his home in Los Angeles, Bon Harris of NITZER EBB has presented a series of streamed live performances under the title of 'Songs From The Lemon Tree'.
Accompanied by his system comprising of an Octatrack MK2, Roland MC101 and two rows of 104 HP modular plus a vibraphone, Harris impressed all with his wonderfully compelling upper vocal range and unusual esoteric electronic covers.
He told Reflections Of Darkness: "I wanted to sing songs that were light-hearted and optimistic – outdoors among the trees in the sunshine…" – while predictably, much of the alternative music media focussed on 'Compulsion' by Brummie post-punk musician Joe Crow (which Martin Gore recorded for the 1989 'Counterfeit' covers EP) in Episode 01 and the laid back jazz-tinged rework of DEPECHE MODE's 'Ice Machine' in Episode 02, it was the Episode 03 featuring an eclectic quartet of classic songs that was the most captivating.
Beginning with an emotive rendition of 'Love & Affection', the breakthrough hit of Joan Armatrading, the biggest surprise came with the eerie carousel ride of 'My Happiness'; written in 1933 by Borney Bergantine, although the version with lyrics by Betty Peterson Blasco as performed by Harris was first published in 1947, it was made famous by Connie Francis in 1958 but was also notable as one of the two songs that Elvis Presley recorded at Sun Studios in Memphis as a gift to his mother.
Meanwhile, the introduction to Paul Weller's 'That's Entertainment' sounded as if it might drift into 'But Not Tonight', but the set ended with a marvellous thumping dance take on the 1970 Diana Ross hit 'Remember Me' which was one of several world famous songs including 'Ain't No Mountain High Enough', 'Reach Out & Touch (Somebody's Hand)' and 'I'm Every Woman' from the portfolio of husband and wife songwriting team Nickolas Ashford and Valerie Simpson.
Reinterpretation is an artform and ELECTRICITYCLUB.CO.UK always prefers a thoughtfully crafted genre crossing cover version any day of the week, over a tedious remix by the man on the street with a DAW. In his autobiography 'Fast Forward: Confessions Of A Post-Punk Percussionist – Volume II', Stephen Morris of NEW ORDER hit the nail on the head when he said "The worst of it for me was all the remixes. A VERY big thing in the 90s; I have never got to the end of most of them. I don't think any of us have, to be honest."
"Each of the songs from the three episodes have had a special place in my life and experience since I first heard them" said Harris. This love and affection has been quite obviously apparent in his arrangements and vocal delivery for 'Songs From The Lemon Tree', demonstrating his sympathetic understanding of the music and the quality of the songs.
---
All three episodes of 'Songs From The Lemon Tree' can be viewed at https://www.youtube.com/channel/UCiXpThI8zmTLZocvVvZgGEg
https://www.instagram.com/bonharrisarts360/
---
Text by Chi Ming Lai
28th December 2020