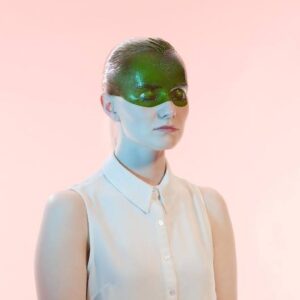 Over at The Finland Station, Helsinki-based musician Ringa Manner has been making crystalline sine waves with her project THE HEARING.
There are obvious parallels with SUSANNE SUNDFØR, as a singer / songwriter from a folk laden tradition influenced by Freddie Mercury and Kate Bush, slowly developing with enhanced technological support and innovation. Like MARSHEAUX, THE HEARING has also opened for 30 SECONDS TO MARS. Her debut album, 'Dorian', was released in Finland in 2013 by Gaea Records. The solemn but frantically percussive 'Wohu Wohu' was a good representation of her initial template while 'Sands' utilised synths and drum machine.
Now signed to Solina Records, home of SIN COS TAN, 'Backwards' from the new album 'Adrian' is a great bleep forward. Romantic and dreamy, yet harmonically tense in the way that makes Nordic electronic pop so intriguing, 'Backwards' sets the tone for 'Adrian' with an expanded palette of synths, soaring pop melodies and busy rhythm construction.
'Straight Teeth', the opening song on Adrian' is sharp with profanity, while a stark arpeggio provides the backbone for the sub-bass laden 'Rehearsal'. Both 'Too Happy' and 'Color Code' are songs of many intricate layers that recall GRIMES and THE KNIFE respectively before the lively percussive chant of the album's title track.
But the highlight is the sub-eight minute 'Kabeldon', the most frantically electronic item on the album and perhaps the one with the closest affinity SUSANNE SUNDFØR's more recent work with bows to DAVID BOWIE's 'I'm Deranged'. A mad cascading piano kicks in alongside the steadily building drum 'n' bass cacophony of noise before it all slows down into an eloquent Nordic dubstep ballad!
After all that, there comes the comparatively conventional and sweet Scandipop of 'Faint' while the dramatic closing number 'I Dream Of Demian' wouldn't sound out of place on an IAMAMIWHOAMI long player. A worthy sophomore offering, 'Adrian' paves the way for THE HEARING to make even further artistic gains; after all, SUSANNE SUNDFØR's international breakthrough 'Ten Love Songs' was her fifth album proper.
---
'Adrian'
is released by Solina Records as a vinyl LP and download on 22nd April 2016
The HEARING plays The Great Escape in Brighton on 20th and 21st May 2016
http://altagency.fi/artists/the-hearing/
https://www.facebook.com/Ringasofi/
http://solinarecords.com/the-hearing/
---
Text by Chi Ming Lai
20th April 2016