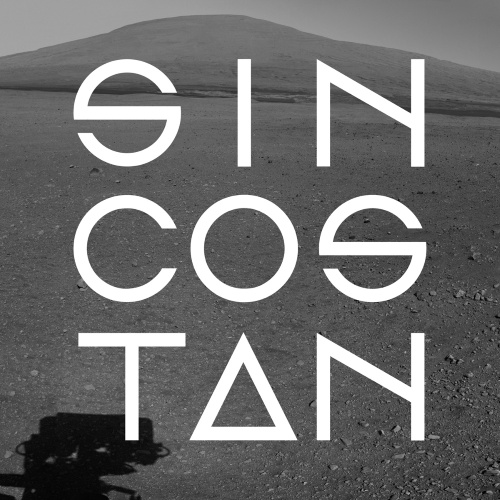 SIN COS TAN are Jori Hulkkonen and Juho Paalosmaa, two leading exponents of the Finnish electronic music scene.
Jori Hulkkonen is the seasoned production hand who in his various guises has worked with KRAFTWERK, PET SHOP BOYS, JOHN FOXX and TIGA among many. Juho Paalosmaa meanwhile is the vocalist and songwriter from VILLA NAH, the Helsinki duo who released one of the best albums of 2010 in 'Origin' and supported OMD on their UK tour that year. Hulkkonen was the co-producer of 'Origin' and his endorsement of VILLA NAH no doubt helped give them become a Top10 band in Finland.
Paalosmaa also sang on 'Re: Last Year', a track from Hulkkonen's 'Man From Earth' solo record; so a further artistic union was a natural and inevitable progression. As previously showcased on his deep bootleg reworking of 'Boltimoore', Hulkkonen's work has often been haunted by the ghost of Billy Mackenzie.
Paalosmaa, a singer schooled in the drama of DAVID BOWIE and the emotive melodicism of OMD, almost acts as Mackenzie's present day spirit. While there are hints of ASSOCIATES in SIN COS TAN, they have their own identity seeded by VILLA NAH and PROCESSORY, Hulkkonen's project with reclusive singer Jerry Valuri. Anyone who has enjoyed either will love SIN COS TAN.
SIN COS TAN's manifesto is to be "a synthesized duo of great promise, broken dreams, and long nights". The album starts with the almost funereal 'Sooner Than Now', its arpeggios reminiscent of JOHN FOXX & THE MATHS. The slightly off-key marimba and detuned synths make it an interesting if obscure start before the first SIN COS TAN track that went public, 'In Binary'. This dark, atmospheric space ballad could have come off PROCESSORY's 'Change Is Gradual' album although ironically, it started off as a solo Paalosmaa composition.
Acting as its next door neighbour, 'Book Of Love' shimmers with building bass drama and clicks along at a steady rimshot pace, attached to a light R'n'B shuffle. Much more frantic though is the tremendous 'History' which is set to a Klingklang percussive structure. Unrestrained, Paalosmaa makes a last ditched appeal to a departing lover with a cry of "you can be my history". Its imperial PET SHOP BOYS styled middle eight even comes with the Emulator chipmunk voice sample.
Despite the sombre tones of ROBERT GÖRL's 'Mit Dir' resonating in its intro, 'Calendar' is almost Balearic. But true to form with Hulkkonen's intelligent disco manoeuvres, the beats are complimentary and never overbearing… he understands that feel is more important than power.
Continuing the clubland excursions, 'Played Out' goes full-on New York electro with distorted robot voice samples alongside Paalosmaa's dulcet tones. It's a bit 'Paninaro' in its Bassline programming. Off-kilter rhythms drive 'All I Ever Dream Of' where Paalosmaa hits falsetto and heavier overtones within the same song before the track heads for a creepy percussive breakdown.
Another of the album's highlights is 'After All' the dynamic 16 step sequence and syncopated measures are complimented by layering strings and electronic oboe. Both are grainy enough to recall classic NEW ORDER while the song itself lifts into another headspace. Factory's finest were known for thumping dance tracks and guitar driven numbers so with the latter template in mind, 'Bittersweet' is enjoyable indie rock and with a spirited turn of energy. It brightly refines THE SMITHS gone electro template of Hulkkonen's first collaboration with Jerry Valuri 'Lo-Fiction'.
The marvellous 'Not Over' goes on record as the SIN COS TAN's first proper co-write. Like a smooth electro take on 'Flesh & Blood' era ROXY MUSIC but fronted by Thom Yorke, it even includes a sax solo to complete the circle of cool! As the focal point of the album's genesis, it was unleashed on a 12 inch white label with 'Sooner Than Now'.
This great album concludes with the superb 'Trust', its sweeping drifts, spy drama shivers and introspective reflections providing the most perfect avant pop. Like DEPECHE MODE's 'Enjoy The Silence', Paalosmaa's demo version was downtempo but Hulkonnen has pushed it into more rhythmic dance territory. As a result, it has become SIN COS TAN's calling card and is one of the songs of 2012.
Under the additional subtle influence of MASSIVE ATTACK's smokey vibes and the trippy dance textures of UNDERWORLD's 'Dubnobasswithmyheadman', SIN COS TAN's debut album impresses with a rich filmic quality permeating amongst all the synths and drum machines.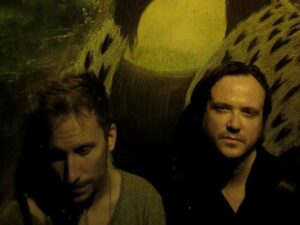 As a whole, there is enough variation while still maintaining a theme and a sound that is both immediate and thoughtful .
A great collection of songs to bridge the gap before hopefully another VILLA NAH album and whatever hat Jori Hulkkonen decides to wear next, those disappointed with PET SHOP BOYS 'Elysium' may find what they desire in these fractured Nordic soundscapes.
---
'Sin Cos Tan'
is released on CD, vinyl and download by Solina Records in Europe and Sugarcane Records for the rest of the world at https://sugars.bandcamp.com/album/sin-cos-tan
Jori Hulkkonen and Juho Paalosmaa discussed the album and its influences in a SIN COS TAN special recorded for Basso Radio on 19th November 2012
http://www.facebook.com/homeofsincostan
http://soundcloud.com/sugarcane/sin-cos-tan-sin-cos-tan-full
http://www.facebook.com/pages/villa-nah/8854069998
---
Text by Chi Ming Lai
Photos by Lauri Hannus
24th November 2012, updated 18th February 2018