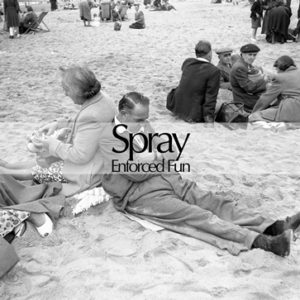 Jenny McLaren and Ricardo Autobahn (aka John Matthews) jokingly describe themselves as "Synth folk straight outa Lancashire".
Having been members of THE CUBAN BOYS, with whom they topped the singles charts in the UK, the twosome took on an off-shot project, SPRAY.
Autobahn has also been involved in a venture called BARNDANCE BOYS with Daz Simpson aka Darren Sampson, infamous for their exaggerated papier-mâché heads.
Two albums have been released since, followed by further EPs. And now, the good mates of Nathan Cooper aka TEC favourite KID KASIO, have returned with a lengthy production mischievously entitled 'Enforced Fun'.
The hilarious 'Prologue' by Jane Badler introduces the light hearted approach of this record, which is a happy and bright amalgamation of cheerful dance tracks, such as 'Hit The Applause Light', 'Overdramatic' (with vocals sounding like Sarah Blackwood's), 'Rotating The Square' and 'The Magic 8 Ball Lies' (loaded with Eurovision worthy qualities and varying vocals).
'You Show Me The Way' slows the tempo somewhat, resembling DUBSTAR or CLIENT, thanks to the clear, competent vocals and pleasant melody.
KID KASIO features on 'It's Not Enough'; an über electric come back to the synthier years. A refreshing approach to the old style electronica is what's expected of Nathan Cooper and this track certainly provides that in bunches.
'Diabolical Mastermind' provides political connotations interwoven within an efficient synthravaganza, while 'It's The Night Of The Long Knives, Charlie Brown' musically turns into a more folk and reggae inspired number, laced with clubland rhythms.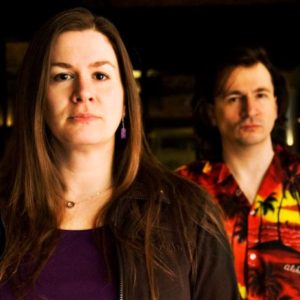 'Into A Tunnel' drifts away from the discotheque into a dream land and 'The 80s Never Died' is ERASURE in a can, followed by 'Fake Controversy Coincidentally Moves Product' and 'The Biggest Pool In LA' (a sarcastic answer to any problem).
HYPERBUBBLE feature on 'The Very Nerve Centre of Art Video Cliché', a song laced with ABBA's 'Gimme! Gimme! Gimme!' synth line and scarce guitar elements. The production closes with 'The Final Song', a measured ballad, peacefully wrapping this eclectic collection of "perfect songs for every mood".
SPRAY are well regarded and part of many collaborations, some of them including Autobahn's co-writing and production of 'Teenage Life' with Daz Sampson, which was UK's 2006 Eurovision entry; others have McLaren performing guest vocals on club records. KID KASIO, as well as many others, like LOLLY POP, POP INC and HELEN LOVE pride themselves with having worked alongside the duo.
'Enforced Fun' is a masterful dance gem, but without the sugary beats and need of overbearing vocal enhancement. What you hear is what you get, get it?!
---
'Enforced Fun' is released as a CD and download on 29th April 2016 via
http://spray.bandcamp.com/
https://www.facebook.com/spraynet/
https://twitter.com/spraypopmusic
---
Text by Monika Izabela Goss
7th April 2016