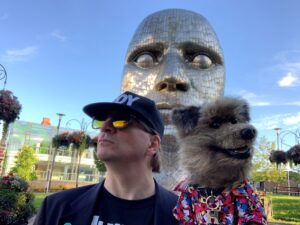 With something of a reputation as a musical prankster with his projects THE CUBAN BOYS, POUND SHOP BOYS and many more, Ricardo Autobahn is one of the more entertaining and irreverent characters in an industry that spends far too much time stating its self-importance.
A 2006 Eurovision entry with rapper Daz Sampson, along with producing a cowpunk-techno reworking of 'Rhinestone Cowboy' featuring the late country legend Glen Campbell have only reinforced this image.
Even his longest running vehicle SPRAY, an electronic pop duo with his sister Jenny McLaren, has its tongue firmly in its cheek. But while known as a purveyor of pranklectro, an intricate instrumental album from Ricardo Autobahn in 2019 called 'Check The Gyroscopes' came as something of a pleasant surprise.
But not done with 'Rhinestone Cowboy', there will soon be yet another version with his involvement, this time with Texan electro artpunk duo HYPERBUBBLE. Ricardo Autobahn joined in a fun conversation about his career, his recent role as the silent partner of Hacker T Dog and  the state of the synth nation…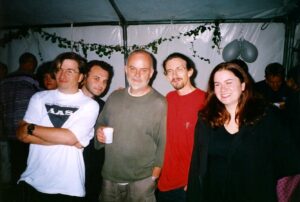 You celebrated the 20th Anniversary of THE CUBAN BOYS 'Cognoscenti vs. Intelligentsia' aka "The Hamsterdance Song", did you honestly think you'd still be making music two decades on?
I'm not sure. We did sign one of those famous million pound eight album recording contracts, which would have technically tied us into churning out product for decades but happily we almost immediately went down the dumper and left the label.
Actually I don't think I did think I'd be making music still – I remember my dream was always to have one big hit and live off the royalties. Which didn't really quite happen with "Hamsterdance" cos most of the money went to Roger Miller. And he's dead!
ELECTRICITYCLUB.CO.UK recently did a Various Artists compilation album listings article and two of the albums 'Electricity 2' and 'Robopop Volume 1' featured SPRAY. What was that early 21st Century period like being in a synthpop act?
Hard work trying to convince people electronic pop music (as opposed to dance music) was commercially viable. I think we were ahead of our time, or more accurately twenty years behind our time. Whisper it, but there is an 80s influence to our music, and during our time with THE CUBAN BOYS from 1999-2001, we were constantly trying to get a deal for SPRAY because (as we kept telling important people) the 80s revival was just around the corner. Synthpop would come back.
It nearly came off, the EMI demos went on to be remixed and finished as 'Living In Neon', but people just laughed at us for even thinking synthpop was going to return and find a fanbase with the record buying public. Those same people went on to great success a decade later with the likes of LA ROUX.
Ah the music industry, as forward thinking as ever…
Anyway, once 'Living In Neon' came out, we never really felt part of any scene because we never played live back then, and we were still doing behind-the-scenes production stuff on pop – so our day to day existence was very basic major label stuff. SPRAY was always our labour of love, our passion project – so when odd little things happened like our version of 'You Spin Me Round' turning up in 'Desperate Housewives', it was genuinely more gratifying than finding out something we'd worked on was No1 in Spain.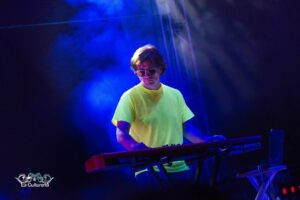 Slowing down a song to an inch of its life while wailing accompanied by an acoustic guitar does NOT make it better… DISCUSS!
It is a perfect thumbnail of the absolute bottom-feeding desperation of the music industry. One MOR singer songwriter has moderate success slowing a song down and it's all claws to the pump to copy the idea and grind it down beyond reason for years and years.
I don't think people really like them either; it's just this perpetual cycle of them existing in a void that's been created, because nobody comes up with any other ideas. Conversely, speeding up a song and adding orch hits always improves it though.
ELECTRICITYCLUB.CO.UK was criticised for giving more airtime to synth covers of songs like 'Witchita Lineman' and 'Gentle On My Mind' which were made famous by Glen Campbell than modern day synth covers of DEPECHE MODE, ERASURE and ULTRAVOX… but there really is no point in doing a synth cover of a synth song is there?
There is not. Cover versions serve one purpose and one purpose only and that is to annoy fans of the original. Doing respectful covers is a waste of time.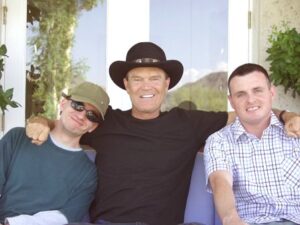 So when as Daz & Rikki, you approached Glen Campbell to do a cover of 'Rhinestone Campbell', did he take much persuading to join in?
We'd demoed the song in spring 2002 and immediately had a bidding war, signing with BMG in May. The problem was re-recording the chorus to clear it. We tried various options including the 'Stars In Their Eyes' route, and at some point somebody important said "why don't we just ask Glen?".
Now I wasn't party to the ins and outs of the conversations, but I was told one Thursday that we'd asked him and we were flying to Arizona to record it the next Tuesday so he must have been keen. He loved the idea though, I think he really really enjoyed it – these mad pasty-faced jet-lagged Mancunians turning up at his house with a DAT – to the extent we recorded a second never-finished single later in the summer, and I was talking with him for a couple of years about a duet with Jenny on a SPRAY version of his song 'The Highwayman'.
Whilst we were in his studio, he said they'd been thinking of doing a similar idea themselves about modernizing 'Rhinestone Cowboy', and was fascinated by how we'd put it together. We shared a lot of our haphazard production techniques, I remember he absolutely loved the kick drum we'd put on it.
After it came out and was a big hit, I got a call from a country music magazine (I forget which) who said there'd been "a lot of interest" from their readers and could I give some info about the release and the recording. So I did happily and when the magazine came out, the "interest" turned out to be a load of angry letters from furious Glen Campbell fans ripping us to shreds! *laughs*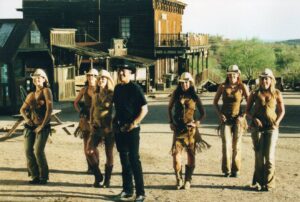 ELECTRICITYCLUB.CO.UK's favourite Glen Campbell story is now he and Alice Cooper were caught by a speed camera driving to a golf course, what was your favourite memory during your time with him?
(By the time) we got to Phoenix and rented a convertible Camaro at the airport and drove to his gated-community mansion with the roof down in midsummer Arizona temperatures.
En route, we got out the old gigantic camcorder to film the journey as a travelogue. With some inevitability, we put the Rikki & Daz demo on the CD player and I stood up and lip-synched along, much like Kylie in that 'Top Of The Pops' video for 'I Should Be So Lucky'.
Literally within ten seconds, we heard the sirens of a police car and to our excitement we were pulled over. The officer asked us what the HELL DID WE THINK WE WERE DOING and Daz – in his best Northern English accent – explained we weren't from round here and didn't know the rules. We were sent on our way.
Anyway, my top Glen Anecdote came during a break in recording in the studio at his home. He said "Hey, Rikki, come and look at this!" and showed me into an anteroom where dozens and dozens of guitars were lined up against the walls. It was a great sight and he picked one out and told me to have a go. Now I'm no guitarist but I wanted to show willing, so I clanged out a few atonal chords from 'Shaddap Your Face' or something and handed it back to the revelation that "that was Elvis' guitar"!*laughs*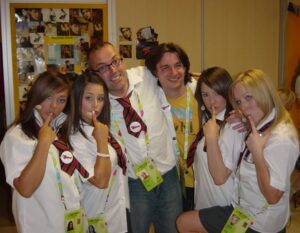 Is your co-write 'Teenage Life' for Daz Sampson as the UK's 2006 Eurovision entry possibly your most subversive moment?
There are a lot more reasons than this to be sad that John Peel died before his time in 2004, but I would have loved him to come to Greece with us for the Eurovision. He was a big fan of the contest, and the idea that somebody who had topped the Festive 50 was representing the UK would have no doubt appealed.
Imagine the BBC documentary we could have made. I think the fact that an indiepop Maida Vale veteran went to Eurovision was, at the time, equally annoying for both Peel fans and Eurovision fans. P*ssing off everybody, that's what I like!*laughs*
What did you think of Will Ferrell's film 'Eurovision Song Contest: The Story of Fire Saga'?
I thought it was a lot of rubbish, but that Will Ferrell kind of mainstream facsimile-of-comedy-via-overacting doesn't appeal to me anyway. It's not aimed at me. I actually abandoned it after half an hour when the only thing even approaching comedy was Ferrell saying "ding dong" in an accent.
Should the UK treat the contest with more respect like Sweden does, like they had LUSTANS LAKEJER, their equivalent of DURAN DURAN, in the running to represent them in 2007?
The UK should either treat the contest as something to be taken seriously with a proper selection procedure of decent young writers and credible acts, or as a full-on full-fat extravaganza and spend loads of money on absurd gimmicks and get me and Daz to write all the songs. The halfway house of 'X Factor' rejects singing never-used ONE DIRECTION album tracks makes no sense as it appeals to no-one and doesn't inspire enough passion to vote. At least if you enter something that's massively hated, logic dictates it will be equally massively loved.
What was your Euro-vision, as it were?
With 'Teenage Life', we'd originally demoed it with BLAZIN' SQUAD the year before and my mix of that was going to be slightly grimy and dusty, with some soot-faced urchins singing the chorus rather than the slick showbiz performance you saw at Eurovision. I think if it had been more like that, it might have sparked a bit more inspiration with the voters.
We fell a bit between two stools, balancing a glossy performance with a weird (for Eurovision) rhythm and rap. I do remember getting home on the Monday after the show and watching the video recording and thinking despite everything that happened that whole chaotic weekend, it was still a really good song.
I think had LORDI not entered that year and had the Lithuanian singers doing 'We Are The Winners' not been there, our gimmick might have been more successful. But we were out-gimmicked by the kings of the gimmick.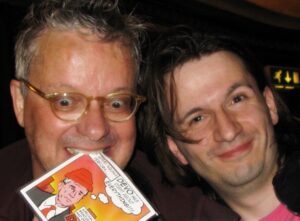 Hahaha! When LORDE first emerged and got radio play, ELECTRICITYCLUB.CO.UK thought "Bloody hell, their sound has changed!"… anyway as THEATTERY SQUASH, you made 'Devo Was Right About Everything' and even got it remixed by DEVO members Robert and Gerald Casale… so were they??
We put George W Bush on the artwork for the single and the fact that he looks comparatively statesmanlike now sort of spoils the joke somewhat.
What was the idea behind POUND SHOP BOYS, a move towards ultimate pop supremacy?
My colleague and associate Phil Fletcher – the man behind TV's Hacker T Dog – is a big fan of the PET SHOP BOYS like myself. When he was a kid he had a cassette of TV themes and told me that as a youth he'd always thought 'Fireman Sam' would sound great sung by the PET SHOP BOYS but could never really explain why he thought that.
Having a studio to hand, we are able to take throwaway ideas that most people would treat as a passing thought and actually do it. It took a day and we had a good laugh especially when my girlfriend of the time came up with the "it's Pontypandemonium!" hook.
You completed this POUND SHOP BOYS plan with a video…
Oh we never plan anything; we made a video for 'Fireman Sam' almost by accident when we did some silly lip-synching against a white wall on our iPhones and threw every effect we could find in Final Cut Pro at it. Genuinely, we spent 10 minutes filming that and it became this great thing. Radcliffe and Maconie even played it on BBC 6Music a few times.
Since then we've appeared on stage with THE GRUMBLEWEEDS and THE KRANKIES and our version of 'The Banana Splits Theme' saw us on NBC news across the States with the original actors who portrayed the Splits. The point is, if we do become ultimate pop supremacists, it will be by accident.
You play keyboards with HELEN LOVE, what's happening there at the moment?
New album out in October. We were supposed to be playing Paris Popfest in September before all the Corona kicked off, but hopefully 2021 will see us back on the international touring scene.
You released an instrumental solo album 'Check The Gyroscopes' in 2019 and some might say they were surprised that it was a serious record, do you tire of being considered a musical prankster?
My first love was always instrumental synth music from Jean Michel Jarre or THE ART OF NOISE and I've always favoured stuff that shows a good sense of fun now and then – TANGERINE DREAM, even Mike Oldfield at times – as opposed to the po-facedness of yer Vangelises.
It's the same with non-instrumental, I've always enjoyed people like SPARKS and YELLO and always just endured people like DEPECHE MODE and various clones down the years. So I hope there's a lightness and jollity to the instrumental stuff I do – I've done four albums over the years and it's always been pure self-indulgence.
Saying that, you've done a reinterpretation of 'Cotton Eye Joe' with CBBC's Hacker T Dog… he described you as his "second favourite music producer from yesteryear" so what was he like to deal with, does he have any dark secrets or diva-like tendencies like George and Zippy from 'Rainbow' did?
I will say he's an incredibly lazy dog. We've just filmed a new video in Wigan where Hacker is from – he regularly celebrates and mentions the town so that if he's ever asked to do any location filming he doesn't have to go too far and can be home in time for Coronation Street. I asked him why he didn't move to Salford and stayed in Wigan, and he said "because all my stuff's there".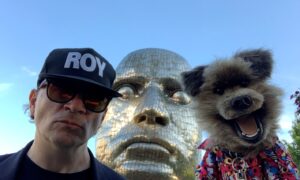 'Q' magazine recently announced it was folding, but it did disappear up its own backside! Are we missing the irreverence of early 'Q' and imperial phase 'Smash Hits' in music journalism? It's like you can't make fun of an artist or highlight their shortcomings anymore without someone jumping on social media going "HOW DARE YOU? THEY'RE A LEGEND?" in a time when the word 'legend' is seriously overused…
I can't express it any better than that. The best kind of artists – pop or otherwise – are those that don't take themselves too seriously, or at least take their sense of humour seriously. But everything's so BRIT School-honed nowadays there's nothing to make fun of.
'Q' was pretty good in the 90s, a rich feast of thoughtful and interesting articles and had that Tom Hibbert irreverence and lack of respect. But like all print media, it suffered at the hands of the internet – half the joy of 'Q' was finding out what was coming out, reading their impressions of what forthcoming albums were like. When you're renowned for your refreshing and wordy music reviews, you don't want something like Spotify coming along to make them obsolete. Why read a music review when you can just listen to it to see if you like it?
SPRAY's 'We Gotta Get Haircuts!' became quite relevant during lockdown, was it time to mullet over?
If we had any sense we'd have written a song called 'We Gotta Get Haircuts' that was actually about getting a haircut, and made a video with loads of people getting haircuts, and we'd probably have got on 'The One Show' or something.
But no, we had to make it a really oblique song about failing rockers in the twilight of their career, and an observation on how cool music always sounds exactly like unfashionable music if you take the stylists out of the equation! *laughs*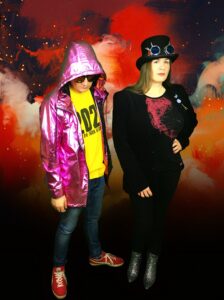 How do you see the UK synth scene at the moment, it would seem that some socially inept promoters trying to get in on the act for not entirely genuine reasons?
We consider ourselves part of no scene, and if anything SPRAY are the hands across the world bringing people together. We're not saying we're better than religion, but we are.
We're not synthpop, we're not indiepop, but we're also both of those and we're probably other things too.
To that end we had actually booked a few punk venues to play in November before Covid-19 hit, perhaps it's for the best those won't happen now.
Is a Darwin-esque period of evolution required now or should listeners have more empathy and support any kind of synth music whatever the quality, so that it still continues to exist?
I do like the general support and positivity synth music gets across the "scene", I'm not massively into synthwave for example, but I do appreciate the way it's dipping it's toe in the real world where normal people are getting to hear it. Essentially, I need people to curate the synthwave highlights for me, which is where radio comes in.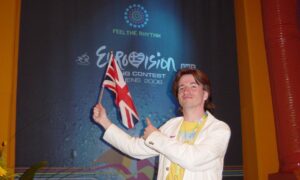 Anyone that follows your Twitter will be amused by your live commentary on 'Top Of The Pops' re-runs and various nostalgic radio shows. Was the phenomenon of pop really much better in the past or are people like us are just grumpy old men???
This goes back to the irreverence of pop and I do quite like to treat sacred cows with the lack of respect they deserve.
I don't always mean it. I once said I was glad David Bowie was dead because of 'Dancing In The Street', and I didn't get banned so it must have successfully come across as a joke. Maybe my brand of iconoclasm is getting a bit tired and I should be more positive for 'Top Of The Pops' as it lumbers into the 90s. Like and subscribe, readers, @ricardoautobahn on all portals, please RT for awareness.
You do lose touch with pop music, I listen to Radio1 a lot in the car and like most of it but have no idea who the artists are. The charts are always the charts, you remember the good and bad and forget the mediocre. That said, it's always a relief more than anything when an artist comes along who you can still go bonkers for even at this age, and that artist this year is Ava Max. Who is fantastic.
I'd like there to still be a weekly TV pop show that I can make fun of on Twitter…
Of course, the new SPRAY video for 'Chump For Your Love' is a homage to ITV's 'The Chart Show'…
'Chump For My Love', we felt we needed to plug 2019's 'Failure Is Inevitable' album a bit more, so gave it an electronic overhaul and went down to Crosby Beach in February, before the lockdown. We figured if we got 20 or 30 minutes of quick footage, we could make a nice low-budget arty video, but we got so cold after about 10 minutes, we came home again.
Adding some captions was a fun way to try and distract from the lack of footage, and it soon became apparent we could have a bit of a laugh with it. It's a good way of getting people to watch all the way through rather than just tailing off after a minute like most of our stats seem to indicate *laughs*
As a grumpy old man who has had his 15 minutes of fame, should grumpy old men by their nature still be trying to make that last gasp at validation?
Once I get that validation, I will stop. I'm unceasingly grumpy due to the fact my various smash hits are so forgotten, they don't even crop up as questions on Ken Bruce's Popmaster – once I've had my BBC4 documentary, I'll stop banging on about it! *laughs*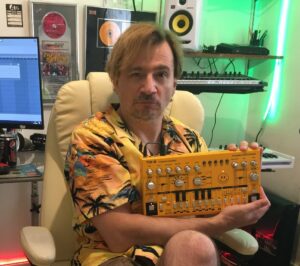 What are the upcoming plans in the SPRAY camp and any other projects you're allowed to talk about?
I bought one of those Behringer 303 knockoffs before lockdown and have written a lot of spontaneous acid-esque backing tracks.
We've got loads of wacky ideas floating for these, when we finally get around to getting together and recording them it'll be a quick, spiky, spontaneous SPRAY album and the world will be delighted. SPRAY and the POUND SHOP BOYS will get back on the road in 2021.
What have been your own career highlights?
Although it never got shown in the end outside of BBC Prime (?), filming 'Top Of The Pops' was the greatest three minutes. Doing your first Pops is exactly like you'd expect it to be. This dreamlike state of posing and trying to drink in the moment.
It wasn't a great performance because the idea we'd had was for it to be a performance art piece (a la PET SHOP BOYS when they did 'Can You Forgive Her'), with John Peel centre-stage covered in cobwebs. He couldn't do it in the end so they just wheeled in as many synths as they could find out of storage. They still used the cobwebs though.
---
ELECTRICITYCLUB.CO.UK gives its sincerest thanks to Ricardo Autobahn
'Check The Gyroscopes' is available as a digital album direct from https://spray.bandcamp.com/album/check-the-gyroscopes
The SPRAY EP 'Offerings From The Algorithm' is available from https://spray.bandcamp.com/album/offerings-from-the-algorithm
A selection of POUND SHOP BOYS releases in physical and digital formats can be obtained at https://poundshopboys.bandcamp.com/
https://www.facebook.com/ricardoautobahn
https://twitter.com/ricardoautobahn
https://www.instagram.com/ricardo_autobahn/
---
Text and Interview by Chi Ming Lai
16th August 2020