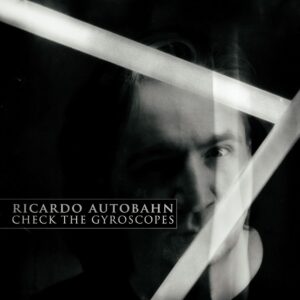 Ricardo Autobahn is a something of a music industry veteran and a known purveyor of pranklectro through his various adventures with THE CUBAN BOYS, SPRAY and POUND SHOP BOYS.
And all this without mentioning a 2006 Eurovision entry with rapper Daz Sampson, plus recordings with CBBC puppet star Hacker T Dog and the late country legend Glen Campbell with a cowpunk-techno reworking of 'Rhinestone Cowboy'.
So when 'Check The Gyroscopes'
arrived in ELECTRICITYCLUB.CO.UK's inbox, it caused some headscratching…
What, a serious instrumental electronic album with intricate complex layers that was thematically a reaction against the current fashion for Synthwave? "I had been writing a lot of library music, production music and TV music and occasionally found myself doing stuff that was too or meandering for that format" said Autobahn on how 'Check The Gyroscopes' developed as a follow-up to 2012's 'Rasterscan' and 2016's 'Panophobia'.
'Cocktails On The Dream Train To Hyperspace' is a delightful uptempo opening, taking a leaf out of JEAN-MICHEL JARRE and his 'Arpégiateur' but with a harder beat. 'The Tranquility Of Gravity' extends on that vibe but with a spacier outlook, thanks to its swimmy string machines which sit within a grand widescreen setting haunted by its wintery Berlin origins.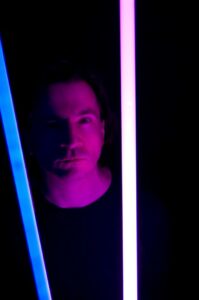 A pulsing lattice shapes the sub-eight minute 'Jetsphere Luxury Lounge' into a more progressive proposition before the more chillingly ambient 'Icedrop On The Camera Lens'. Meanwhile 'Rocketronic Mooncar' is a beautifully melodic metronomic piece that is both lean and to the point.
'Atomic Romance' swirls and sparkles in a manner that trumpets with a folky resonance like MIKE OLDFIELD. And as Autobahn prepares for launch on the lengthy 'Destination Astroworld', guitar makes its presence felt although it's the Kontakt software variant with "acoustic strum" and virtual Strats among the palettes used; the track is a fine demonstration of modern production techniques if nothing else as a computerised Steve Howe pops out… but like many YES tracks, it does go on a bit unfortunately.
Things get back on track with the frantic but rousing 'Too New To Be True' which enters VANGELIS territory with its sweeping texturing, despite its pace and octave interplay. Although possessing a rather long title, 'Emporium For Art Deco Adventurers' is as minimal and sparse as the album can get with more synthetic guitar stylings, leading into the closing tune 'The Comet Collector' which re-enters Planet Jarre but additionally throws in digital strums and bright Synth Britannia themes.
'Check The Gyroscopes' is an immediately likeable record and some may even prefer it to JEAN-MICHEL JARRE's more recent offerings. And as a reaction to Synthwave, it certainly hammers home the point and remembers to include some variation and tunes.
---
'Check The Gyroscopes'
is released as a digital album by Banoffeesound via the usual platforms and direct from https://spray.bandcamp.com/album/check-the-gyroscopes
https://www.facebook.com/ricardoautobahn
https://twitter.com/ricardoautobahn
https://www.instagram.com/ricardo_autobahn/
---
Text by Chi Ming Lai
30th October 2019