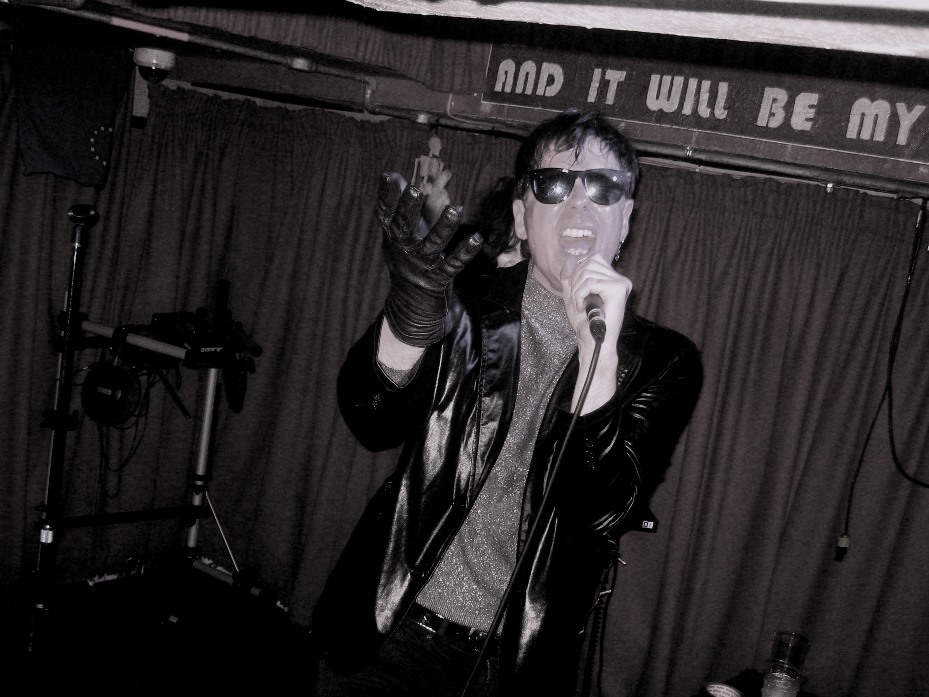 Halloween might be the time in the liturgical year dedicated to remember the dead, but KNIGHT$ kept things alive and kicking at The Roadtrip & The Workshop in London's Hoxton.
For James Knights, it's been a very busy year with albums released as KNIGHT$ and with BOYTRONIC, a UK tour opening for A FLOCK OF SEAGULLS plus assorted European gigs and notable music industry figures knocking on his door, taking an interest in his progress.
Getting through setbacks such as the collapse of Pledge Music, James Knights has shown resilience and strength of character, both much needed skill sets in music. He has also maintaned a down-to-earth demeanour free of ego and delusion, the latter two characteristics now being far too normal in modern society.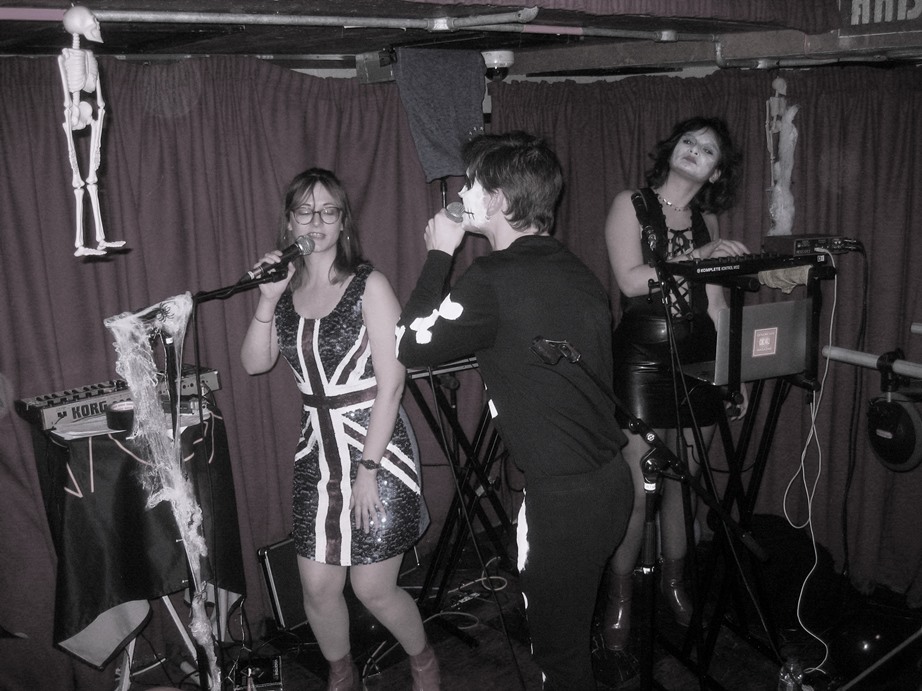 But to begin proceedings was Cambridge's Theo Sayers who released his most recent EP 'Ado Perma' last July. Dressed in a similar skeleton costume to the one that his younger self adorned the cover of that said EP, he presented his unusual brand of English hip-hop, like an urban Jona Lewie. Exuding humour and a sense of fun, the set also included his streetwise take on PRINCE's 'When Doves Cry'.
Next came the up-and-coming synthwave starlet Roxy Drive, a girl with a self-confessed crush on Ryan Gosling and a voice not far off Pat Benatar. Her debut album 'Strangers Of The Night' released in 2018 showed promise and tonight, she aired a number of its highlights as well as premiering some new material.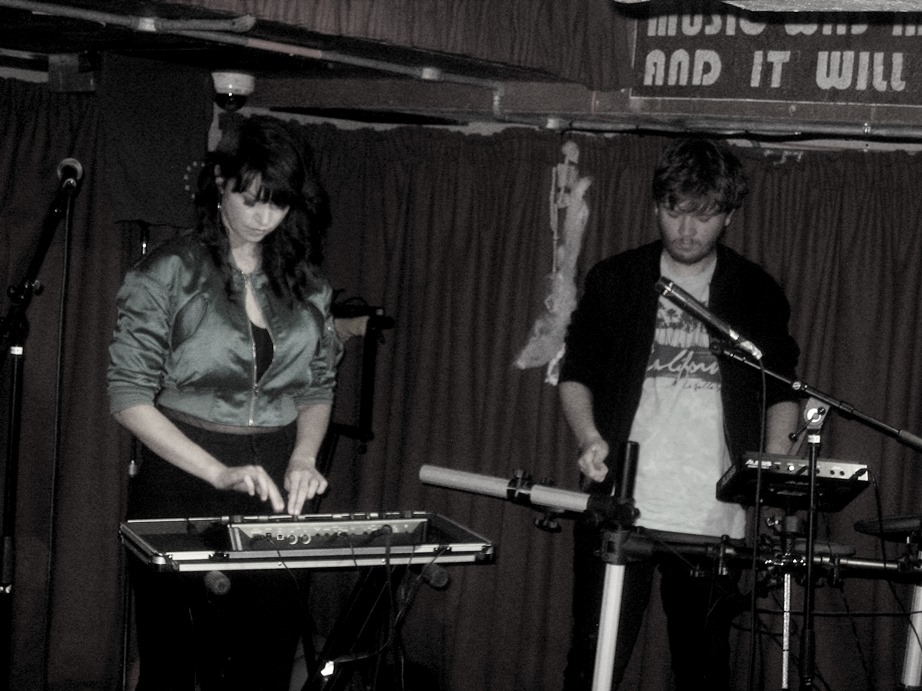 Accompanied by an electronic percussionist, among the set highlights were the energetic neon drenched first single 'Run All Night (Chase This Dream)' and the more recent 'Dangerous' from the upcoming album 'Electric Heart'. The latter showcased a refined development of her MTV friendly sound. She certainly looked the part and her live persona can only grow stronger as she gains more live experience.
For headliner KNIGHT$, it was to be an evening of celebration of 'Dollars & Cents', a contender for best electronic pop album of 2019 if ever there was one. Apart from the NEW ORDER derived electronic disco drive of 'So Cool', the set was largely drawn from the long player.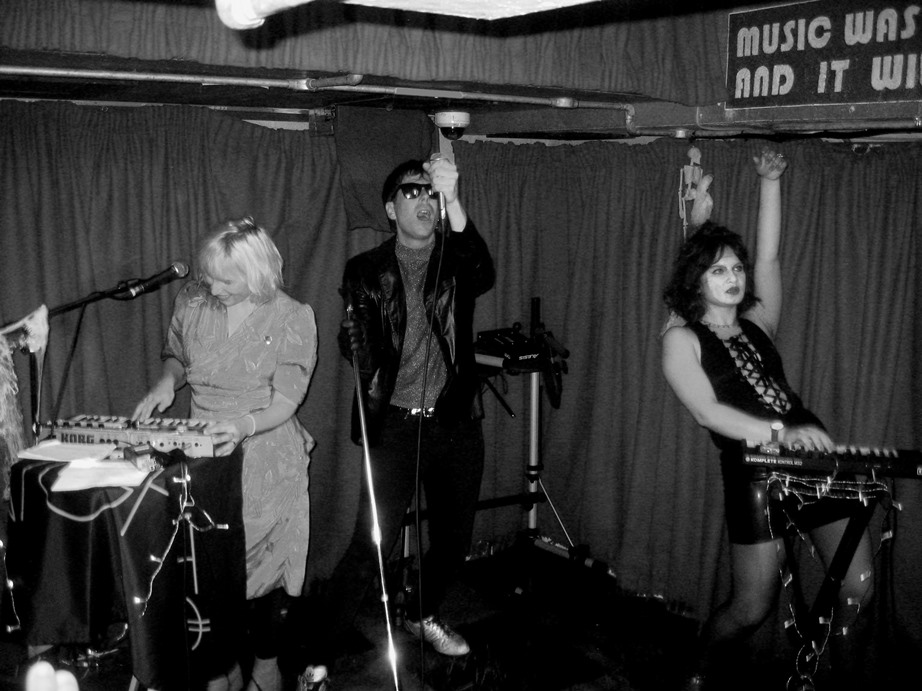 Accompanied by the alluring presence of Nina Casey and Jasmine Brady, both on keyboards, James Knights gave yet another of his charismatic performances bursting with energy and enthusiasm.
From the Eurobeat thrust of 'What We Leave Behind' and the heavenly pop 'Playin It Cool' to the amorous 'Gelato' and the snappy 'Alligator', Knights was hitting that perfect beat, entering the audience and somehow managing to avoid getting mic feedback. Engaging the audience masterfully, Knights asked everyone who had travelled the furthest to be at the gig. At first, it looked like it was Claudia and Tiffany, both from Berlin. But the undoubted winner was Ana who had ventured all the way from New York.
The brilliant 'Hijack My Heart' saw Knights tightening his trousers slightly, although the ceiling was so low at the intimate club venue, it did restrain his usual mic stand swinging antics. However, a pair of covers were thrown in. While PET SHOP BOYS 'Heart has been a regular staple of the KNIGHT$ live set, there was a supervise inclusion of 'The Never Ending Story', a song that has come to prominence again thanks to its inclusion in 'Stranger Things 3'.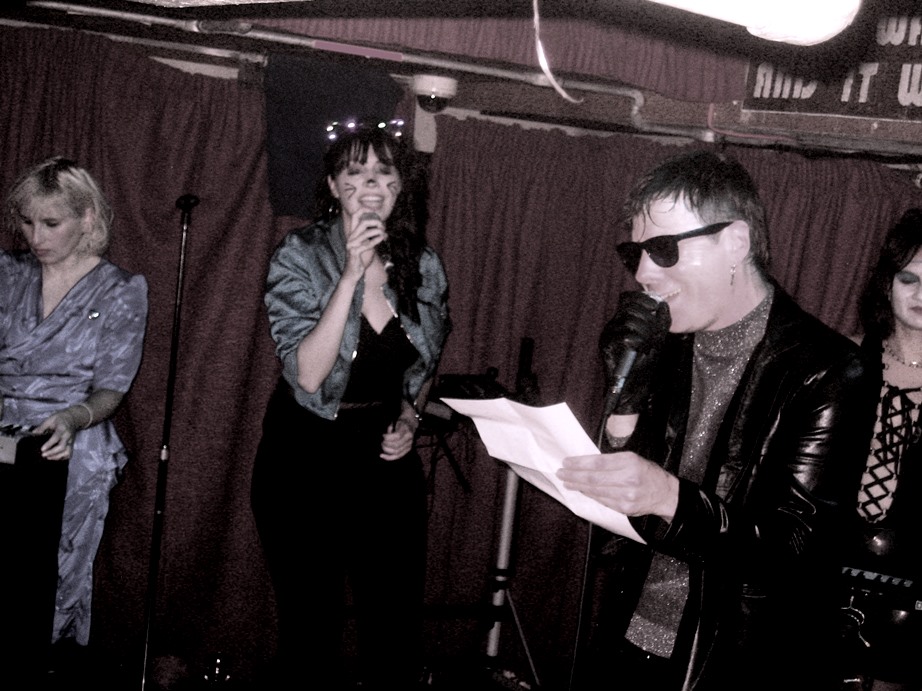 By his own admission "unrehearsed", with the assistance of a lyric sheet Knights embarked on a fun if slightly shambolic duet with Roxi Drive on the Giorgio Moroder produced classic, but no-one really minded as Roxi held her own and everyone else joined in.
Ending the evening with the album title song and new single, the catchy 'Dollars & Cents' captured the essence of the sparkly Britalo that Knights has well and truly mastered.
What a year it has been for the Winchester lad; after years treading the boards with SCARLET SOHO and knocking on the door several times, James Knights has finally found his sound and vocation as KNIGHT$.
With a European Union flag hung at the back of the stage in defiance, KNIGHT$ is just the escapist tonic in these bizarre times and a shining example how much better things are when people are united through music and more.
---

KNIGHT$ 'Dollars & Cents' released by Specchio Uomo is available in various formats as well as the new single including remixes by ITALOCONNECTION + THE HIDDEN MAN from https://knights101.bandcamp.com/album/
https://www.facebook.com/Knights101/
https://twitter.com/JPSKNIGHTS
https://www.instagram.com/knights101/
Roxi Drive 'Strangers Of The Night' is available as a download album direct from: https://roxidrive.bandcamp.com/album/strangers-of-the-night
https://www.roxidrivemusic.com/
https://www.facebook.com/RoxiDrive/
https://www.instagram.com/roxidrive/
Theo Sayers 'Ado Perma' EP is available as a download EP direct from https://theosayers.bandcamp.com/
https://www.facebook.com/theosayersmusic/
https://twitter.com/theosayers
https://www.instagram.com/theosayers/
---
Text and Photos by Chi Ming Lai
1st November 2019