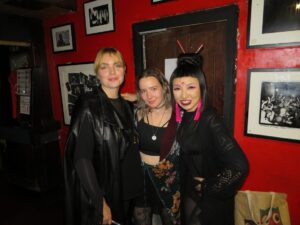 It was a year ago to the day that Ema Jolly, the Berlin based Anglo-Czech musician and producer behind EMIKA played her first true live concert at the Apple Store in London's Regent Street.
Since then, there have been series of Planetarium shows around Europe and festival appearances.
There was also a performance of her classical symphony 'Melanfonie'
in Mexico, a 'Remixes' album and now a British club tour.
Gathering together local support acts en route, the London leg at The 100 Club comprised of a fabulously talented female triple bill featuring FIFI RONG and GEISTE. And it was the latter who opened a busy well-attended evening at the iconic music venue.
Avant pop songstress GEISTE is a youngster from near St Tropez and one thing that struck immediately was her endearing Gallic charm. Despite titles such as 'Dither' and 'I Just Feel Really Empty Inside All The Time', like GRIMES, ZOLA JESUS or NIKI & THE DOVE, there was pop within the emotive darkness.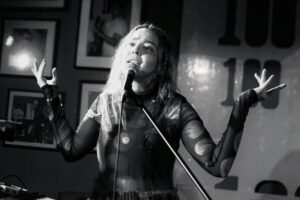 A newly written tune 'Twig' showed how GEISTE could make the audience dance while her excellent debut single 'Ocean' outlined her synthy cinematics.
'Anthems' also showcased the esoteric drama within her artistic palette while the closing upcoming single 'Utopia' indicated the epic percussive potential of her intriguing sonic universe.
For FIFI RONG, the world is now at her feet. Having collaborated with YELLO and TRICKY, she recently embarked on a tour of China to launch the Beijing-born artist's inclusion on the roster of W Records, a women-led music branch of Marriott International's W hotels also known for its on-property music festivals.
Re-establishing control of her own artistic destiny over the last two years, she has been working on her most ambitious project yet, embarking on a cultural fusion that combines her native tongue of Mandarin with the universal pop language of English.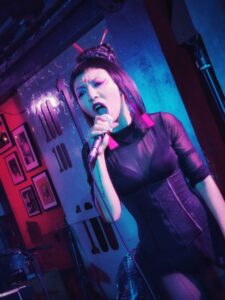 Accompanied by Ben Dunkerley on electronics, a number of yet-to-be-released songs were premiered including 'Chasing High' and 'Vermilion'.
'Dance Break' though was a total surprise with an animated techno tension never previously heard in FIFI RONG's previous work, while the superb 'Way Out' flirted with electro R 'n' B.
A new neo-acoustic number 'Farewell To Cambridge' inspired by the early 20th Century romantic Chinese poet Xu Zhi Mo's 'On Leaving Cambridge' explored the theme of cultural identity and belonging, before the captivating set closed with the airy whispered moods of 'Love Is A Lonely Thing Part 3'.
One of the best electronic pop albums of 2018, 'Falling In Love With Sadness'
has established EMIKA as an artist able to thoughtfully delve into the human psyche while undertaking a glorious sonic exploration of synthpop.
Using her trusty Arturia Keylab 49 hybrid synth set-up and a Kawai MP11 stage piano, covers of 'Wicked Game' book ended EMIKA's quality set which was supported by an excellent sound system, free of distortion but full of punch.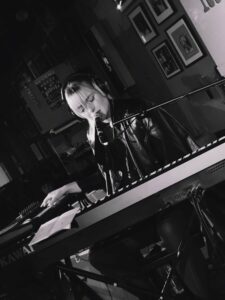 Within a deeply Eurocentric backdrop, the metronomic body stomp of 'Eternity' provided one of the early highlights, the aggressive energy counterpointed by the more subtle rhythmics and hushed vocal tones.
But where harsher dynamics were required, EMIKA had those too like on the 'Falling In Love With Sadness' title song where what sounded like corrugated iron being sharply smashed through to the underground system sat tightly next to a run of ecstatic synthetic bass.
As premiered at the Apple store the year before, classically-derived piano provided a crucial organic element over EMIKA's electronic backing, with enough familiarity of the original track present but with the tonal ivory presence providing the contrast.
Despite what could be a perceived shyness, EMIKA's stage manner was endearing in this imitate venue. There was an amusing game of 'Name That Tune' with the audience as she programmed the sequence of 'Run' while on 'Close', she used sweeping hand motions across her mouth to provide a delay effect to her vocals.
The brilliantly solemn but strangely sparkly 'Promises' provided a latter set highlight, with the chilling combination of cascading harmonics and dub-laden tension sweetened by further piano runs.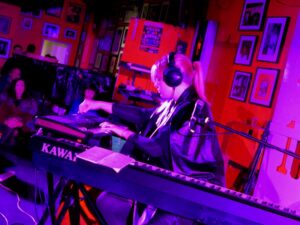 Now if EMIKA has a signature song which embodies her ethos, then it's 'My Heart Bleeds Melody' from 'Drei'
and that got a welcome airing tonight to big cheers along with the enjoyably sibilant staccato of 'Battles'.
With the stoic demeanour of her 2018 Apple Store appearance now absent in line with her growing confidence as a live performer, EMIKA was smiling and thoroughly enjoying herself.
EMIKA has found her niche with her juxtaposition of rigid beat assisted electronics and classically inspired piano playing, away from the DJ format of her earlier live gigs. And with a UK Planetarium show planned for 2020, the trajectory of momentum for her music can only remain upward.
Fully relaxed, towards the end of the evening, EMIKA asked everyone: "What sort of album would you like me to make next?" – ELECTRICITYCLUB.CO.UK with would like some technopop embellished with classical piano please.
---
EMIKA 'Falling In Love With Sadness Remixes' is released by Emika Records in CD, vinyl LP and digital formats, available from https://emika-official.bandcamp.com/
https://www.facebook.com/emikamusic/
https://twitter.com/emika_records
https://www.instagram.com/emikarecords/
https://open.spotify.com/artist/50Gx1SNB4vH2V7peIiYD4S
FIFI RONG 'Way Out' and 'Love Is A Lonely Thing' are available as singles on the usual online platforms
https://www.facebook.com/fifirongmusic/
https://www.instagram.com/fifirong/
https://open.spotify.com/artist/64yPy2kBAhOJSRxOEtL3Qk
GEISTE 'Ocean' and 'Anthems' are available as singles on the usual online platforms
https://www.facebook.com/geistefromashes/
https://twitter.com/geistefromashes
https://www.instagram.com/geistefromashes/
https://open.spotify.com/artist/0Rcx8Fs982C9oeE1lRm9iJ
---
Text by Chi Ming Lai
Photos by Simon Helm and Chi Ming Lai
14th December 2019