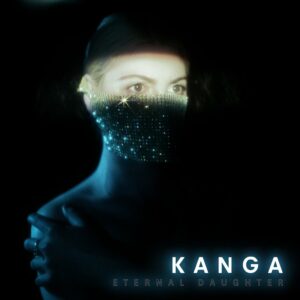 With the mix of the airy feel of MARSHEAUX and darker connotations of ZOLA JESUS, California based KANGA is no stranger to insidious sounds, having worked on the music for horror movies such as 'Nightmare', 'The Devils Carnival II', 'Insidious III', and 'The Conjuring II'.
Kanga Duchamp creates an unforgettable symbiosis of hard and ethereal, wrapped in electronic soundscapes of Los Angeles.
She likes mixing pop into her darker electro roots, not because pop sells but because the good hooks make a good song.
Her 2016 self-titled album, featuring SKINNY PUPPY guitarist Matthew Setzer and mixed by Rhys Fulber of FRONT LINE ASSEMBLY, created a buzz that continues to fuel the energy pushing the Santa Ana artist out into the open with her new mini album 'Eternal Daughter'
.
As all good things come in small packages, and EPs as well as mini albums seem to capture the listeners' attention more readily, KANGA decided to release a bite size provision, full of punchy tunes, which are leading her all the way to the Numan support slots.
'Burn' doesn't disappoint from the onset, weaving in the elements of vintage LADYTRON alongside layered vocals a la Greek goddesses MARSHEAUX. All that wrapped around gritty synth, melodic hooks and a fast paced musicality.
None of that stops, with the Persian inspired sounds of 'Daughter'. Here the bass is heavy, with cinematic progressions and very cleverly inserted metallic elements. The outcome is rather Numan-esque but somehow fresher and readier.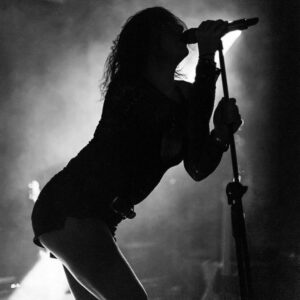 'Run' resembles the achievements of KANGA's LA colleagues NIGHT CLUB, with the vocal similar of that of Emily Kavanaugh's while 'Cocaine' fuels the electronic fire further with inspiration from the artist she often mentions in interviews and clearly takes a lot of musical advice from, NINE INCH NAILS. Their sound magician has clearly had a massive impact of KANGA's musical direction, with many describing her as a "female Trent Reznor".
The closing 'Control' is a coagulation of rough and ready eclectic mix of sounds, punctuated by melodic inserts, driven vocals and immediate femininity, bursting with energy and wielding the power of objectification.
With total musical freedom and steering clear from constricting pigeon holes, KANGA's style is difficult to classify; it is supposed to be a darker electronica with popular music elements, but the outcome is so much more than that. She's contemporary, unconventional and current, without being too quirky and audience limiting, self-indulgent to the point of becoming too niche.
KANGA is your new mainstream alternative and simply superb.
---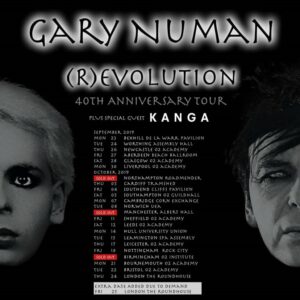 'Eternal Daughter'
is available as a digital mini-album direct from https://kanga.bandcamp.com/
KANGA opens for Gary Numan on his (R)Evolution 40th Anniversary UK tour, further details can be found at https://garynuman.com/tours2/
https://www.facebook.com/kangakullt/
https://www.instagram.com/k.a.n.g.a/
---
Text by Monika Izabela Trigwell
10th September 2019