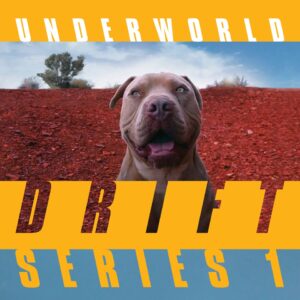 The start of November saw the official release of a huge body of work by UNDERWORLD that functions more like a musical diary than a premeditated set of album tracks.
'Drift Series 1' first started to take shape a year ago to the release date with the track 'Another Silent Way' and a statement from UNDERWORLD that "Drift is the opposite of 'normal' or 'usual' practice; we'll do this until we're dust."
With the intention of producing freely downloadable new work on a week to week basis, 'Drift Series 1' is an epic and in places daunting collection.
ELECTRICITYCLUB.CO.UK has reviewed the 'Sampler Edition'
which scratches the surface of a package that comprises 7 CDs, 1 Blu-ray, and an 80 page exclusive book documenting the whole 'Drift' journey from conception to conclusion in interviews with Rick Smith and Karl Hyde from the band and design collective Tomato's Simon Taylor.
Opener on the sampler is 'Appleshine', a collaboration with Aussie experimental jazz outfit THE NECKS, but here present in a very condensed version, the original 48(!) minute version is available on the full box-set. 'Appleshine' is a blissed out, open hi-hat driven piece which evokes early UNDERWORLD, flitting between two chords with a floating melodic vocal from Hyde and the addition of sporadic live sax arpeggios which work seamlessly on the piece.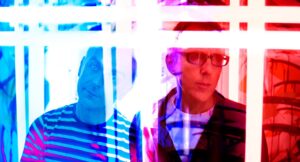 The excellent 'This Must Be Drum Street' starts with the kind of sequenced bassline that worked so well for German TB303 meisters HARDFLOOR before a key change and filter opening propels the track straight into Giorgio Moroder territory; additional textures of synth and another Hyde vocal contribute to another strong track which dissolves in layers of delayed vocals at the end.
After a short glitchy synth intro, 'Listen to Their No' takes no prisoners by quickly bursting into a glorious NEW ORDER 'Temptation' styled sequencer part. Featuring one of Hyde's most commercial hooky vocal lines, "there's no-one, no-one, no-one playing" and "magic's never broken" are soon lodged as earworms after only one listen.
'Brilliant Yes That Would Be' dispenses with the signature UNDERWORLD 4/4 drums, goes downtempo and evokes TANGERINE DREAM's soundtrack work with spacious PWM analogue Juno chords.
'S T A R (Rebel Tech)' is an alternative mix of the weekly version which surfaced on September 12th. The original was a delirious mash-up of 'Born Slippy' era UNDERWORLD and the drum pattern/vocal patterns from KRAFTWERK's 'Numbers', this mix is (arguably) not quite as strong but still features Hyde's trademark stream of consciousness lyrics which first surfaced on their groundbreaking 'Dubnobasswithmyheadman' album. "David Bowie, Mary Shelley, Nye Bevan and Tom Jones" all get a namecheck in a track which is unmistakably UNDERWORLD and still showcases how an electronic band can still remain unique after being in the business for almost four decades.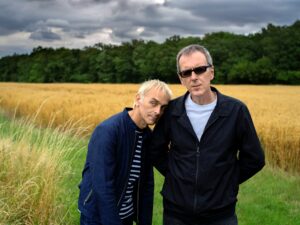 The mantra-like nine minute sampler closer 'Custard Speedtalk' deploys the kind of piano motif that Trent Reznor has so effectively utilised on his soundtrack work alongside some jazzy breakbeats.
After a mid-point break, some beautifully understated guitar joins the piano and live drums to create the effect of a live UNDERWORLD jamming together and works quite exquisitely.
For a band that's been around in one incarnation or another for nigh on forty years, 'Drift Series 1' is an absolutely superb collection. The production and release of new music every week has patently been a liberating process for Hyde and Smith and it's hard to imagine many acts being able to sustain this work rate at this level of quality.
'Drift Series 1' is an innovative mould-breaking way of releasing music and it highlights UNDERWORLD as a band which is still at the forefront of electronic music and very much at the top of their game – highly recommended.
---
'DRIFT Series 1'
is released by Caroline International as a 7 CDs + 1 Blu-ray boxed set featuring an 80 page book, a 'Sampler Edition'
is also available as a single CD
http://www.underworldlive.com/
https://www.facebook.com/Underworld/
https://twitter.com/underworldlive
https://www.instagram.com/underworld/
---
Text by Paul Boddy
4th November 2019