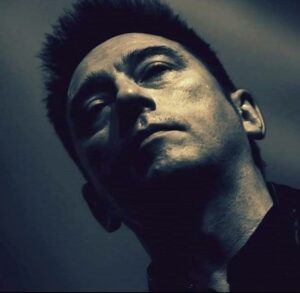 The musical vehicle of Thomas Lüdke, German EBM veterans THE INVINCIBLE SPIRIT first gained wider recognition in Europe with 'Push!' in 1986.
THE INVINCIBLE SPIRIT's debut album 'Current News'
featuring songs like 'Make A Device' became a cult favourite, inspiring Norwegian electro rockers APOPTYGMA BERZERK along the way.
Meanwhile, Thomas Lüdke's towering stage presence and dark alternative club sound made THE INVINCIBLE SPIRIT an appealing concert proposition.
Beginning life as THE INVINCIBLE LIMIT, Thomas Lüdke has also been involved in side projects such as GOD IS LSD, SOMA and THE MAO TSE TUNG EXPERIENCE. Although currently very active on the live circuit with a notable opening slot with APOPTYGMA BERZERK on their recent Summer tour, THE INVINCIBLE SPIRIT's last album 'Anyway' came out in 2015.
A single entitled 'Nein!' was issued in 2017, but with the release of possibly his most accessible song yet in 'Coming Home', Thomas Lüdke has promised a new album very soon. In a break from recording, Thomas Lüdke spoke about the past, present and future of THE INVINCIBLE SPIRIT.
How did THE INVINCIBLE SPIRIT come to its tense Teutonic electronic sound?
I never had the impression of sounding particularly Teutonic. But the harder electronic bass sounds, I liked very much when I started to make music. Maybe it's the influence of the dark basement where I started. 🙂
Many people also claimed the early TIS sound was very grim. I, on the other hand, always had a positive attitude. Probably you cannot just deny its origin. 🙂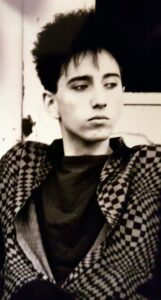 Was it always your intention to work solo in THE INVINCIBLE SPIRIT?
No, in the beginning I always wanted a band. And I formed this band for my first project. But since there were different opinions in the approach, I decided to start a second project with THE INVINCIBLE SPIRIT. There I composed the music alone and had only guest musicians for live performances.
Had DAF and DIE KRUPPS been much of an influence on you?
DIE KRUPPS rather less, but mostly it was FAD GADGET, KRAFTWERK, DAF and JEAN MICHEL JARRE (in that order). In addition, during my childhood I was influenced by Rock 'n' Roll (Beatles, Buddy Holly) and Country (Johnny Cash). My dad liked to hear this music and he also played me DAF for the first time. 🙂
How did you decide that you would express yourself in English rather than German?
I think English words sound better with my music. Maybe I'm also negatively influenced by Deutsche Schlager music, I do not really like this kind of music. 🙂
Your breakthrough was with 'Push!', can your remember what happened from recording the song to it getting heard?
When the song was finished in one night, I went to my favourite nightclub the next day and the DJ played the song. The response was immediately very good. Many people came to the DJ and wanted to know if this is already available. Also my record label Last Chance Records was immediately enthusiastic and released the record in a short time. It was almost an instant success.
How do you look back on the 'Current News' album released by ZYX Records?
I did 'Current News'
under a certain pressure of time. After the success of 'Push', the label wanted to quickly release a long-playing record. I was very dissatisfied with some songs and especially the studio sound. This could have been better. Nevertheless, it seems to have been received well by many people.
What synthesizers and machines were you using then? Did you have a favourite?
I have worked a lot with Kawai SX-210, Casio CZ-5000, Yamaha TX-802, Yamaha TG-77 and Yamaha RX-5. I first used the built-in sequencer of the CASIO CZ-5000 for 'Push!' and 'Make A Device'. Later I used the Atari ST with the Notator / Creator software. The TX-802 is still one of my favourites. Except for the RX-5 drum machine, I still have all the devices.
Was 'Make A Device' a reflection of the Cold War tensions of the period?
Of course, like many people back then, I was also worried that somebody would "push the button". But otherwise I was and am rather an apolitical person. But 'Make A Device' is more about not falling into lethargy and getting your life under control. But of course, it cannot be ruled out that the "Basic Sadness" was created by the signs of the times. 🙂
You recorded two more albums 'The Rollercoaster Revolution' and 'Can Sex Be Sin', but then things went comparatively quiet for THE INVINCIBLE SPIRIT until the 'Faster Life' EP, what happened?
There was a burden of 'Push!'. My music for some time was always reduced to this song. Also the record label and the management wanted me to do something like 'Push!' again. Also in this business, you often meet people who just want to take advantage of you. When I realised this, I needed a break and distance from these people. I still played live and composed new songs. But I just did not publish these songs anymore.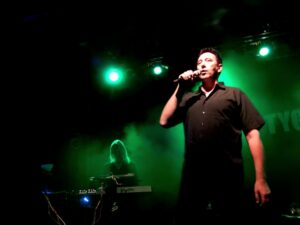 What made you decide on a 'comeback'?
As I said, I did live performances all the time. The spark was only in the year 2012, it flared up again at a performance at the WGT in Leipzig. The audience's resonance was so overwhelming that I decided to get really active again, but this time with the plan to take everything completely in my own hands, without a record label or management. So in 2015, I founded my own record label.
The 2015 album 'Anyway' had a lot of songs, it was like you had a lot of feelings bottled up to channel into music again?
On 'Anyway', there are many songs that have emerged over the years, but these usually were only in a demo song character. For 'Anyway', I picked it up again and composed it to the end. As a result, the album became very varied. I've never followed just one musical genre anyway. I like being diverse.
Was the mighty 'Hate You' based on personal experience? Had making the song been cathartic?
'Hate You' is more to be seen with a smile. I did not really felt hate for anyone or anything when I wrote the song. But of course, it's fun to let out the feelings during live performances. In addition, 'Hate You' for me is the official successor to 'Push!'. So for live performances, I mix the songs a bit together. 🙂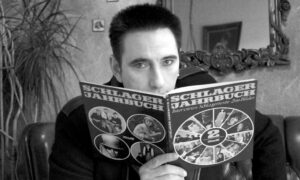 Do you feel that the modern environment of social media, downloading and streaming makes things easier or more difficult for an artist like yourself?
Well, on the one hand, it makes me a bit more independent of the music industry. On the other hand, the ways a song distributes itself on the internet are hard to control for a small label.
YouTube and Facebook etc are difficult to contact. When I uploaded 'Push!' to my YouTube channel for the first time in 2015, the channel was closed for a few weeks and I was accused of copyright infringement. I then clicked through YouTube for a long time and also clicked the hook for a legal dispute. Then it was quiet again and they finally understood. 🙂
What is 'Irregular Times' which was recorded as THE MAO TSE TUNG EXPERIENCE about?
It is about a teacher who despairs of the increasing lack of interest in his students. And he holds that out to them, in an ironic way. The original singer of the song Wilfried Peffgen was a teacher. Unfortunately, he died a few years ago, at the age of 70.
The new single 'Coming Home' has already been performed live and is maybe lighter than some of your other material, what was it inspired by and how did it develop as a song?
Actually, I had been working on a different song when I had the idea to the main melody of 'Coming Home'. I stayed with it and finished the song in one day. The text basically treats the feeling of coming home from a few concert days and looking forward to seeing the familiar faces again.
You recently remixed 'Backdraft' for APOPTYGMA BERZERK and toured with them, how did this kinship begin and continue?
It was Per Aksel Lundgreen, who wrote me a few months ago on Facebook and made me the offer for the remix. Back then, he told me the story of how Stephan Groth of APOPTYGMA BERZERK became inspired to make music himself after hearing the 'Current News' album. Stephan liked my remix and he offered me, to support APOP on the German tour.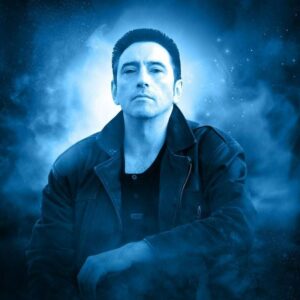 What do you think has been your proudest moment as THE INVISIBLE SPIRIT, either with an occasion, or a song or an acknowledgement?
This was the moment at the E-Tropolis in Oberhausen, when Stephan from APOP first told the story that he became a musician himself through my music.
I have already been told this by some bands, but no-one has publicly stated so far. That made me very proud. 🙂
What's next for THE INVINCIBLE SPIRIT?
Work on a new album is in full swing. Unfortunately, everyday life occasionally throws you back a little. Otherwise, it would already be finished. But I'm still in a good mood 🙂
---
ELECTRICITYCLUB.CO.UK gives its warmest thanks to Thomas Lüdke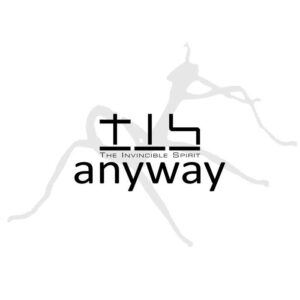 'Coming Home'
is released as a digital single via the usual platforms, while the album 'Anyway'
is also still available
THE INVINCIBLE SPIRIT play 6 Jahre KatzenCLUB-FESTIVAL in Munich with DIVE + TYING TIFFANY on Saturday 2nd November 2019
https://www.the-invincible-spirit.de/
https://www.facebook.com/InvincibleSpiritOriginal/
https://twitter.com/invinciblesp
https://www.instagram.com/the.invincible.spirit/
https://open.spotify.com/artist/5leTuVWMEcXFeyMuFeCv5J
---
Text and Interview by Chi Ming Lai
14th October 2019