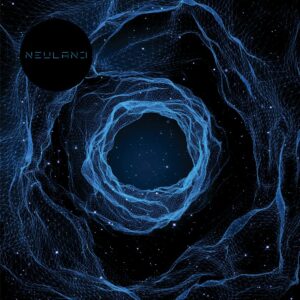 Whilst TANGERINE DREAM continue to forge ahead without founder member Edgar Froese, it has been intriguing to monitor how ex-members of this iconic and highly influential electronic band have developed their own solo careers and collaborate despite being part of the act at differing times.
Jerome Froese (who was a member of TD between 1990-2006) and Johannes Schmoelling (1979-1985) worked together with Robert Waters as part of LOOM and now sees a new joint venture between Peter Baumann and Paul Haslinger.
Baumann was part of TANGERINE DREAM during their classic 'Virgin Years' period and Haslinger replaced Schmoelling in the band in 1986, staying until 1990 to help solidify their soundtrack work ('Miracle Mile' and 'Near Dark') plus the well-received Jive Electro album 'Underwater Sunlight'.
Since leaving TANGERINE DREAM, Haslinger has continued to pursue the production of soundtrack music by scoring for a selection of film, TV and computer games including 'Fear the Walking Dead' and 'Resident Evil – The Final Chapter'. Despite speculation that Peter Baumann would rejoin TD after Edgar Froese's passing (a Facebook announcement even announced the possibility), Baumann ended up instead releasing another solo album 'Machines of Desire' to add to his individual canon of work which started with 'Romance '76' and 'Trans Harmonic Nights'.
The seeds of Baumann and Haslinger's collaboration started way back in 1991 with a promo cassette entitled 'Blue Room' but it's taken until 2019 for this partnership to be solidified with the release of their eponymous double album 'Neuland'.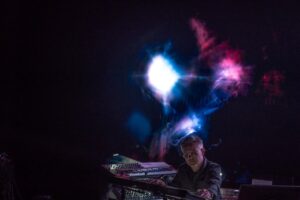 For those expecting re-treads of eras that Baumann and Haslinger explored with TANGERINE DREAM, 'Neuland' ('New Territory') will come as a surprise as it shows no huge desire to revisit past glories (although there are some subtle nods). Instead it focuses more on a soundtrack-based aesthetic and also factors in Baumann's use of live percussion which featured heavily in 'Machines of Desire'.
Album opener 'Cascade 39' is one of the most backwards-looking tracks on the album with a combination of Berlin-school style sequencing and a Minimoog-styled solo weaving through most of the piece. The introduction to 'Road to Danakill' is an unsettling mixture of vocal samples and what sounds like an ice cream van(!) before breaking into a mixture of brass, choir and glitched/reversed electronic percussion. It's here that Haslinger's soundtrack credentials start to come to the fore and it's not too much of a stretch of the imagination to envisage this as a theme to a Fox TV series.
'Counting on Time' has a very recognisable Baumann-esque theme, almost classical in conception, but combined with more warped percussion and ethereal background sweeps. The piece mutates from here eventually morphing into an entirely different beast with deep synth basses and synthetic choir melodies.
In complete contrast 'Dream 9' is a distant cousin of 'Trans Europe Express' era KRAFTWERK with mid-section clanging metallic percussion a la 'Metal on Metal' and Vako Orchestron-like textures spread over its seven and a half minute length.
'Liquid Sky' is an intriguing mixture of TANGERINE DREAM styled sounds and musical parts, with melodic elements which hint at 'Phaedra' or 'Rubycon' and a middle sequencer section which recalls 'Thru Metamorphic Rocks' from the 'Force Majeure' album.
It takes nine tracks before fans of old school TD are rewarded with the piece 'Measure 3' where both Haslinger and Baumann let loose in a track with an improvised synth solo over a ratcheted step-sequencer bass part. Far more disciplined than the previous more unstructured tracks, 'Measure 3' comes as somewhat of a relief, even though it is far from a hum-along melodic piece!
The remaining six pieces all have a soundtrack-aesthetic to them and veer from more unsettling soundscape based work of 'Nautilus' through to the euphoric/uplifting album closer 'Longing in Motion'.
At over 80 minutes in length and completely instrumental, 'Neuland' will be (for most) a daunting and challenging listening proposition, but repeated listens help to reveal its charms. A single album may have been a more preferable option, but in these days of Spotify playlists it would be easy to create your own 'highlights' for a concise version.
Those seeking the comfort blanket of classic era TANGERINE DREAM would be better off seeking out the band's newer material,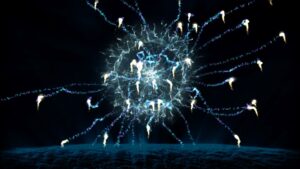 But listeners who are in reverence of Baumann and Haslinger's previous output will find much to love here.
Ultimately 'Neuland' is the epic sprawling sound of a hugely influential electronic duo pushing the musical envelope and steadfastly refusing to rest on their musical laurels… new territory indeed…
---
'Neuland' is released by Proper W/S in double vinyl LP, CD and bluray and digital formats
https://www.facebook.com/neulandproject/
https://www.instagram.com/neulandproject/
---
Text by Paul Boddy
6th December 2019