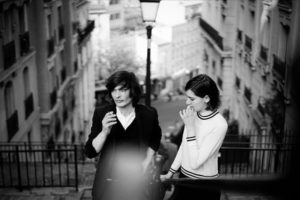 Brooding Parisian duo DOUBLE MIXTE have scored a major coup with their debut EP 'Romance Noire' by joining the Italians Do It Better family, home to CHROMATICS, GLASS CANDY and many others.
Produced and mixed by head honcho Johnny Jewel, 'Romance Noire'
comprises of four tracks and three variations on the theme, tied together by the creative synergy of Clara Apolit and Thomas Maan.
On the 'Romance Noire' title track, Apolit offers her almost dispassionate but alluring Gallic prose over a metronomic beat, fat bursts of sequenced bass and aggressive swirling synths for a slice of decadent electronic dancefloor cool.
Within a billowing haze of Gauloises, Maan takes the lead monologue on the more moody and filmic 'Arlette', but a surprise comes with 'November' which sees Apolit not only vocalise in English but also in an almost incongruous folksy manner; despite the clash of styles, the combination of soprano and stabs of synth provides for an eerie soundtrack that is only missing the visuals.
A wonderful neo-ambient aural sculpture with dramatic synth arpeggios, 'Arlette' effectively closes the main 'Romance Noire' before wordless and beatless 'On Film' encores of the title track, as well as an instrumental take on 'November'.
Recorded in 2017 but only released now, 'Romance Noire' showcases the varied index of possibilities emerging from DOUBLE MIXTE and it will be interesting to see where they head in the future.
Tout est possible, mais oui…
---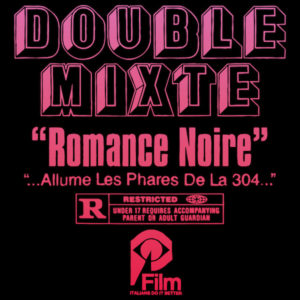 'Romance Noire'
is released by Italians Do It Better, available in pink champagne vinyl direct from https://italiansdoitbetter.com/product/double-mixte-romance-noire/
https://www.facebook.com/doublemixtemusic/
https://italiansdoitbetter.com/
https://www.instagram.com/italiansdoitbetter/
---
Text by Chi Ming Lai
19th February 2019