It's been a long time coming but one-time Numan guitarist and sideman Richard Russell Bell (hence the RRussell spelling!) releases his first EP 'Like-A-Human'.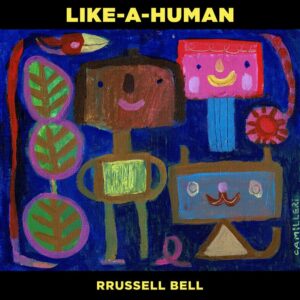 Russell Bell joined Chris Payne, Cedric Sharpley, Paul Gardiner and Billy Currie' for Numan's 'The Touring Principle' in 1979.
This was during the electronic pioneer's imperial phase, playing to sold-out crowds in the UK and then the world after Billy Currie left to rejoin ULTRAVOX, replaced Denis Haines.
But Bell wasn't just required for duties on his chosen instrument as he told ELECTRICITYCLUB.CO.UK in 2012: "I was the guitarist and I had five synths!! I had a Polymoog, two Minimoogs, Moog Taurus pedals, Synares and a Roland guitar synth!"
On 'The Teletour', he would be required to play violin while when he formed DRAMATIS with Payne, Sharpley and Haines, he would add saxophone, Chapman Stick and a Moog Liberation to his armoury.
DRAMATIS only released one album 'For Future Reference' in 1981. Haines left shortly after so the remaining trio of Bell, Payne and Sharpley soldiered on to issue a further three singles before disbanding and rejoining their former boss for the 'Warriors' tour.
Decades later, DRAMATIS announced they were reforming but sadly Cedric Sharpley passed away in 2012. A new track featuring Bell and Payne called 'Retro Alien Thing' had radio play in 2014 but since then, there has been something of an are they or are they not going saga with DRAMATIS. Chris Payne issued a solo album 'The Falling Tower' this year while the pair performed 'Fade To Grey' together at the Royal Albert Hall in 2018 opening for Numan on his string laden tour with The Skaparis Orchestra.
The title song could easily be retitled "Like-A-Numan", with Bell adopting the verbal mannerisms of the former Gary John Webb in a touching homage that will be enjoyed by long-standing card carrying Numanoids. Meanwhile on guitar, Bell turns into Robert Fripp!
On 'Haunted By You', Bell springs a another vocal surprise in a duet with the fabulous feminine allure of Charlie Jones, while the man himself offers a deeper vocal resonance away from the strained larynx heard on the work of DRAMATIS. The straightforward rhythmic backbone is perfect for the song's cinematic surroundings.
Cut from a similar cloth, 'We Drown In Bars' is exotically Eastern and airy, especially within its guitar motif with Bell offering another confident low register vocal with some Numanesque overtones. To end the EP, the gothic prog of 'Cold Zero' maintains the baritone while there is some fabulous frantic drum programming and a full-fat guitar solo emerging from the haunting choir filled soundtrack.
Russell Bell says there will be new DRAMATIS material and it appears that the 'Like A Human' EP is a welcome first step in sparking such a possibility.
---
'Like A Human' is released as a digital EP, available now from https://rrussellbellslike-a-human.bandcamp.com/
https://twitter.com/RRussellBell
---
Text by Chi Ming Lai
19th April 2019