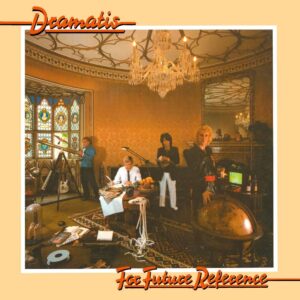 Following the retirement of Gary Numan with his spectacular farewell shows at Wembley Arena in April 1981, four of his erstwhile backing band officially went solo under the moniker of DRAMATIS.
RRussell Bell, Denis Haines, Chris Payne and Ced Sharpley toured the skies with the Machine Music pioneer and had been instrumental (pun totally intended) in the success of Numan's powerful live presentation.
While success for DRAMATIS for not exactly assured, several things were in place for a smooth transition to independence.
First the quartet had signed a deal with Elton John's Rocket Records. Secondly, they had also secured the services as engineer and co-producer of Simon Heyworth who had worked with on Mike Oldfield's 'Tubular Bells'. And finally, they had use of Ridge Farm Studios, one of the best residential recording facilities in the UK at the time.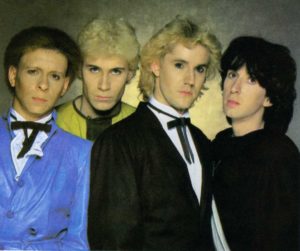 DRAMATIS were a brainy bunch. Guitarist RRussell Bell had a degree in Physics / Psychology and was versatile enough to handle unusual instruments such as the Moog Liberation keytar, Chapman Stick and Vi-Tar electric violin.
Drummer Ced Sharpley previously had cult success with prog rockers DRUID who were signed to EMI and had appeared on 'Old Grey Whistle Test'; his clean, dynamic drum breaks on 'The Pleasure Principle' tracks such as 'Cars', 'Films' and 'Metal' became very influential within the US Hip-Hop community.
Handling mostly keyboard duties, both Chris Payne and Denis Haines were classically schooled; Payne had also co-written VISAGE's 'Fade To Grey' and been noted for his viola playing on Numan standards such as 'M.E.' and 'Complex'. He had even mastered a Medieval reed instrument called a Cornamuse. Meanwhile it was Haines who had played the piano version of 'Down In The Park' that made it onto the flip of 'I Die:You Die'. However, it was exactly this type of musical background which the British music press still had total disdain for in the wake of punk.
"Between Denis Haines and myself, we used a Prophet 10 and Prophet 5, CP70 piano, Minimoog, ARP Axxe, Roland 330 vocoder, and Moog Taurus pedals" Payne said of the instrument armoury, "RRuss also had a Chapman stick which was sometimes heavily effected to sound synth like, and to complete the madness on the song 'Human Sacrifice', I played the cornamuse for that ancestral sound!"
Released after Gary Numan's Wembley concerts, the grandiose debut single 'Ex Luna Scientia' showed DRAMATIS' potential immediately. Celebrating the adventurous spirit of NASA, it coincided with the launch of the first Space Shuttle and sounded like a cross between ELECTRIC LIGHT ORCHESTRA and VISAGE.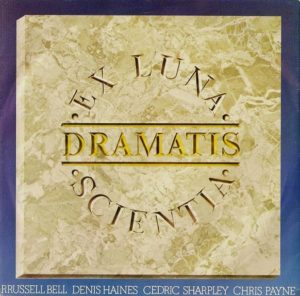 But it was too much for the savage journalists who already had their knives resharpened following usage on their former employer. "We had a lot to prove musically because Gary Numan had been getting so much flak in the press which reflected on us."
Chris Payne remembered, "They said the music was naïve, the band couldn't play and that was quite hurtful." 
Unfortunately, comments like "chicken without its head" were being banded about while other writers couldn't get their brain cells round a catchy vocodered chorus sung in Latin!
Undeterred, a follow-up single 'Oh! 2025' was put out but this was quite pedestrian synth rock compared to 'Ex Luna Scientia'. Incidentally, its beautiful B-side 'The Curtain' was later recycled by ULTRAVOX's Billy Currie for a solo track called 'Requiem'!
With Rocket Records still sniffing for a hit, the next single 'No-One Lives Forever' was swiftly issued. This was much better; the anthemic chorus, deep chanting bridge and Bell's heavy metal guitar solo contradicting the dystopian resignation of Haines' lead vocal.
Gary Numan said on the Radio 1 review show 'Roundtable' that it was "the best thing they've done yet". It even got played by Steve Wright although he was unimpressed; "I know it's deliberate but those vocals are awful" he quipped. It would be fair to say vocals were DRAMATIS' Achilles heel and sounded strained at best. But RRussell Bell explained: "When we recorded the first DRAMATIS album, we recorded the backing tracks first, then I'd lock myself in a room and write the lyrics. Then we'd start putting the vocals down, that's when I discovered that they were all in keys that were a bit high for my voice. Basically, I'm a baritone…"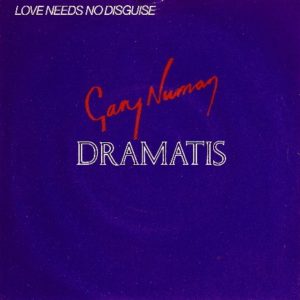 To attract interest in their forthcoming album, Rocket Records came up with a bold strategy with the release of 'No-One Lives Forever'… they put a one minute sample each of four songs on the B-side.
The idea was ahead of its time as snippet based promotion is now standard practice on many platforms. Alas, the single wasn't a hit and the album (which had already been advertised in the press) was now delayed.
A total remix of the album was made at the behest of the label while a new sleeve depicting the band as futuristic university lecturers was necessitated.
"The initial idea was supposed to be a Victorian glass display in the British museum with us as an exhibit" recalled Bell of that photo session, "The concept of glass cases came in but it was like four glass telephone boxes with us standing in them in an empty office. There was nothing British Museum about it. We looked at the pictures and they were crap. So that idea was scrapped!"
"Oh God, it was a mess!" remembered Payne, "I never understood why we spent ages recording it in one of the best studios in England at the time, only to remix it at Marcus studios in London, which was bloody awful. All this messing around when we had perfectly good mixes drove me to despair. It took forever, cost a fortune, we had to re-do the cover of the album. Denis Haines and I thought the album lost something. Having said that, the time spent at Ridge Farm was brilliant. It was a really inspirational environment and had a great pub in the village just up the road. Needless to say where we were most evenings."
Meanwhile while they were recording the album, Gary Numan paid a visit to his former colleagues at Ridge Farm Studios before he departed on an ambitious round-the-world flight. He particularly enjoyed the backing track of a song that had been written about their days touring together. Entitled 'Love Needs No Disguise', Numan asked if he could sing it. The band happily accepted.
With Sharpley's sparse drum machine intro dressed with his timbale rolls and Haines' stark piano chords, this was a lot barer than Numan's own recordings although he himself had been experimenting with minimalism on 'Dance'. Some pretty guitar and viola was the final touch and the track was released as a joint single on Numan's label Beggars Banquet. It reached No 33 in the UK chart but not as high as many had hoped.  The parent album 'For Future Reference' then slipped out in December 1981 almost unnoticed. It was though Rocket had decided to pull back on it.
Overall, the album had many impressive moments but also had several flaws. Featuring all the singles, one of the highlights was 'Turn', voiced by Chris Payne and throwing in everything from a classical intro, progressive interludes and pounding drums to clattering rhythm box, synth solos and angry if slightly ham vocals. "I have never felt comfortable about my own voice" Payne clarified, "It was always put down whilst I was at music college and as a result I really didn't care that much. 'Turn' was composed by me and I only recorded my own voice for either Denis or RRussell who were the principle vocalists on the album. But after I recorded it, everyone thought it fitted the track so we kept it."
The following 'Take Me Home' had the drama of a vintage silent movie with Chaplin-esque piano and strings heart wrenching as Haines cried like a disturbed teenager, repeating the title over and over again. Haines' Peter Gabriel impression could grate and was not to everyone's taste but his 'On Reflection' was another musical highlight on the second half of the LP, a sad lament about lost friendships. With a more conventional if limited rock oriented vocal, RRussell Bell had his moment with the incessant 'I Only Find Rewind' while 'Human Sacrifice' possessed aggressive tribal synthetics and an LFO squence from the Moog Liberation but was spoiled by a weak chorus.
DRAMATIS' only album so far showcased the band's virtuoso abilities and while the use of four different lead vocalists confused the continuity of the album, instrumentally, there was much to enjoy. Chris Payne certainly agrees: "I think it's a really good album. My only regret was that we didn't have just one person who could have sung everything to make it more of a cohesive album. We had Gary as a guest which was fair enough but me singing a track… c'mon? We should have stuck to one singer, that was a big mistake… but musically, it stands up."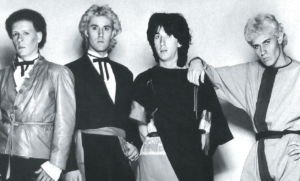 Very much the outsider even when he was in Gary Numan's band, Haines left DRAMATIS after he declined to tour the album and embarked on a solo career.
He released a Numan-esque 12" single in Germany called 'It Spoke To Me Of You' and an ambient album entitled 'The Listening Principle' which featured versions of 'The Curtain' and 'Take Me Home' retitled 'In Loving Memory'.
But at the start of 1982, the remaining trio released a great 7 inch pairing featuring the ULTRAVOX-like 'Face On The Wall' backed with the neo-classical jig of 'Pomp & Stompandstamp'. They then topped it with 'The Omen' Goes Disco magnificence of 'The Shame' a few months later although further chart action didn't materialise.
RRussell Bell thought it was one of their best songs and in a 2007 interview with NuReference amusingly recalled: "the line 'train crash killed the heroine' was about a starlet who died in a train crash. But the music press thought it was about heroin, which shows how bad their spelling is and also how f*cking stupid they are to even think I'd write a song about the most evil, insidious drug in the world. However, the guitar solo was pretty cool."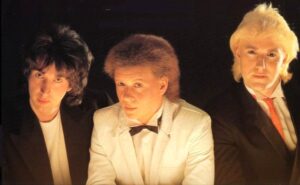 Following an appearance on 'The David Essex Showcase' (a short lived BBC talent showcase which also featured TALK TALK amongst others!), their final John Punter produced single 'I Can See Her Now' reached No 57 in late 1982.
But just as they were about to make a breakthrough with a second album on the way, the politics of the music biz had worn the threesome down.
While losing interest in their own band, Gary Numan meanwhile had got the bug back for touring and played clubs in the US during the summer of 1982 with a new backing band which featured Rob Dean, ex-JAPAN and soon-to-be-in-demand fretless bassist Pino Palladino. However, for his forthcoming 'Warriors' assault, Numan decided to call up his former band. With the prospect of more secure employment, DRAMATIS were no more.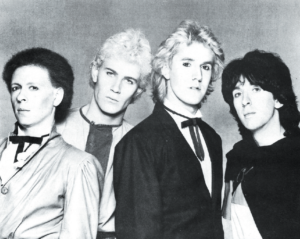 Fast forward to 2000 and with Gary Numan getting critical reappraisal for his imperial years, 'For Future Reference' was rather misleadingly reissued and promoted as a lost TUBEWAY ARMY album under the title 'The DRAMATIS Project' by Castle Select.
The CD was pressed from a vinyl cutting master while the seamless join between 'Turn' and 'Take Me Home' was spoiled by the atmospheric intro of the latter being faded out and then restarting again on its chilling ivory motif after a gap!
Meanwhile, the clueless booklet notes also implied that Messrs Bell, Haines, Payne and Sharpley were actually members of TUBEWAY ARMY… most Gary Numan fans knew the band effectively didn't exist when 'The Blue Album' was released in 1978!
RRussell Bell was dismayed when asked about this reissue: "Oh don't! The DRAMATIS 'project', it was never a project, it was a band!" But he had good news: "I've recently got back control of the album and bought back the rights, so we now own it again. And DRAMATIS is back together and releasing the second album".
So a properly remastered 'For Future Reference' finally gets its first official resissue on CD thanks to Cherry Red Records and the three post-album singles make their belated digital debut too with the B-sides 'Lady DJ', The Curtain', 'Pomp & Stompandstamp'  and 'One Step Ahead' also appearing. The BBC In Concert recorded at the Paris Theatre in 1982 featuring the unreleased 'Sand & Stone' and all the extended 12 inch versions are additionally included in the plethora of bonuses.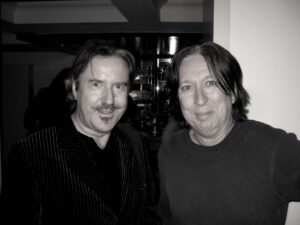 Looking back recently on the period, Chris Payne said: "Personally the standout for me is and always will be 'The Shame'. It started with the chord patterns whilst rehearsing at the old Nomis rehearsal studios in Earls Court and gathered pace from there with RRussell adding his parts with melody and lyrics, plus a brilliant guitar solo in the middle eight. I seem to remember that we recorded that at the old Trident studios in London, and it was a shame (excuse the pun) that we didn't continue there as I found this to be the perfect studio sound for DRAMATIS."
DRAMATIS were undoubtedly finding their feet as a solo proposition in 1982 but their tenure was cut short. Sadly, Cedric Sharpley passed away in 2012 but with a new single 'A Torment of Angels' and a live return in 2021, DRAMATIS can now finally reference their past for a future.
---
In memory of Ced Sharpley 1952 – 2012
ELECTRICITYCLUB.CO.UK gives its sincerest thanks to RRussell Bell and Chris Payne
Special thanks also to Stephen Roper at The Numan Arms
'For Future Reference' is reissued as a 2CD set by Cherry Red Records on 22nd April 2022, pre-order from https://www.cherryred.co.uk/product/dramatis-dramatis-2cd-digipak/
The Numan Arms YouTube channel featuring an interview with Chris Payne and an archive audio only chat with the late Ced Sharley is located at https://www.youtube.com/channel/UC-rRuX6k___Y4ZkTHwQg–Q/videos
---
Text and Interviews by Chi Ming Lai
Photos by Brian Aris
14th April 2022, based an article originally published 19th April 2012