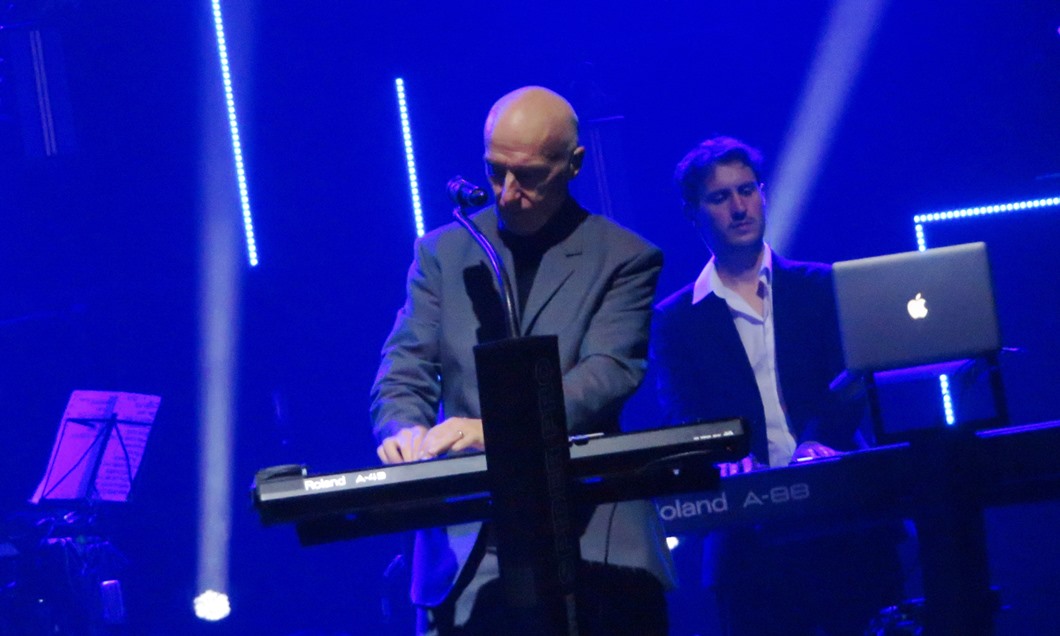 Midge Ure celebrates his 70th birthday and a life in music this Autumn with a special concert at The Royal Albert Hall on Wednesday 4 October 2023.
The start of his career included a spell as a teen idol in SLIK, embracing punk in its offshoot PVC2 and a doomed attempt to cross THE SEX PISTOLS and BAY CITY ROLLERS in the power pop of RICH KIDS with Glen Matlock, Steve New and Rusty Egan. But the demise of the latter coincided with the wider emergence of electronic music such as KRAFTWERK, LA DÜSSELDORF and YELLOW MAGIC ORCHESTRA which inspired Ure to buy his first synthesizer, a Yamaha CS50.
Licking his wounds, Ure went on to help pioneer the sound of the New Romantics in VISAGE with a collective project inspired by an idea from Rusty Egan and fronted by Steve Strange, the face of The Blitz Club. Another involved in VISAGE was Billy Currie and at his invitation, Ure joined him, Chris Cross and Warren Cann in the classic line-up of ULTRAVOX in 1979; the quartet had an impressive run of hit singles and albums with their unique brand of symphonic electronic rock which has since been borrowed and taken into the stadiums of the world by MUSE.
With a successful solo career that has included several No1s around the world, the lad from Cambuslang near Glasgow can also add his central role in BAND AID as well as collaborations like 'Yellow Pearl' with Phil Lynott, 'After A Fashion' with Mick Karn and 'Dark Dark Night' with Moby to his name.
This is all without mentioning a number of adverts including original music for 'Levi's' in their iconic 'Rivets' campaign and the title song from his 1996 album 'Breathe' soundtracking a memorable Swatch campaign in Europe; more recently 'Fade To Grey' which Ure co-wrote with Billy Currie and Chris Payne has featured in reels for fashion houses Chanel and Dior. Meanwhile, there have been a number of key TV synchronisations, one of the most notable being the use of 'Vienna' during the final episode of the unsettling 2017 Netflix series '13 Reasons Why'.
Midge Ure spoke to ELECTRICITYCLUB.CO.UK about his recent live tours, his back catalogue, music technology, collaborating with a former member of KRAFTWERK, his upcoming 70th birthday concert and his future plans…
You are fresh off the back off the 'Voice & Visions' tour and had the '1980' tour before the pandemic, has the success of these tours surprised you?
Yes! I won't lie! I really wasn't sure how things would pan out. The thing about the music business is it's like riding a rollercoaster. Sometimes it takes you to the heady heights of fame, the other times it takes you to almost obscurity.
I just consider myself a working musician, it's all to do with perception. There are people out there who given the opportunity of finding that you're playing somewhere, will come and see you because they bought the records or followed you for "X" amount of years. But they get side-tracked with family or whatever; then they're off the radar and don't know what you're doing because they don't go to venues, they're not on social media, they don't look at posters, they don't buy music papers (if there is such a thing anymore), all of that stuff!
So it was a new young agent who came along and said "you're missing out on a lot of people here" and he was brilliant at marketing. When we did the '1980' tour, I was stunned at the amount of people who said "Wow! Are you still touring?"… WELL YEAH! CONSTANTLY! But I could be playing down the road from you and you wouldn't know! *laughs*
It's just how it works so it's been a lot of that. The '1980' tour was great and I had trepidations about the 'Voices & Visions' tour not being able to stand up next to it… but I think it's superceded it, I think it got better so yeah, I'm very pleased that was the case 😀
Your audience generally doesn't appear to like standing up and dancing much?
You have to understand the demographic you know, there's a lot of the audience who do want to stand up but a lot of the theatres and venues that you play don't want people standing up for whatever reason! I mean, they're hardly the age group that's going to start trashing the joint!
But a lot of venues, when you do see people standing up to have a little dance or try to get into the aisle or come down the front, you're not allowed to do it. Also, there is an element of the audience who can't, they want to sit down… I'm sure they'd love to be able to get up and do whatever but it doesn't work that way, a lot of venues just won't let them do it and physically they can't.
In an ideal world, you'd have a venue that has a seated upstairs and a standing downstairs, that would appeal to everybody but it's just one of those things, we can't control that. So usually at the end of the set, I'm sure you've seen it, in the last couple of songs, I say "Right! Stand up, it's too late to throw you out so get up!" and they do.
Yes, the ones they do always seem to get up for are 'Dancing With Tears In My Eyes' and 'All Stood Still', two songs about nuclear Armageddon which does have a sort of amusing irony about it… *laughs*
That IS an amusing irony about it, I hadn't thought about that! *laughs*
But it's probably more to do with the fact that we're doing slow atmospheric tunes… normally when you build a set, you would finish with the last 5 or 6 songs all up there like 'Hymn', 'Dancing…' and 'If I Was'. You stack it full of things so that people don't get a chance to sit down, that's how you would do it. But in true ULTRAVOX form, we ended up finishing with 'Visions In Blue' and coming back on to try and build it all back up again, making it difficult for ourselves! *laughs*
Your pal Glenn Gregory once said to me that HEAVEN 17 has three distinct audience types, the loyal fanbase, those who only like the first two albums and those who only like the hits, have you worked out your audience demographics?
Not really, I suppose the majority of the audience will be people who bought the 'Vienna' album and all of that stuff in the first place, so they're kind of revisiting their youth. They've probably never gone away as such as music lovers, but there's maybe an element of the whole retro thing about it, everyone would like to be 18 again and relive the folly of what they were up to and re-wear the clothes and still have the hair they used to have, all of that stuff!
But there's also people, a much smaller element, who have just discovered you though a sync on movies or Netflix series or video games or whatever, they've discovered you through an entirely different route and in a retrospective way, they hear a track they find interesting and then look you up to find a world of music they didn't know existed and they work backwards. That's great that it happens so there's them and people coming back reliving their retrogressive thing. It's a bit of a mixed audience, but I can't categorise them all lie that. I've got solo fans who won't necessarily like ULTRAVOX and vice versa.
Were there any particular of those ULTRAVOX and VISAGE songs which you played on those two tours that have you rekindled a love for?
Yeah, I absolutely loved doing 'Rage In Eden' which is a lovely one to do. I love that little textural section we did in the middle of the 'Voice & Visions' show where is all kind of calmed down and got moody and all simplistic. I love doing that stuff as much as strapping on a guitar and making all the noise. I don't get the opportunity to do that often, to delve back in and pull things out.
In the same way on previous tours, we rediscovered 'I Remember (Death In The Afternoon)', we rediscovered 'Lament', you kind of forget about them. You categorise them in your brain and go "that was then, I'll do other things now" and then you play it out of the blue and it just comes back again, the reason that you liked it and the feeling you got from playing it all comes flooding back… it's not gone away, I've pushed it away, put it in a cupboard and locked it. But now I've opened up the cupboard again, it's the exact same thing! It's fantastic there are many songs that still lend themselves to live performance.
One non-single track that found a place on both tours is 'Astradyne' which is still mighty after all these years; I was saying to Vicky Harrison of POLYCHROME at the Cambridge gig about how the synthwave scene seems to think the soundtrack of 'Drive' and other synthwave instrumentals are The Bee's Knees, but I always throw 'Astradyne' at them! *laughs*
Yeah, it seems to work, it works on many levels for me having just sung on stage for an hour and a half, it gives me a 6 minute respite, a chance to catch my breath and let the vocal chords rest a bit. By the time I've done 'Astradyne' which was the first track in the encore, I'll be screaming my head off doing 'Dancing' and 'All Stood Still' on top of having just done the main show. So in that respect, it's good for me, it paces me and it gets me ready for the last couple of songs.
As a piece of music, 'Astradyne' still works, it's incredibly simplistic and it takes me right back to what it was like in that rehearsal room with ULTRAVOX and we started throwing our ideas round for the 'Vienna' album. I remember distinctly prior to the album coming out in America when I was there to do some promo and when they thought we were going to be huge there, they had me in a limousine with a couple of record company bods. We were driving to Long Island to do WLIR which was one of the New Wave radio stations that would play us and the record company bods wanted listen to the album. So I put this cassette on and you could see their faces drop a minute in when realised there weren't any vocals! They asked "Is this is the first track?", I replied "Yup! This is the opening track" and they were telling me "you can't use that!" *laughs*
It worked for us and it brings back good memories.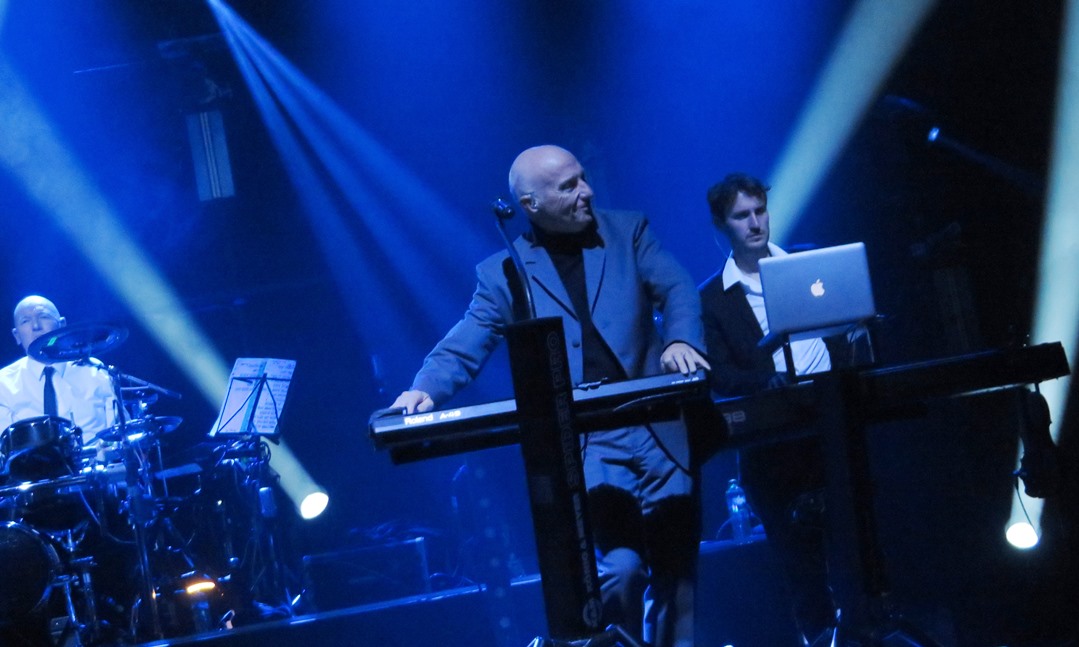 Was 'Himmelblau' by Wolfgang Riechmann an influence on 'Astradyne' at all?
I'm not sure, but Riechmann was one of the artists that Rusty Egan used to play at Billy's and The Blitz Club. It was probably more CAN, NEU! and eventually LA DÜSSELDORF, all that kind of melodic German stuff. The idea for the melody, I did that and I have no idea where it came from, it's probably subliminal, there's probably snippets of styles and elements that I'd heard in the club. It's not a melody as such because I'm not a keyboard player, it was something that just came up with my natural sense of melody. Of course, Billy was doing that lovely piano thing underneath it all and it made it all move, it was great. I love doing it.
'Fade To Grey' continues to have a life of its own and has been used recently in those stylish Gris Dior and Coco Chanel Crush adverts… have you seen them and how well do you think they've used the music?
I think they're re-recordings aren't they? Or is one of them an original?
They both sound original, especially the Coco Chanel Crush one…
It's a very dodgy area, I know some adverts use the original recording but since Rusty and Steve Strange tried to get together in 2011 to do a VISAGE Part 2, they opened up a nest of worms and certain people were allowed access to the songs! There are some very good copies out there that sound very much like the original that Steve sang, so it's very difficult to tell what the original one is! These programmers just do an amazing job and copy it note-for-note, then the original recording doesn't have to be paid for or whatever. So there's a way round the whole sync thing and the cost of putting originals on commercials and films!
A lot of artists do it and re-record their own songs note-for-note and try to make it sound like the original so that when they're asked for example, a 'Vienna' or whatever, you've already done a brand new 'Vienna' that sounds exactly like the old one and then you get all the money… but I couldn't think of anything worse, I'd rather go to the dentist and have my teeth pulled out than go back and try and recreate something that you've done! *laughs*
Talking of VISAGE, 'The Anvil' album is in my opinion, one of your most underrated bodies of work and it didn't get included as part of the 'Voice & Visions' tour?
It didn't and that's simply because if you start cherry picking and looking at the stuff AND things people would expect to hear, you'd be on stage for 3 hours, it would have been crazy!
Yes, there was something quite grown-up about that record I think. The first VISAGE album was done in a very sporadic way, it was grabbing moments of studio time, and it was rare there was more than two people from VISAGE in the country at the same time! It was spread out like over a year or so, a pocket of time here and a pocket of time there. So it was a very broken up project.
When it came to doing 'The Anvil', it was more succinct, you could get together and go write, get a studio in London. The first VISAGE album was done in Martin Rushent's studio before he had even built it, in his hut at the bottom of his garden; the facilities weren't great but we still managed to pull it off.
So there's something more coherent about that second album and it had moved on from just the electronics, there was Gary Barnacle and his sax on 'Night Train'. Is it overlooked? I don't know, a few people cite that as one of their favourite albums, maybe because it was a bit more "human", more "soulful" than the first, and maybe because a bit more time was spent on it, rather than scattering seeds to the four winds you know…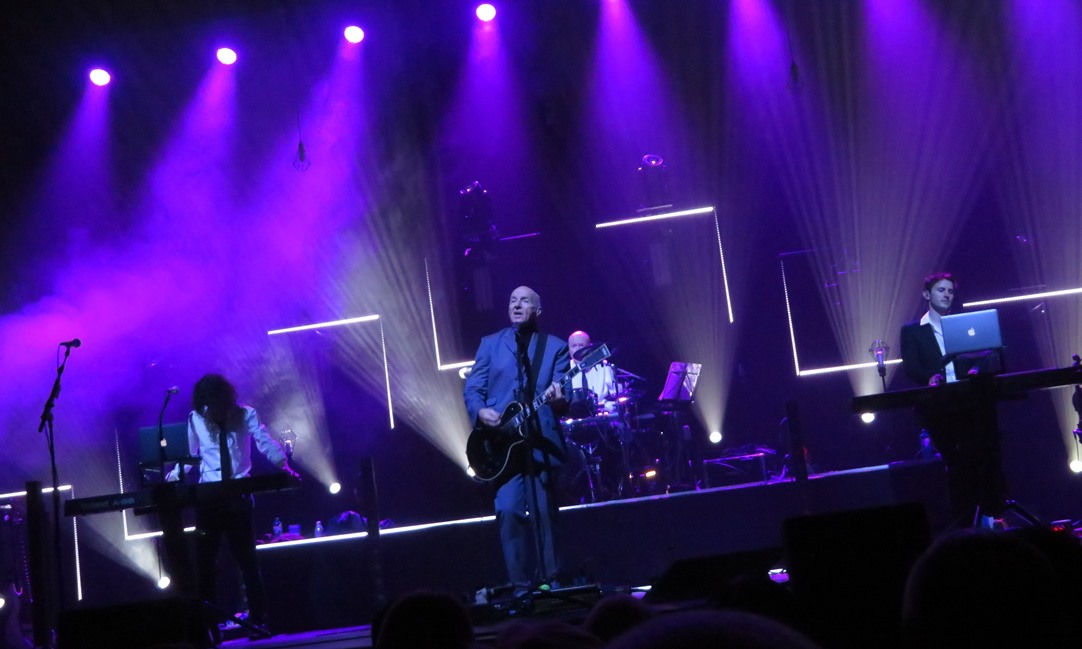 You are celebrating your 70th birthday at the Royal Albert Hall, will this be an all-encompassing career show or will it mostly centre around the BAND ELECTRONICA format which you have had since 2017? Are you planning any special guests, is there anything that you can talk about? 
Anything I can talk about? That I know about of course! *laughs*
No, not that I know of! When I did the Albert Hall in 1991 under my own steam, I had a gospel choir, guests like Paddy Moloney from THE CHIEFTAINS, all these people coming on and I've kind of done that. The speculation online is just rife, like "ULTRAVOX are back!", "there's going to be a choir", "there's going to be an orchestra" and "the full 'Orchestrated' album is going to be performed"… AAARGH! I'm not sure!
It's like when you have a new record coming out and you've just started it, you're doing interviews about it and people ask "what's it called?"… well, I've got no idea, it will be called something when I've finished the album *laughs*
So I'll know what will be in the show when I've formulated those ideas, because it's still very fresh… when you get the Albert Hall, you have to tell people it's going to happen and then figure out how you're going to fill it and what the content is going to be. But I'm already formulating a few little things, but I don't want to throw the kitchen sink at it because that can just detract from what it is. It's a celebratory thing, I will cherry pick songs in various formats that I think were important during those 70 years I've been breathing oxygen. I still haven't figured out how I'm going to do it, but the basis of it will be the BAND ELECTRONICA basis because we're up and running, we're hot just now and we have to consolidate what we have already to be sensible about it.
Have you ever thought about doing 'Rivets' live, perhaps as an intro into another song like how you did with 'Yellow Pearl' in your various show?
I haven't! BUT IT'S NOT A BAD IDEA!
But then again, you'd have to figure out where you would do something like that. Doing that in front of your own audience is fine, but doing that in the 'Let's Rock' and 'Rewind' Festival things, people are still scratching their heads as to why I'm playing the 'Top Of The Pops' theme because the majority there, they're not your audience! *laughs*
My audience, there's a very good chance they will know that 'Rivets' was a piece of music that I did with Chris Cross… it's certainly food for thought, I've never played it live so it would be interesting! *laughs*
Of course, what became 'Love's Great Adventure' was intended as music for a Levi's advert? What happened there?
The 'Rivets' thing was very last minute, I got a phone call from one of the guys at Chrysalis saying he was on this board and he saw this big budget Levi's commercial that was filmed by one of the Scott brothers, it had gone right up to the line. It was shown at this big premiere in Stockholm and someone at Levi's said they didn't like the music! This person said he needed something that was rousing and atmospheric like ULTRAVOX. So this Chrysalis guy said he knew me and I got the call a few days later. I saw the clip in the afternoon and wrote the 'Rivets' piece of music that night. I recorded my parts in the studio but then did the mix with the ad agency and the Levi's people which was a pain in the backside because all they did was talk through it and I was getting fed up. I was telling them "This is your piece of music, do you want it good or do you want it bad? If you want it good, don't talk, get out and leave me alone! Let me do the music".
They had no time to sit and think about it, so they put it on and they loved it. It got a fantastic response so 6 months later, they come back to me and said "we're doing a follow up called 'Threads'", because it was all about the rivets before, but now it was threads! So this ad had been filmed in Mexico, there's this guy fishing for marlin, there's all these marlins jumping out of the water, it's a man in the sea against beast type of thing and he's fighting and then he cuts the line and the line disappears through the water and you zoom in on the line and you see it's a Levi's thread to show you how strong it is!
I thought great but this time, they said they wanted it more rhythmic and for me not to do anything melodic, they wanted this pounding thing. So I went off, got my little sampler and banged a garage door again like I did on 'The Chieftain', I hit everything and made this very Burundi style rhythmic metallic sounding beast of a thing! I thought it was fantastic and that they'd love it. 3 weeks later, they said "there's not much tune!"… but they asked for something with no melody or tune! "Oh but we need a melody, we need something that people can sing…" 🤦‍♂️
So OK, I watched the film again and I saw the marlin jumping up and I came up with this triumphant '633 Squadron' type thing with this stomp. I took it to them and told them "this really works well"… 3 weeks later, I get the phone call, "Umm, can you put more bass on it?" and I was like "do you mean bass guitar or bass drum or bass synth or overall bottom end, more body?". Then this is the straw that broke the camel's back, they said "we want it to sound like the feel of Formica!". At that point, I asked them to give me the music back, I gave them back their money and that was that.
I think they got Jeremy Healey of HAYSI FANTAYZEE to do some music, I took the track back and Billy Currie put various bits on it, I wrote some lyrics, a topline and turned it into 'Love's Great Adventure'. Their advert failed miserably, it goes topped and a month later, they had to put on 'Rivets' again as they had all these bookings in the cinemas around the world for this 'Threads' advert! It was an interesting thing but it wasn't my planet!
You're known for guitars and also for synths, so you combined the two when you got a Roland GR700 guitar synthesizer in 1984 and demonstrated it on 'Old Grey Whistle Test', how did you find using it and why do you think they never really took off in the way say wind synthesizers did?
They probably did, they're much better now than they were back then, they didn't track very well. A keyboard, unless you actually press a key down, you don't get a note from it. If you touch the strings on a guitar synth, it triggers the synthesizer! So just by scratching the strings (which is all part of the sound of normal guitar playing), there's a sound. So you have to play a guitar synth with kid gloves, you had to be really careful how you played things!
We used it on stage with ULTRAVOX, I can't remember what we used it on but it was on a couple of things, it was just so volatile and not user friendly. You would have to use it in the studio and it wouldn't do things that a guitar would do, you can dub strings on a guitar or a violin, but you couldn't really dub stings on a guitar synth because the synth sound would still come out whether you were holding the strings down or not. So it was a very different way of playing.
They are much better than they were, I've got a synth controller guitar here in the studio and it seems to work incredibly well. But technology then hadn't yet caught up with the idea, so it went the way of many things…
Did you have a favourite keyboard-based synthesizer?
I liked the PPG Wave because it was a hybrid of analogue front end with rotary controls and digital internal. So it was one of those synths that you think you know what kind of sound you are looking for, but on the way to that sound, you create something better or more interesting, this leftfield that's gone off on a tangent.
A major part of the end of ULTRAVOX and the beginning of the solo stuff, a lot of sounds that are very definable that weren't presets, that were my sounds, are from that. It was a good instrument to do that with. But you end of getting rid of all the hardware and you end up with software instruments and you're back to square one *laughs*
Your most recent new track in 2021 was 'Das Beat' which you co-wrote with Wolfgang Flür who was in KRAFTWERK, does collaborating with other electronic trailblazers interest you at all?
I wouldn't have done this had Wolfgang not asked, he came to see me in Germany doing the '1980' tour and we met backstage. He said he was doing an album and he'd love me to be part of it. I thought "great" but it was a matter of what, when and how. The next day on the bus, this thing kept going around my head, 'Das Boot' the Wolfgang Petersen movie and then I was thinking 'Das Beat' because Wolfgang is the maestro, he's the electronic rhythm guy, he was the guy we all listened to, the master of "Das Beat"… it tied in so well but he wasn't too keen on the title until I found out it doesn't mean anything in German! *laughs*
Wolfgang said it should be "Der Beat" as the correct way of saying it but of course, me not speaking German, I thought 'Bas Beat', you are the guy, THE BEAT! He wasn't keen and I think he wanted to try his hand at his own lyrics. I said that there was no reason why we can't do 2 versions, so he did his own thing on his eventual 'Magazine 1' album although he kept the chorus that I'd written with my vocal and I had my own BAND ELECTRONICA single.
But it was great fun delving back into the influences that sparked me off down that particular route, the sounds and the style and writing something in the vein of a very catchy pop version of KRAFTWERK. When I heard him half speak / half singing his lyrics and stuff, I thought "My God, it's so good, it sounds brilliant!"
I never plan collaborations, they come about just because you meet somebody that you like and they like you, they like what you do and you like what they do. Low and behold, you end up doing something, otherwise, it's a bit like hard work… you mean you want me to go and write something? *laughs*
What's next, is a 'Lament' + 'The Gift' tour a possibility in the future?
Everything is possible in the future, I said many times prior to this 'Voice & Visions' tour about how difficult it was fiscally, because we'd agreed costs and fees back in 2019 and the cost of doing it in 2023 was horrendous. I kept saying this was unsustainable, you cannot keep doing this and do this at a loss. The days of record company advances and people buying large amounts of your records are well and truly over. So you have to try and make it work, fiscally as well as musically.
I think the bottom line is we scraped through by the skin of our teeth on this one without having to raise ticket prices… I'm not saying it's always going to be like that, but you have to figure it all out. You have to think "X" amount of people will want to see you, it costs "X" amount to do the show, "X" amount to pay the crew, the buses, the trucks, the lights etc. And people expect high quality performance, they want to see the great light show, they want to have the atmosphere there. I'm loathed to say we have to stick a fiver on the price of a ticket to make that happen! The end result was great, the response we got from the tour was fantastic.
Being able to do the Albert Hall is phenomenal and I expect next year, there will be plans… we haven't got anything in place right now for something, but whether I carry on with the two albums retrospective thing or not, I really don't know. There may be some time out there for some solo stuff, do some of the solo stuff that doesn't get an airing very often! *laughs*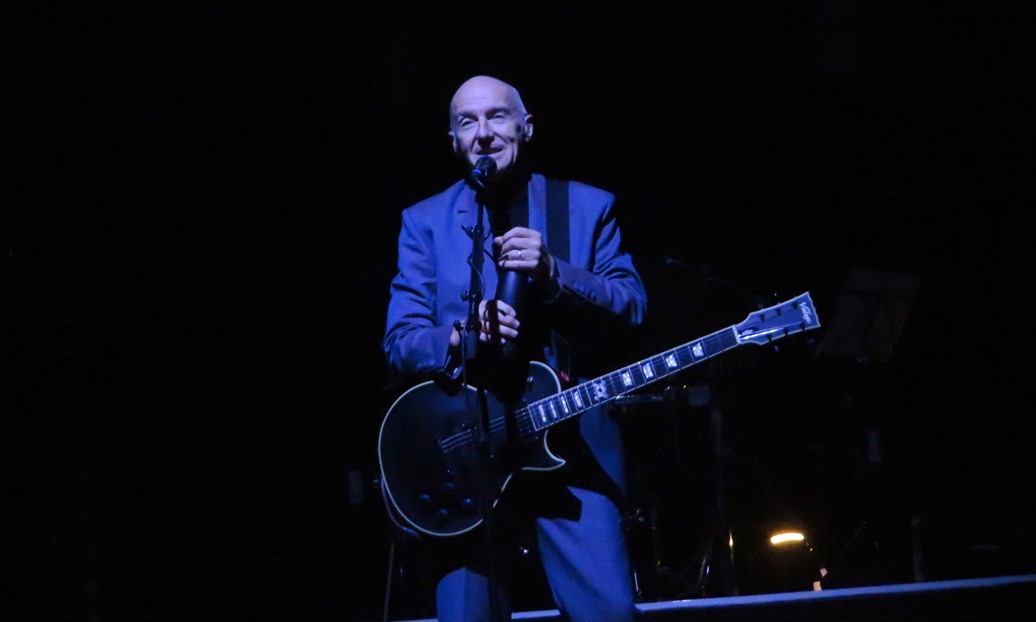 You recently sold your back catalogue, what will this give you as an artist, is it financial security for yourself and your family?
Well, my family more than anything… I'm a fairly basic character these days, I think I learned humility with the demise of ULTRAVOX and the beginning of BAND AID. I don't need a lot, I'm fairly satisfied with what I have. But the music industry is such a complex thing, my kids aren't part of the music industry, they would never understand where money comes from or where you would go to get it that's your royalties. It's so complicated because labels sell on to other labels. You find releases that you didn't even know were coming out but you are still on the royalties for it and you have to find these things.
It took years to try and sort it out and tie it all up with one big ribbon. A lot of artists are doing the same thing. I mean, if I'm not around, nobody is going to know where this is and it always goes into a big black hole and disappears. So it was the sensible thing to do to get your ducks in a row before you sing your final note…
What has been your artistic career highlight? How do you look back on getting a solo No1 in 'If I Was', something which was cruelly denied to ULTRAVOX?
There are loads and it's not usually the big things, the No1s or whatever! I suppose it's the collaborations, the buzz you STILL get from meeting someone you respect and admire, and THEY know who you are! You can't buy that! That's just crazy, there's still that kid walking around Cambuslang in awe of everybody else and then you find you are stomping the same stage as them.
Those moments were great, playing guitar with Eric Clapton one-on-one, the duet with Kate Bush or being on stage with Peter Gabriel, whatever it happens to be. They're the moments that success brings you, not owning the fleet of cars or a boat or whatever, those things are transient.
But the other stuff is real and that's just amazing! So if you could tie all those up in a documentary, I'd sit and watch it! *laughs*
---
ELECTRICITYCLUB.CO.UK gives its warmest thanks to Midge Ure
Special Thanks to Warren Higgins at Chuff Media
Celebrating 7 Decades and A Life In Music, Midge Ure plays a special concert at the Royal Albert Hall on Wednesday 4 October 2023 – tickets available from https://www.royalalberthall.com/tickets/events/2023/midge-ure/
Other Midge Ure 2023 live appearances include:
Let's Rock Shrewsbury (15 July), Forever Young 2023 (16 July), Rewind Scotland (23 July), Wickham Festival 2023 (6 August), Chepstow Castle (18 August), Let's Rock Norwich (19 August), Oostende W-Festival 2023 (25 August)
The ULTRAVOX 'Vienna', 'Rage In Eden' + 'Quartet' Deluxe Edition boxed sets are released by Chrysalis Records and available via the usual retailers
The deluxe 4CD edition of 'The Gift' is released on 22 September 2023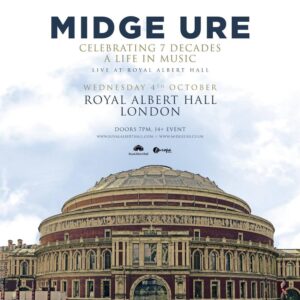 http://www.midgeure.co.uk
https://www.facebook.com/midge.ure
https://www.instagram.com/midge_ure/
https://www.facebook.com/UltravoxUK
https://twitter.com/UltravoxUK
https://www.instagram.com/ultravoxuk/
---
Text, Interview and Photos by Chi Ming Lai
11 July 2023