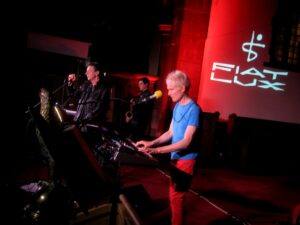 Between 1982-1985, FIAT LUX released six singles which showcased their electronically assisted melancholic pop sound with a distinct dual vocal harmony and a rooted emotional centre.
The trio of Steve Wright, David P Crickmore and Ian Nelson were critically acclaimed with BBC Radio1 airplay and a notable appearance on 'Old Grey Whistle Test' as part of a synthesizer special alongside KRAFTWERK and JEAN-MICHEL JARRE.
Meanwhile, FIAT LUX also opened on tours for BLANCMANGE and HOWARD JONES. They even had a Channel 4 TV special which later became the 'Commercial Breakdown' video release in 1985 but by then, the trio had disbanded under the spectre of disillusionment following the shelving of their already complete debut album by Polydor Records.
Ian Nelson sadly passed away in 2006 but interest in FIAT LUX continued through the internet with the leaking of that debut album under the title of 'Fac Ut Vivas'. Fast forward to 2019 and it's rather a nice time to be a FIAT LUX fan.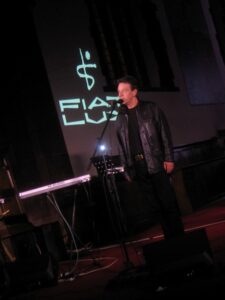 Not only have Steve Wright and David P Crickmore reunited as FIAT LUX, but there has finally been a debut album of all-new material 'Saved Symmetry'
.
Meanwhile, that unreleased debut album has been issued by Cherry Red Records using the title 'Ark Of Embers' as a bonus disc with a definitive singles compilation 'Hired History Plus'
.
Churches formed part of the backdrop in 'Commercial Breakdown', so St Clements C of E Church in Bradford was the ideal serene setting for the first FIAT LUX concert in 35 years. Opening with the desolate filmic drama of 'Tuesday', multi-instrumentalist Crickmore took to the stage first on acoustic guitar.
With the song's understated vocals holding off until nearly three minutes in to create mood and tension, Wright joined his bandmate before deputising for the late Ian Nelson, Will Howard arrived on clarinet to counterpoint the pre-programmed washes of Morricone-styled synthetic strings.
Before there was time for a breather, the incessant drum machine of 'Feels Like Winter Again' echoed around the church. The very first FIAT LUX single (produced by Bill Nelson, brother of Ian), its ambiguous despair and forlorn chill reflecting the trauma of young manhood was perfect for a cold rainy night in the North of England'.
From the oldest FIAT LUX single to the most recent, 'Everyday In Heaven' declared that getting older was actually a positive with up-for-life lyrics about embracing second chances. Following on, the gorgeously evocative 'Photography' looked back with photos of the original projected as a backdrop with Howard doing a superb job of emulating his talented predecessor.
The progressive 'Hold Me While You Can' showed how FIAT LUX are still not afraid to merge contrasting musical templates with a steady build from piano and woodwinds suddenly turning into TUBEWAY ARMY's 'We Have A Technical'.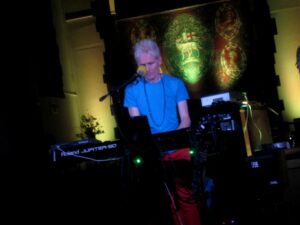 'The Moment' from 'Ark Of Embers'
mellowed proceedings with the solemn air of Scott Walker before 'We Can Change The World' made a call to action in a lively uptempo manner like BLACK meeting CHINA CRISIS.
At this point after an understandably nervous start, Wright began to loosen up with some dancing and flashes of those animated arm movements that characterised his appearance on 'Old Grey Whistle Test' all those many years ago.
Meanwhile, moving between acoustic and electric guitar, bass and Roland Jupiter 50, Crickmore performed like he had never been away from FIAT LUX, his facial expressions unable to hide his bouncing delight at being able to perform these wonderful songs to an appreciative audience.
Described by their producer Hugh Jones as the slowest song he had ever recorded, 'Embers' recalled PINK FLOYD's 'Wish You Were Here' to gently subside the mood, but well-positioned to provide another rhythmic lift was 'It's You'; the first new FIAT LUX song for 33 years at the time of its release in 2018, it lyric about finding love again in midlife was a sentiment that many present could totally relate to.
The elegiac cinematics of 'Calling On Angels' allowed for another moment of musical contemplation with more superb sax playing from Will Howard, until it was time for the brilliant widescreen synthpop of 'Solitary Lovers', a tune that was effectively the last FIAT LUX song until 2018.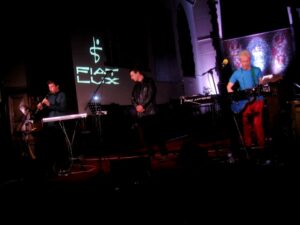 On the home straight, 'Splurge' offered some enjoyably screechy gothic disco with Crickmore playing the guitar hero, until the main set closed with the magnificent 'Blue Emotion', a song that really should have been a huge hit in 1984.
Reflecting the gung-ho zeitgeist of the times, its stark observations were now more than relevant in today's unpleasant political climate. Returning for a well-deserved encore, it had to be the haunting 'Secrets'.
A 1983 single which highlighted the deeper introspection that set FIAT LUX apart from many of their contemporaries, it has over the years become their signature song, as signified by the 2017 re-recording that heralded a tentative return.
However, it took a few false starts but once Wright got through the first verse, there was an almighty cheer from the audience and smiles from the band, probably through a sense of relief that this first FIAT LUX show for three and a half decades was finally now done and dusted. A fabulous evening exuding charm and warmth, Wright was in fine voice and ably supported by Crickmore, while Will Howard played the perfect tribute to Ian Nelson.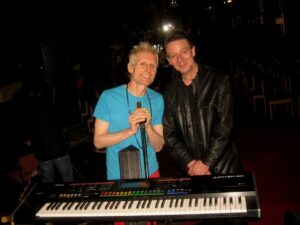 It was a largely flawless display of old and new angst and affection that proved how FIAT LUX were criminally overlooked back in the day.
But now is the perfect time for them to get some well-deserved recognition. With a vinyl LP release of 'Ark Of Embers' on the way, FIAT LUX are indeed back-back-BACK!
Yes, it was well worth the 35 year wait!
---
'Saved Symmetry'
is released by Splid Records through Proper Music Distribution, available in CD and digital formats from https://www.propermusic.com/splidcd21-saved-symmetry.html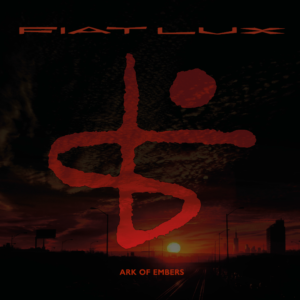 'Hired History Plus'
is released by Cherry Red Records in double CD and digital formats featuring 'Ark Of Embers', available from https://www.cherryred.co.uk/product/fiat-lux-hired-history-plus-2cd-expanded-edition/
'Ark Of Embers'
gets a standalone vinyl LP release on 15th November 2019 via Splid Records
https://www.facebook.com/Fiatluxofficial
https://twitter.com/fiatluxofficial
https://open.spotify.com/artist/2GGpvPlY3LVxXSvYuOUUqL
---
Text and Photos by Chi Ming Lai
26th October 2019