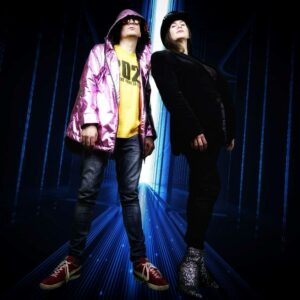 'Failure Is Inevitable' is the fifth album from mischievous indiesynth duo SPRAY.
Ricardo Autobahn and Jenny McLaren first came to wider attention as THE CUBAN BOYS and went head-to-head with Sir Cliff Richard in the Christmas Chart Battle of 1999 where their single 'Cognoscenti Vs Intelligentsia' (aka 'Hamsterdance') reached No. 4 in the UK single charts and got them on 'Top of the Pops'. The sibling pair later formed SPRAY, releasing their debut album 'Living In Neon' in 2002 on the noted American independent label Ninthwave Records.
SPRAY were also co-conspirators in 'Teenage Life', the UK's 2006 Eurovision song for Daz Sampson. More recently, they have been recording music with anarchic CBBC star Hacker T Dog. Celebrating everything that is great about pop while tinged with cynicism, despair and ironic humour, SPRAY often offer social commentary with their upbeat electronica.
They kindly chatted about their new album and gave some interesting thoughts from 20 years of experience within the music industry.
For those who don't know SPRAY, the two of you have interesting chequered pasts, so what are your CVs?
We are brother and sister, so as youngsters in the mid-late 90s, we experimented with a four track tape machine, some primitive sampling technology and Jenny's angelic singing voice. After investing in a CD burner, we found a fan in John Peel which somehow led to us topping the charts and winning the nation's hearts as THE CUBAN BOYS and our 'Hamsterdance' hit 'Cognoscenti Vs Intelligentsia'.
Our entire history was documented, incidentally, on the SPRAY song 'The Ballad Of Xmas '99' which was part of Cherryade's 'A Very Cherry Christmas Vol 13' compilation CD last year. Since then we've been involved with assorted crackpot schemes, often with our friend Daz Sampson. You can hear Jenny on Daz's pan-European hit 'The Woah Song' for example, and his Eurovision song 'Teenage Life' was co-written with me – the kids chorus is essentially SPRAY singing through a pitch-shifter.
Your last album 'Enforced Fun' in 2016 featured a political observation called 'It's The Night Of The Long Knives, Charlie Brown' and three years on, things are even worse now…
Yes, that was a wacky sideways glance at the buffoonish clownery of political celebrities, done with our typical light-hearted tongue in cheek attitude. I suspect if we wrote that now it might be a bit more directly harsh as we don't find them so funny anymore.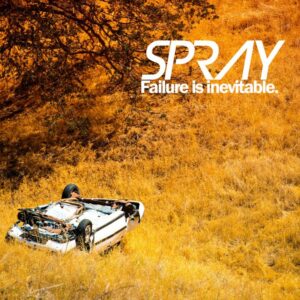 It's appropriate that the new album is called 'Failure Is Inevitable'…
Well, we aren't necessarily a political band but the whole album *was* written and recorded whilst absorbing world events, so the album is coloured and tinted by the state of things. It struck us that people still have optimism for the future despite the evidence of the past, and we feel it's our duty to add a bit of balance and realism.
But the album begins with those dreaded words 'Here's One From The New Album', so how much new stuff should an artist perform at gigs or should it all be about nostalgia?
SPRAY have recently entered the live arena after being a studio band for many years. As we don't really have any hits we can play – other than 'Hamsterdance' which we've managed to shoehorn in – we've had this complicated decision as to work out how to keep a crowd engaged.
We've decided that entertaining a passive audience *has* to be key, rather than promoting new material, and built a set around that. It is purely coincidental we've discovered one of our new songs is a terrific live set opener. As gig-goers, we prefer to hear the hits as well. You should have seen the queues at the bar whenever PET SHOP BOYS played tracks from 'Elysium' on their 2013 tour. Maybe you did!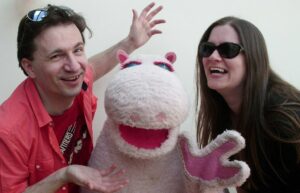 What was 'Anthologised By Cherry Red' particularly inspired by, and do you like personally like their cult album reissues and boxed sets?
Specifically it was inspired by a chat I had with Luke Haines at a festival in Spain we were both playing – I also play live synths with indie-punk poppers Helen Love. He actually said "I'm being anthologised by Cherry Red" and I stored it away cos it's a great title.
We didn't want it to become a critique of Cherry Red as they're responsible for some truly superb releases, so I hope it came across as affectionate. Seeing Peter Schilling's 'Error In The System' get an expanded UK CD release a couple of years ago was completely unexpected and fantastic and their work on THE RESIDENTS catalogue is nothing short of wonderful.
We're truly living in a golden age for archive stuff. You can remember growing up in the 90s when sometimes the best you could get for older bands were hopeless petrol station compilation cassettes. And nowadays you can't move for A-HA demos and unreleased tracks by THE ART OF NOISE. But 'Anthologised' is more about questioning what will happen when the archive runs dry?
If THE HUMAN LEAGUE had roots in being a folk band, it would sound like 'Futuristic'…
That's a very strong and kind observation actually and we thank you for it. THE HUMAN LEAGUE's sci-fi pop cinematic melodrama is always something we've appreciated and occasionally tried to emulate.
We did record an authentic acoustic version of 'Futuristic' to appeal to muso snobs, but because we hate authentic acoustic versions of things, we'll probably never release it.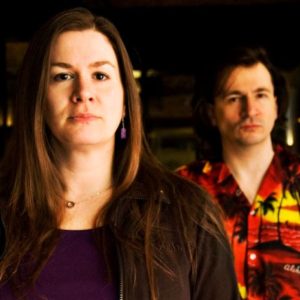 What do you think of INTERNATIONAL TEACHERS OF POP who appear to be kindred spirits?
We love them, they're right in our wheelhouse and got into them because of umpteen people saying "you'd like them". We're also jealous of their popularity so don't like to mention them too much.
On 'Astronomical', you've gone all 'Top Gun'?
The full tilt, full fat, everything-louder-than-everything-else vibe is much under-used these days. Synths and guitars.
We rock out a bit on this album which wasn't really intentional – to counteract it there are a lot of thunderclaps and Fairlight orch hits. But there's glamour in drama we think. Oh that's a good song title.
Is 'Chump (For My Love)' written from personal experience?
No. Ron Mael from SPARKS once said if you have to write songs from personal experience, it shows a remarkable lack of imagination, and we broadly stick to that protocol.
'You Had Me At Easily Pleased', is that a reflection of our "AWESOME" society???
The title came first and yeah the idea was to do a p*ss-take of how everybody is so over-emotional and euphoric and SO INTENSE in pop songs nowadays. They take everything so seriously these pop stars, they're going to give themselves heartburn.
'Big Karma' is like a modern Eurovision anthem…
It was internally referred to as "The ERASURE Song" for ages. It's another "state of the world" song, borderline-topical. "Why aren't people nice to each other anymore? Well, this is why". That kind of thing.
But that's a nice observation, we are keen to have another tilt at Eurovision. We reckon SPRAY can survive the humiliation and it'll be nice night out. Funnily enough, our colleague and associate Daz Sampson is annoyed with us at the minute cos he reckons 'You Had Me At Easily Pleased' is a Eurovision smash and we should have given it to him first before we released it.
ELECTRICITYCLUB.CO.UK was once sent a pitch by a quintet and didn't bother even listening to the music after seeing their photo which had them ALL with beards! So what is 'We All Gotta Get Haircuts' about?
The basic premise is that music, essentially, never changes down the ages but people's visual perception of it does. It's like those berries that trick your tastebuds into thinking you're eating a peach when it's actually an onion. A good haircut can trick the listener into thinking they're listening to something cutting edge and not just a glam rock rip off with a drum machine.
BBC Radio 1 will *still* play tracks based on the age / haircut / sex appeal of the performer. Somehow THE FOO FIGHTERS have passed by the tastemakers and still get played but there's still that very 'Logan's Run' feel to the playlist.
I think it was hearing a HAIM song once and, not knowing who it was, thinking "it's unusual for Radio 1 to be playing Sheryl Crow" that started our train of thought on this one. Having said that, and this is SPRAY's hypocrisy in full flow, we fully agree with ELECTRICITYCLUB.CO.UK's stance on beards. One or two in a band or unshaven stubble is fine – but a full band of beards? It's a boon and a timesaver because I know I won't like them.
You really have seen it all, so any thoughts on the current state of independent electronic music in the UK with event promoters who think "ticket touts are free enterprise", bedroom internet radio DJs with more sinister intentions and media platforms with veiled extreme right wing affiliations?
The level playing field that should have been brought in by the digital revolution has levelled everything too much – everybody thinks they're good at everything, and there aren't enough gatekeepers any more to tell them they're not.
In the past, by way of an example, if you had some opinion you wanted to get to the public you'd either have to physically write to The Times, or publish your own fanzine. Or become an authority on a subject. Or buy ad space. If you had an ambition you'd have to work at it – to get to a conclusion you'd have to put some sort of reasonable effort in and everybody else could then be satisfied you were an expert and knew what you were doing. But without any real application, anybody reading this right now could decide to be say, a promoter. Now this is the punk spirit and I think it's broadly fantastic most of the time.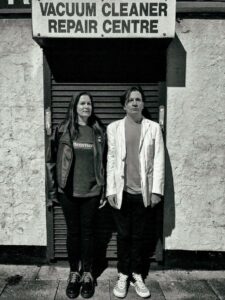 But it's never been easier to cover up incompetence or worse, ulterior motives than under the respectability of being a "professional". Incompetence is always eventually found out of course, but the damage has often been done to those who put trust in apparent experts.
What's next for you both?
Now we've got a taste for the stage, SPRAY intend to agree to play every gig we're asked to and have plans for two albums in 2020.
One will be our 'Introspective' with six long dance songs and absolutely no guitars, and the other will be lots of short songs in the semi-fictitious genre of "Zolo".
---
ELECTRICITYCLUB.CO.UK gives its warmest thanks to SPRAY
'Failure Is Inevitable'
is released by AnalogueTrash as a CD and download, available from http://spray.bandcamp.com/
https://www.facebook.com/spraynet/
https://twitter.com/spraypopmusic
https://www.instagram.com/spraypopmusic/
---
Text by Chi Ming Lai
31st May 2019