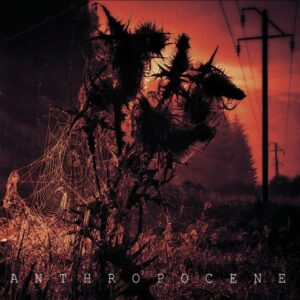 Like a cross between THE CURE and ALPHAVILLE, Swedish duo MACHINISTA are back with their third full-length album 'Anthropocene'.
Vocalist John Lindqwister and instrumentalist Richard Flow have taken their time with this record and it's all the better with a refinement of their anthemic signature sound plus the addition of some conventionally flavoured twists. In the album's opening statement, 'Seconds Minutes Hours' offers a Eurodance triplet beefed up with guitars by BRD for more of that synthpop with a rock n roll edge which MACHINISTA have always prided themselves in.
Featuring a guest vocal appearance from PROJECT PITCHFORK's Scheuber, 'Let Darkness In' is brilliant, taking its leaf from the dark electronic pop of Norway's APOPTYGMA BERZERK; their main man Stephan Groth happily remixed 2015's 'Dark Heart Of Me' and the APOP force looms even stronger on the album's glorious 'Anthropocene' title song which owes more than a debt to the haunting riff of 'Burning Heretic' in the ultimate sorcerer's apprentice spell.
'Angel' takes things down to scarf waving pace and adds piano to the counter melodies but it suddenly speeds up, aesthetic reinforced by percussive six string for some chantalong gothic disco. 'Black Tide' continues the mood but with a solemn disposition as per the title with Lindqwister giving his all with the Robert Smith stakes.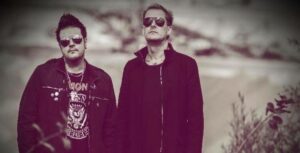 Singing of "darkness, despairs" and a "child of the golden age", the chilling orchestrated cinematics of 'Astrid' are authentically supported by Karin My on cello while on 'Universe Is Here', the aesthetics can't but help recall 'The Policy Of Truth' from the days when DEPECHE MODE combined their darkness with tuneful instrumental elements.
A stark observation on the human condition, 'Pain Of Every Day' with its poignant lyrics like "dying is certain… we die the same death" is probably one of the most poetically unsettling if danceable tracks of recent years, a sentiment also expressed in 'The Scare'.
Back in 2013, MACHINISTA opened their account with a rousing cover of Bowie's "Heroes"; and it is back to the Thin White Duke with a cover of THE BEATLES 'Across The Universe' which was covered on the 'Young Americans' album for the closer; it does sound exactly how you might imagine, like ALPHAVILLE doing John Lennon.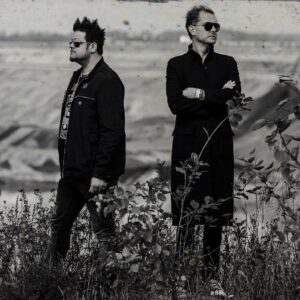 On 'Anthropocene', MACHINISTA have successfully integrated more traditional elements like guitar, piano and cello without throwing away their gloomy but club-friendly template.
Their past EPs and albums have always had terrific highlights, but 'Anthropocene' is their most consistent body of work to date.
Reflecting darker times, listeners will however need to choose which songs to hear carefully dependent on their moods as much of the personal expression on this album is very heavy if realistic.
---
'Anthropocene'
is released by Infacted Recordings on 7th June 2019, pre-order CD from Poponaut at
http://www.poponaut.de/machinista-anthropocene-p-18504.html or download from Bandcamp at https://infactedrecordings.bandcamp.com/album/anthropocene
MACHINISTA open for HOCICO at London Electrowerkz on Saturday 3rd August 2019
http://www.machinistamusic.com/
https://www.facebook.com/machinistamusic
https://twitter.com/machinistamusic
https://www.instagram.com/machinistamusic/
---
Text by Chi Ming Lai
Photos by Jorg Seiche
1st June 2019