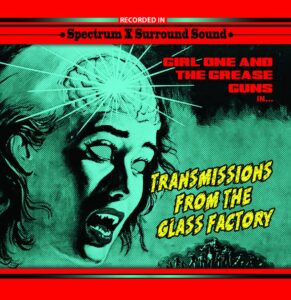 With no publicity photos, no gigs, and only one interview, the mysteriously anonymous combo GIRL ONE & THE GREASE GUNS provoked intrigue and head scratching in equal measures.
Were they a collaboration between LUSH and SLEAFORD MODS or actually NEW ORDER offshoots THE OTHER TWO doing Spector-flavoured post-punk instead of electronic disco? Whatever, since 2013, GIRL ONE & THE GREASE GUNS have issued a sporadic number of singles as collected on 'The Strange Little Lines That Humans Draw In the Dust' and even released a full length album 'Night Of The Living Electrical Appliances' in 2017.
In 2018, their most powerfully overt electronic pop single yet in 'Good Morning, Mr X' signalled a planned series of limited edition, white label, hand-stamped, one side only releases under the concept of 'Transmissions From The Glass Factory'. But in 2019 with nothing left to say or do, the remaining recordings from the sessions have now been issued as a six track mini-album as an adieu to GIRL ONE & THE GREASE GUNS.
Best of the bunch are the unorthodox '(It's A) Warning Sign (Blue Lights)' and the more immediate 'Noise & Fury', both epitomising what has been great about GIRL ONE & THE GREASE GUNS. The former is a brilliant squelching electronic number, while the latter is a cover of THE BLANCHE HUDSON WEEKEND sounding like THE PIPETTES doing NEW ORDER's 'The Age Of Consent'; both delightfully equal GIRL ONE & THE GREASE GUNS' best singles like 'Jessica 6' and 'No Longer Spellbound'.
Continuing with that classic but spacey girl group vibe with chills that are multiplying, 'The Multiplex (Is No Good For Me)' and 'Turn It Around Again' transport the Wall Of Sound into the winter of discontent.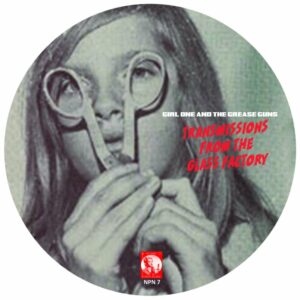 Meanwhile 'Destination Yesterday' exploits metallic sequencers, detuned synths and those characteristic nonchalant off-key female vocals.
Less successful though is 'Run Scared From Eyeballs' with an over-complex drum mantra that smothers a song that doesn't quite hit the spot.
So farewell Sissy Space Echo, Warren Betamax, Charles Bronson Burner and Bruce LeeFax, you really did "thrive on causing confusion with a mixture of pure synthpop and more experimental electronic sounds" and shared some dysfunctional fun in the process.
---
'Transmissions From The Glass Factory' is released by Next Phase: Normal Records as a CD, available from Rough Trade in London, Jumbo Records and Norman Records in Leeds, as well as the Squirrel Records website at http://www.squirrelrecords.co.uk/girl-one-and-the-grease-guns/
https://www.facebook.com/pages/Girl-One-And-The-Grease-Guns/440754999339179
https://girloneandthegreaseguns.bandcamp.com/
---
Text by Chi Ming Lai
3rd June 2019