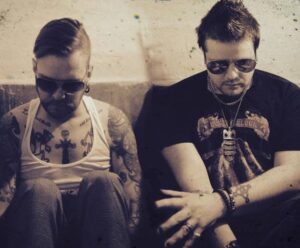 Germany was effectively the spiritual birthplace of electronic music as we know it. But it was via Synth Britannia that the pop variant spawned and took over the world.
While electronic music has now mutated into EDM and the modern variant of R'n'B, today traditional synthpop is a less common, but still much appreciated artform.
Over in the Nordic basin though, synthpop is alive and well.
Continuing on the tradition laid down by veterans such as LUSTANS LAKEJER, PAGE, SMPJ, S.P.O.C.K. and COVENANT, flying the Sveriges flagga alongside KITE, KARIN PARK, IAMAMIWHOAMI, DAYBEHAVIOR and TRAIN TO SPAIN have been MACHINISTA.
Since appearing at 'An Evening With The Swedish Synth' in Spring 2013, the duo of John Lindqwister and Richard Flow impressed audiences internationally with their debut long player 'Xenoglossy'. Their catchy and danceable sound has been compared to THE CURE gone electro and ALPHAVILLE crossed with SUICIDE. Despite MACHINISTA obviously having a pop element, they have a harder edge and lyrically, their material takes on a heavier spectre, as exemplified by 'Love And Hate Song', 'Molecules & Carbon' and 'Pushing The Angels Astray'.
The new album 'Garmonbozia' is a natural progression from 'Xenoglossy', but with more real guitars added to the mix alongside their beloved softsynths. From the glorious 'Picture Frame Eternity' and the melancholic 'Dark Heart Of Me', to the passionate native tongue of 'Brandbergen, Stockholm Via Kalmar Till Malmö' and the deviant disco of 'The Bomb', MACHINISTA remain on form and true to their sound.
ELECTRICITYCLUB.CO.UK spoke to John Lindqwister and Richard Flow about MACHINISTA's journey so far and their future ambitions.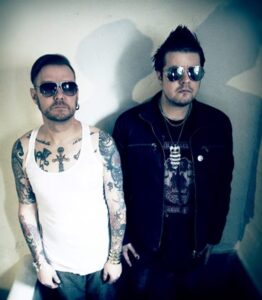 When you formed MACHINISTA, you had each been involved in CAT RAPES DOG and VISION TALK. How did you set out to make MACHINISTA different from your past work?
John: I think for me it was a matter of singing more clearly, but I didn't really know how it would sound. But I think I kinda found my voice when I had my postpunk band just before, DEPARTEMENTET, where I actually sang in Swedish. That was what I wanted, that voice. In fact the song 'Brandbergen, Stockholm Via Kalmar Till Malmö', in that one I have THAT voice. Even the lyrics for that song started back then.
Richard: For me, VISION TALK had come to an end and I wanted to start up something new and fresh and to focus a lot more on music. It was pretty exciting since I'd always been a big fan of John´s other bands. And we really found our own "style" I think.
You have described your music as "synthpop with a rock 'n' roll edge"… some might consider that 'synthpop' is a dirty word? What do you say to that?
John: That's weird, but I get that feeling and it was the same with my old band BASSWOOD DOLLIES. We had that feeling there to. I think it has to do with what we normally listen to, and of course our background. I started out listening to Elvis and other rock music and moved on the synth as I reached 13-14 years old when KRAFTWERK, YAZOO, OMD, JOHN FOXX, ULTRAVOX, FAD GADGET etc and so on, you know those sort of lovely acts. Then I moved on the goth metal, death metal etc.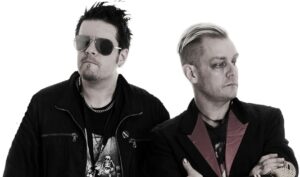 No it's just music that's good, all from these good 80s bands to singer / songwriters like JOHN GRANT and acts like I BREAK HORSES or whatever. And yeah the word synthpop has a bad vibe about it, especially if you want to break big time. I think a band can fail to get attention a bit when labelled synthpop. Sad I think, but all music seems to get filed in a certain kind of genre. Its music ok, that's enough.
Richard: It's so damn hard to put a "genre" to music nowadays. But of course there's a lot of synthpop in our music, but like I mentioned, I think we found our own style with MACHINISTA. And with some more guitars added on the new record as well as live, there is some rock-n roll edge to it! You never know what to expect from us hehe!
You launched MACHINISTA with a cover of Bowie's 'Heroes'… that was a bold move?
John: I just love that song and thought it could be done easily. Easy to sing, not to do better, haha! 'Life On Mars' would be harder and I love that one too.
Richard: Bowie is one of the really big ones out there, so we did the song with respect. A lot of people seem to like our version so we are more than happy. Actually 'Heroes' was the first song along with 'Molecules and Carbon' that we recorded.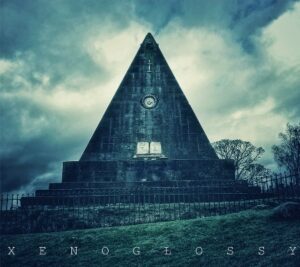 Your debut album 'Xenoglossy' was very impressive. Some of the lyrics like on 'Pushing The Angels Astray' were quite heavy. What inspired those thoughts?
John: It's way easier to write darker lyrics than those with lightness in there. I guess it is kind of a way to get through sh*t, to write about it. I tend to write more about the past these days as I don't feel bad now. But life isn't easy, I find it really difficult navigate through it, every day. I've never felt that I fit here amongst all these humans. I've learned to deal with them and with this reality that we see, but it's hard and weird. I really hope there is something else after, I would love to be in a more abstract world where you can change everyday life in way you can't now. Nuff of that… haha!
Another standout song was 'Molecules & Carbon'. Does the human condition prey on your mind a lot coming towards middle age?
John: Yes, the more you learn, the more you get to be a misanthrope. That's the downside getting older I think, that you learn and see too much. Your inner child dies a little bit every day. Sad I think. I fear what my daughter Astrid will react as she goes on in life. Pretty sensitive she is…
The label that released 'Xenoglossy' folded not long after its release. How did that affect the momentum you had built up at that time?
Richard: Of course it was sad! But, both me and John did promote MACHINISTA pretty hard on Facebook, Twitter etc so we did manage to spread our name and music anyway.
Also, after the release of 'Xenoglossy' we had started to get a lot of offers from other labels so when we had half of 'Garmonbozia' finished, we kinda knew that things would work out fine. We are more than happy now with our new home Analogue Trash Records.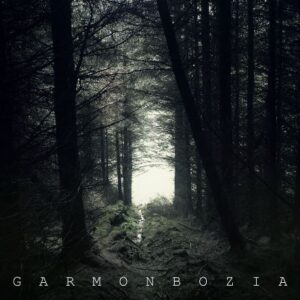 How would you describe your new album 'Garmonbozia' and how does it differ in approach from 'Xenoglossy'?
Richard: I think with 'Garmonbozia', we did manage to get a more clear red line through all the songs with some more acoustic elements here and there, but in the right dose. 'Xenoglossy' was more like me and John came together and started to find out the direction to take. A bit darker and less synthpop as well. I am more than happy about all good feedback so far.
How did you arrive at the title 'Garmonbozia', is it anything to do with 'Twin Peaks'? 
Richard: Yes, it´s this word that David Lynch came up with. It means "Pain and sorrow". It did fit our darker sound and because our first album had a weird word, we liked this a lot. One can only speculate what the title for our next album will be haha!
'Brandbergen, Stockholm Via Kalmar Till Malmö' is sung in Swedish, what is the song about and did you try an English version at all?
John: Nope, it was meant to be in Swedish and as I said, the lyrics started out a long time ago. But you can read the lyrics in English at our site. Just translated, they don't fit the melody!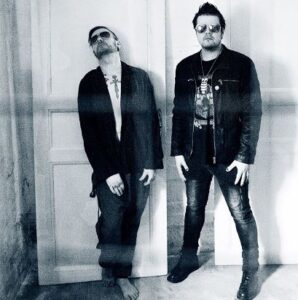 'Picture Frame Eternity' and 'Dark Heart Of Me' are both very accessible highlights from the album, what are the stories behind these two?
John: Lyricwise 'Picture Frame Eternity' is about thinking what happened in the past of my life and that time seems to move faster as life goes by, and thinking "what happened with all these years?"
'Dark Heart Of Me' is about not having loved in many years and that it hides somewhere deep inside. Of course, I have love for my child and that has been a saviour I think.
'The Bombs' has an electro disco feel, where has this influence sprung from?
John: Haha, I have not even thought about that. Richard has to answer that one!
Richard: Because we go to disco every single night! No haha! Actually the first version of 'The Bombs' had a completely different rhythm in the drums. I actually did get stuck with this song and I wasn't happy at all about the music. Once I did change the bass drum to a simple 4/4, I was back on track again. Most of the sounds from the original version I did keep, so perhaps a simple 4/4 bass drum mixed with the sounds for this original rhythm created this "disco" feel, or whatever you may call it hehe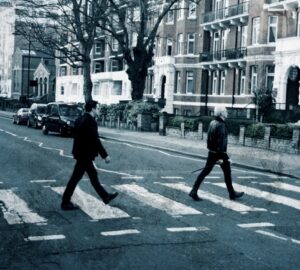 One thing that is very noticeable about 'Garmonbozia' is the dynamic production. Were there any particular techniques used to achieve this, or is that a secret?
Richard: Hehe, well as a musician I always try to evolve. I learn something new every single time I create music and that is inspiring. With every song I work on, I always try to do it better than the last one before. I think the input with acoustic elements and guitars here and there did affect our songs and production in a good way.
Do you have any favourite synths that you like to use?
Richard: It´s more or less VST synths I work with and there is a lot of good ones out there. Omnisphere, Sylenth1, Predator, Kontakt to mention a few.
Is there a synth you have not yet owned but would like to?
Richard: When we play live, I sometimes have hardware synths but I must admit, since I started to work with VST synths, I am not so updated anymore. John did receive some cool stuff from an old band member that we will look into and probably use on stage!
John: Yeah, it's a drum module called Zoom and a Kaosillator, and something more.
Where do you think MACHINISTA sit within the current electronic scene? Who do you regard as your peers?
John: That's not an easy question cos I don't really listen to the scene much. For me, it's still those good old ones and I can't drag in Bowie or THE CURE into this. Well THE CURE is in the thoughts of people it seems when they hear us. THE CURE gone electro, hehe. That's fine with me. Other than that, I can say that I think we should gig with COVENANT, APOP or even more with PLACEBO or INDOCHINE. It would be loooovely.
Are there any classic acts who you love that you aspire to be as successful as?
John: Haha there's a bold answer to that… DEPECHE MODE! Haha well I would be happy if we could be big as COVENANT.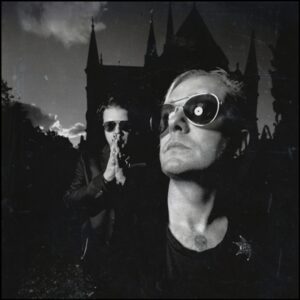 The music scene in Sweden is particularly vibrant at the moment… so what's so special about Sweden then?
John: I have no f*cking clue to that! But Sweden is a huge exporter of music. We're second or third biggest in the world, I think we broke the UK some years ago…
Richard: Like John says, Sweden is a big music exporter with a lot of good bands. It may sound like a cliché, but I think this Scandinavian melancholy has something to do with our music writing up here.
What's next for MACHINISTA?
John: To get bigger and get paid for our f*cking gigs, right!
---
ELECTRICITYCLUB.CO.UK gives its warmest thanks to MACHINISTA
'Garmonbozia' is released by Analogue Trash Records in CD and download formats from http://trashdigital.co.uk/album/garmonbozia-at0018
http://www.machinistamusic.com/
https://www.facebook.com/machinistamusic
---
Text and Interview by Chi Ming Lai
29th June 2015