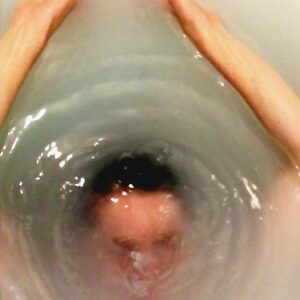 Who does mysterious Scandinavian flavoured electronica well, having swapped their respective countries for the gloominess of London's Peckham? THE GOLDEN FILTER…
Vocalist Penelope Trappes, originally from Australia, joined Ohio-born synth programmer Stephen Hindman in New York before relocating to London.
Their first album 'Voluspa'
showed some integral songwriting knowledge, with well-placed singles such as 'Solid Gold', 'Thunderbird' and 'Hide Me'.
The second long player proper 'Still // Alone'
showed further potential with its undiluted grown up timeless synthscapes and this summer celebrates ten years of the couple's musical endeavours with 'Autonomy'
.
Fiercely independent; with writing, producing, mixing, video shooting and self-releasing, THE GOLDEN FILTER certainly need no-one to tell them what direction to take. They do it in their own time, their own way with no outside interactions.
Dismayed, as is most of the UK population, with the politics, the seemingly never ending Brexit saga, people's apparent disconnection from reality and the growing socio-economic gap, the duo draw strength from their relationship and wish to impart some positivity into the otherwise darkening landscape.
'Autonomy' bears a resemblance to their previous works with the metallic eponymous title track, which is raw and tribal, minimalistically sparse and containing only a pinch of vocal. Meanwhile 'Infinity' bears all the characteristics of the duo's well known sound, with a nod to THE PRODIGY laced throughout. 'U OK' though explores nature sounds and positive vibes, before being rudely interrupted and cut short.
The very retro feel of 'Electric Light' brings to mind the early works by THE HUMAN LEAGUE or NEW ORDER with Siouxie-esque vocals and old school sounds. The question of "are you ok?" seems to prevail throughout the album, with a calling to be open minded and kind hearted to the fellow human beings.
'Downturn' is dark and cinematic, very David Lynch style; weird on the surface, but meaningful deep beneath. But a new kind of diluted pop manifests itself on 'Coercion', which brings the works of Toyah and co to mind. Here is where Trappes sings her sorrow away and Hindman showcases his capable musicality, painting a backdrop to the mournful lyrical content. 'We Are The Prey' returns to the minimalistic interplay, with experimental escapades à la Björk meeting MOLOKO.
Further 'Wisdom' is imparted via the medium of arpeggiated sounds, systematically enhanced by sampled elements, leading into a messy plethora of sound waves, pulsating in and out of reality leading to the force of 'New Politik'. Even more minimalistic if that can be imagined, the number is pretty much lead by the vocal and scantily added pulses, which become more and more flowering into a semi-conscious, independently floating wall of sound.
The closing 'All The Queens' imagine a brand new world, led by divine femininity, yearning for a change in perceptions and shift in mindsets. Musically, this is one of the more approachable tracks on the long player, perfectly enticing with ethereal vocal and the rise and fall of the delicate melody.
Undoubtedly, one of the more ambitious and well-adjusted projects from THE GOLDEN FILTER, 'Autonomy' is an eclectic mix of genres, defying the pigeon holes and bending the genres to achieve a diverse and unparalleled soundtrack of the duo's lives.
"Penelope and Stephen set about on a mission of self-searching and solipsism drawing influence from their love and unity that sternly defies the damage caused by the ever-growing daily trauma of capitalism and politics"... something they certainly managed to achieve.
---
'Autonomy'
is released by 4GN3S on 19th July 2019 in red vinyl LP and download formats, pre-order from https://thegoldenfilter.bandcamp.com/album/autonomy
http://www.thegoldenfilter.com/
https://www.facebook.com/thegoldenfilter/
https://twitter.com/thegoldenfilter
https://www.instagram.com/thegoldenfilter/
---
Text by Monika Izabela Trigwell
Photo by Chloe Trappes
8th July 2019