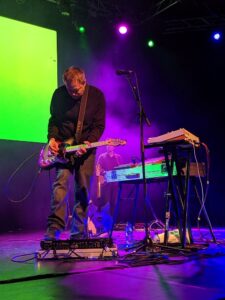 MAPS gigs are as rare as hen's teeth (especially in the capital) and tonight's gig at The Southbank Centre attracted a bit of a Mute Records "who's who" with DEPECHE MODE producer / engineer Gareth Jones and Polly Scattergood both in the audience.
The man behind MAPS, James Chapman recently released his fourth album 'Colours. Reflect. Time. Loss' which saw a massive direction change from the electronics-based 'Vicissitude'; the new work seeing the synths and drum machines being mainly replaced by live drums, strings and brass.
There was an expectation that tonight's sound would be dictated by the new MAPS aesthetic.
But from the off, it was apparent that this was going to be a 'rock' gig with the orchestral instrumentation being absent, Chapman's live synth / Korg Electribe / guitar set-up was augmented by drums, bass and ably flanked by Cecilia Fage (vocals + percussion) and Rachel Kenedy (vocals + synth).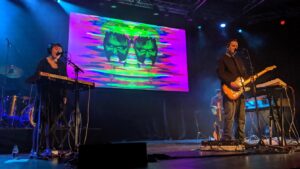 The Southbank set spanned three of MAPS' four albums with 'Turning the Mind' being the only work to be overlooked.
Kicking off with 'Surveil' and 'Both Sides' from 'Colours. Reflect. Time. Loss.'
, Chapman created a carefully controlled wall of sound with the newer tracks arguably sounding even stronger than their recorded versions.
The show's psychedelic visuals were worthy of a mention with microphone stand mounted mini-camera feeds being warped in real-time and projected onto the screen behind. MAPS debut Mercury Prize nominated album was well represented with 'So Low, So High' getting an early airing; listening to this track now, it still sounds like a Glastonbury anthem waiting to happen and it would be a criminal shame if Chapman doesn't get some festival appearances as a result of his performance here.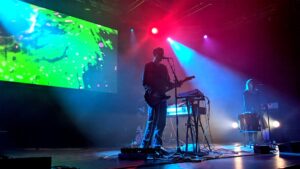 Midway through the main set saw two tracks back-to-back from 'Vicissitude'
, 'I Heard Them Say' and 'You Will Find a Way'.
Both tracks translated incredibly well to the live stage with Fage and Kenedy's providing some quite beautiful harmonies to back up Chapman's lead vocals which at times evoked those of THE STONE ROSES' Ian Brown.
The looping shuffle of 'It Will Find You' climaxed what felt like an all-too short set and the band disappeared literally for a couple of minutes before returning for a two song encore.
'Liquid Sugar' and 'In Chemistry' drew the evening to a close and the Purcell Room crowd were left wanting more. Chapman appeared visibly moved by the reception and spent time after the show mingling with the audience and signing albums.
Even after thirteen years, MAPS still remain Mute Records best kept secret; criminally overlooked and deserving of a much wider audience.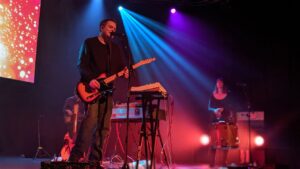 Hopefully the success of this show will see Chapman and his band taking to the stage far more frequently as he now has a band that is tailor-made to interpret his tracks live.
If you get a chance to catch MAPS in future, don't pass up the opportunity to catch this consistently innovative and brilliant musician / performer.
---
Special thanks to Sarah Pearson at Wasted Youth PR
'Colours. Reflect. Time. Loss.'
is released by Mute Artists in CD, white vinyl LP and digital formats
https://www.facebook.com/MapsMusic
https://twitter.com/thisismaps
https://www.instagram.com/thisismaps/
http://mute.com/features/maps-colours-reflect-time-loss
---
Text and Photos by Paul Boddy
7th July 2019