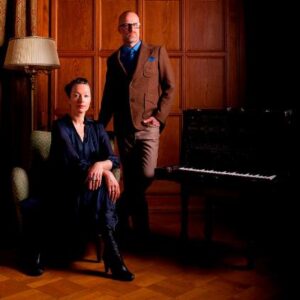 The synthpop duo PAGE go back over 30 years to when they first formed back in Malmö, Sweden.
The band nowadays consists of the two original band members Eddie Bengtsson (also known from bands such as S.P.O.C.K and SISTA MANNEN PÅ JORDEN and THIS FISH NEEDS A BIKE) and Marina Schiptjenko (from BWO, VACUUM and more recently JULIAN & MARINA).
PAGE hold a special cult status in Sweden as the first and greatest synthpop band in the country with a loyal fanbase.
The first single 'Dansande Man' ('Dancing Man') was released in 1983. All-in-all, there have so far been eight CDs released by the band with a variety of line-ups but always with Eddie Bengtsson in the centre. They played a farewell gig in 2000 but Eddie and Marina reunited back in 2010. Their latest album, 'Hemma' ('At Home') released in August 2013, was very much welcomed by the fans and includes some really brilliant pop songs.
PAGE will be playing in London on SUNDAY 9TH MARCH 2014 at 'An Evening With The Swedish Synth' hosted by Nordic friendly music blog Cold War Night Life. It will be their first ever gig outside of Sweden. Don't miss out on this great event… you won't regret going 😉
ELECTRICITYCLUB.CO.UK spoke with Eddie Bengtsson from PAGE about the duo's upcoming shows and debut UK gig…
First of all congratulations for the upcoming gig in London in March…
Thank you very much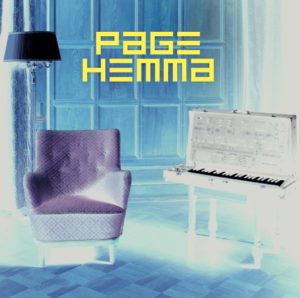 Your album 'Hemma' got a warm welcome from your fans and also some really nice reviews from Swedish and international critics. Was it a difficult album to make?
I would not say that it was difficult. I was in a productive phase and I had more time than I was used to have when working on an album.
But, on the other side, it becomes more and more difficult, in a way to write songs, because of the fear of repeating yourself lyric wise and music wise.
'Hemma' sounds so right in 2013 and yet still so much like PAGE. Has time and music finally caught up with you?
Time caught up with us right from the start. We got it like we wanted it to be (in a way) from the start, and never saw any reason to change that concept. We stayed pretty much the same with how we wanted to sound. And things / style / time around us changed, and looped back to where we were. And now were kind of 'right' again I suppose.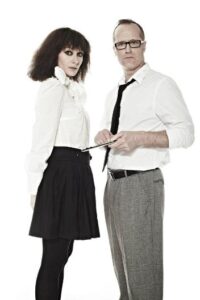 How do you feel that you have developed since your last album 'Nu' ('Now') from 2010? Any major differences between your two last albums 'Nu' and 'Hemma'?
One major difference is, as I mentioned, that the time I had with the songs was more that I was used to. With 'Nu'
, my goal was to write 10 songs quickly and stop at that.
With 'Hemma', there was no pressure and I had lots of time and I didn't stop at 10 songs, I just continued on writing. So with 'Hemma' we actually had about 20 songs to choose from. I also had a much clearer idea about what I wanted it to sound like.
You did 'Hemma' with producer Håkan Hultberg who you had never worked with before. What input did he have on the sound of the album?
With Håkan, as with other 'producers' that I worked with, I never really allow them to get into a producing role. It wouldn't be PAGE if I did that. Me and Marina are pretty sure that the only ones who knows how PAGE should sound is ourselves. A producer working with PAGE takes on a more guiding and helping (technically) role when working with the music. I'm always open for input, but always decide myself if it's good or bad. What we do need when we record is a damn good sound engineer and a person with a good musical taste. I would say that Håkan was very much both!
Marina lives in Stockholm and you live in Helsingborg nowadays, two different parts of Sweden. What does the working progress looks like for PAGE when making music? What comes first, music or the lyrics?
Lyrics are the hardest, and always was. Therefore I always do those last and let the music set the mood for the lyrics, instead of vice versa.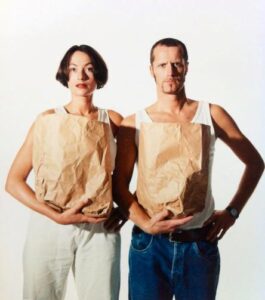 What are the major differences in making an album now compared to say when you did 'Hallå! (Var tog månbåsen vägen?)' ('Hello! (Where did the moon base go?)' ) 20 years ago?
Technically it's a bit different, because we have modern times now and equipment changes. Artistically, it's pretty much the same. I have to say though that I have stagnated a bit when it comes to working with technology! I've found a way, a form and equipment that suits me and I don't really see any need to 'upgrade' my music program. I'm pretty much fine with my buggy old Cubase (and that's a bit of a lie).
You've done some covers over the years, for example a cover of OMD's 'Electricity' for the 'To Cut A Long Story Short' compilation and 'Dreaming Of Me' for the 'Sometimes I Wish I Was Dead' DM tribute album. How does it feel to be playing in the UK at last?
To play outside Sweden with PAGE is a totally new thing, we've never done that before. To go from nowhere (outside Sweden) to play in UK as a 'premiere' act is unbelievable! This is going to be fantastic! And I do hope that people will go and see / hear this, because this could be once in a lifetime.
Your songs are sung in Swedish but when playing in London, will you be performing them in Swedish or English or will there be some kind of a combination to break the language barriers?
We will be doing them in Swedish. And there are two reasons for that. One, I haven't got the time to write and learn new lyrics. And second, and most importantly, PAGE should be heard in Swedish, no matter where you come from or wherever we play… wouldn't be PAGE if we changed that. And speaking of which, I don't think there's going to be a problem because the music in itself is strong enough to break any language barriers. And, really! How often do you really hear what bands are singing, either in English or Swedish, at a concert anyway. Saying that, I would lie if I said that our lyrics aren't important, because they are. I think PAGE's lyrics are is a strong factor in our 'popularity'.
Has it always been an easy choice for you to sing in Swedish?
Yes, it felt natural from the start. It was harder, but I felt more natural. A bit of a trap though, because I feel it's easier to hide bad lyrics using English words, because English sounds pretty cool, whatever you sing.
Who were your fave UK synthpop acts back in the day?
If 'synthpop' means fave electronic pop acts, then I would say; early GARY NUMAN, JOHN FOXX, OMD and THE HUMAN LEAGUE. Those acts and their early records are just outstanding and totally timeless. Those are the only electronic pop-artists that deserve a place in my iPhone.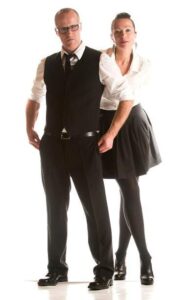 How have they inspired you and put influences on your music?
Yes, by doing what they did then and for sounding so perfect when it comes to electronic pop music. And by looking so good and having such a cool attitude then.
What kind of music inspires you today when making music?
I would say those above mentioned artists. And of course music from all the genres that I like and love; 70s glam, 70s Spacedisco and 70s punk. That's how I try to think when writing music for PAGE, trying to get a little bit of all that in to what PAGE do.
Are there any new artists or bands from the UK that you like?
I like to think that I'm pretty updated when it comes to new music and there are a lot of artists that I like, and mostly indie and indietronica acts. The best group emerged in the 21st Century is MIRRORS, a wonderful act, a group that has now sadly split. What they did was perfect.
Some other good modern electronic groups are: MACINTOSH BRAUN, THE BLACK & WHITE YEARS, ASTREETLIGHTSONG. But also pop/rock acts like KAISER CHIEFS, KASABIAN and THE HEAVY. So my taste is pretty diverse. One thing that makes it all fit together, are all these bands' sense for good melodies.
2013 was a really interesting year when it comes to electronic music. Do you have any personal favourite albums and live acts to pick from this year?
This year? Were there any? I can't recall anything that caught my ear/eyes.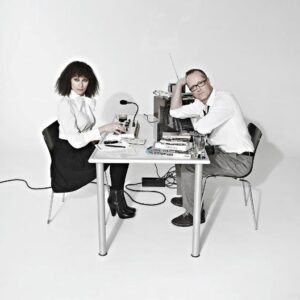 PAGE have been playing live on different occasions now for the last 30 years. How important is the audience? Has it changed much over the last years?
Well it changed in some way, that the audience is a bit older, just as we are. But nicely enough, there IS a new audience as well. And audience is very important! If we can make them happy, then it makes us happy. And if they support me when I'm singing, then it's even better.
What are your plans for this spring and summer? Any more gigs planned outside of Sweden?
We play in Malmö the weekend just prior to London. Apart from that there are going to be a couple more shows in Sweden before summer, and hopefully a return to London coming fall.
I really liked your remix of the ROBERT MARLOW song 'The Future' which you did last year. Do you have anything more planned with Mr Marlow or any other artists?
No, we don't have anything planned. But a nice thing would be, for me to arrange / produce a full album of ROBERT MARLOW. I'm also very pleased of the remix result of 'The Future'. That sound fitted that song pretty well, I think. And I hope Robert thought that to.
Who came up with the ideas for the video to 'Som Ett Skal' ('Like A Shell')? Where did the drummer come from?
I told Mark (the producer of the video) I wanted a drummer in there, and he made it happen. In fact he put two in there! The style of video I got from those 70s videos that I liked very much, and I wanted ours to be almost a pastiche / tribute to that.
You'll be supported by two other Swedish bands when playing in London; MACHINISTA and TRAIN TO SPAIN. Please tell the English readers a little about these bands.
I'm not so familiar with TRAIN TO SPAIN but I've heard some songs from them and they were good. The guys in MACHINISTA I know personally and what they do, I like very much. A great combination of nice tunes and a darn good voice, don't miss them in London.
What are your expectations for the London gig?
I really don't know what to expect. I do hope though that people will come and see us and that they will enjoy it. And that they will help spread the word of who we are and the music we make.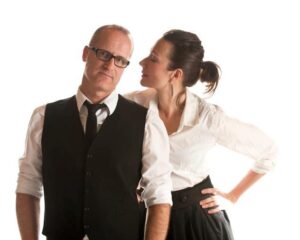 Some quick questions… English pint of beer or Swedish stor stark?
American Budweiser
Singing in English or Swedish?
Guess, Swedish
Driving on the left side or the right side?
Left side? Does anyone? (right side is the right side, you hear it)
Arsenal or Helsingborgs IF?
I would say Chelsea… or Arsenal, if I must choose.
Tea or coffee?
Tea, absolutely!
Good luck in England…
Thanks a lot
---
ELECTRICITYCLUB.CO.UK give its warmest thanks to Eddie Bengtsson
Additional thanks to Simon Helm at Cold War Night Life
'An Evening With The Swedish Synth' featuring PAGE, MACHINISTA and TRAIN TO SPAIN takes place on SUNDAY 9TH MARCH 2014 at 93 Feet East, 150 Brick Lane, E1 6QL London.
'Hemma'
is released by Wonderland Records on CD and download. It can also be purchased as a download from http://whorehero.bandcamp.com/album/hemma
You can read more about PAGE and their earlier releases at: http://synthpop.se/page/
https://www.facebook.com/PageElektroniskPop
---
Text and Interview by Sophie Nilsson
13th February 2014