Finnish psych-pop voyager Jaakko Eino Kalevi has been on a creative roll and will release his brand new double opus 'Chaos Magic' this Autumn. It is the follow-up to 2019's 'Dissolution' mini-album.
Inspired by his new home of Athens and the Greek word "kháos", meaning "an abyss or void that was created when Earth and Heaven were separated", Jaakko Eino Kalevi sought to find beauty in the chaotic nature of the everyday.
Written and recorded primarily in Greece but also in Germany, Estonia and Switzerland, 'Chaos Magic' is an eclectic collection of music covering sunny art pop, synthy new wave, cosmic jazz, electronic disco, space rock and darker baroque song experiments. Guests include Jimi Tenor, John Moods, Alma Jodorowsky, 'Dissolution' collaborator Yu-Ching Huang and on the album's first single 'I Forget', Sigurlaug Gísladóttir aka Mr Silla.
Jaakko Eino Kalevi chatted to ELECTRICITYCLUB.CO.UK about this wondrous garden of earthly delights that shaped the sound of 'Chaos Magic'.
It's been 4 years since the 'Dissoluton' mini-album and 5 years since the last album proper 'Out Of Touch', how did you decide to make 'Chaos Magic' a double opus?
I was not planning to make a double album but somehow that is what it grew up to be. I was just working on my song ideas and in the end didn´t want to drop anything out. I tried but it didn´t make sense to me.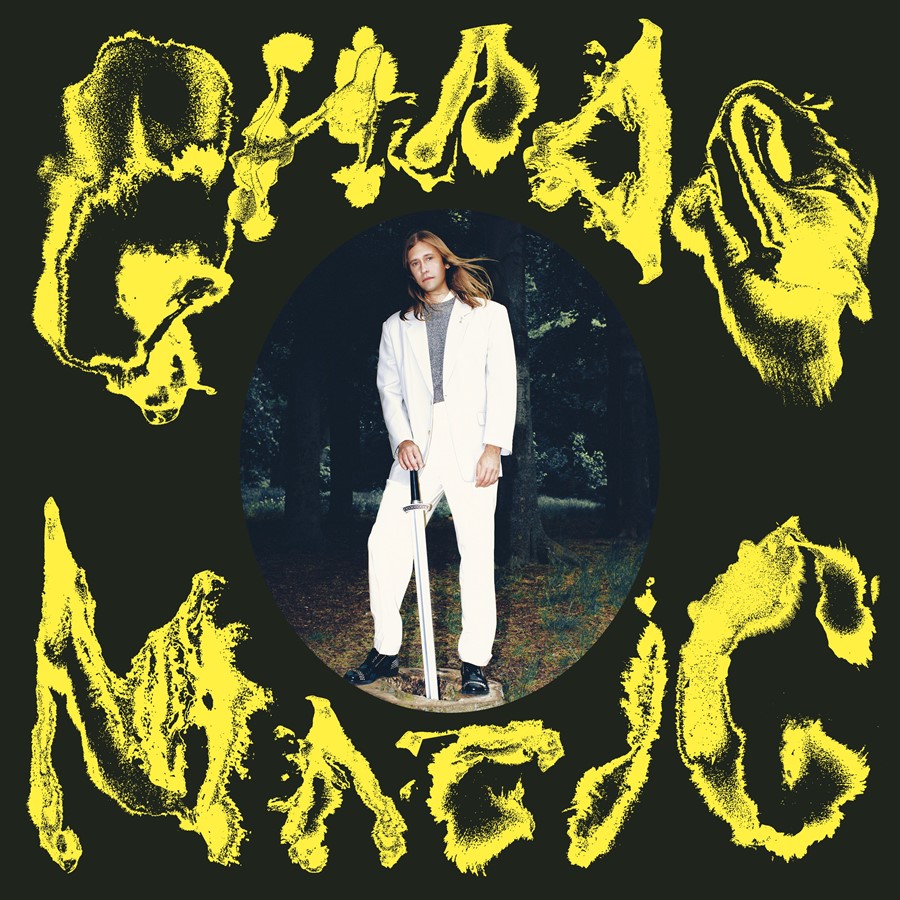 How has living in Athens inspired you, it's obviously quite different from Finland?
It is very different that is true. It´s much more lively place than Finland and people spend more time hanging outdoors which is nice. I used to live in Berlin after Finland and one thing I like in Athens is having a better routine of working with music, compared to Berlin. One reason for that is our studio that I share with a few friends.
'Drifting Away' does as the title suggests, it's suitably sunny and breezy, is this the Greek environment helping?
Hehe, yes definitely! There is so much sea it´s amazing! Although I don´t know anyone with a boat, yet. When I was working on the lyrics of that song, I had many different versions of it and I think my experiences by the Greek seaside pushed me into using the 'Drifting Away' version.
'Dino's Deo' appears to recall the Belgian electronic trio TELEX, were they an inspiration for you at all?
Interesting comparison. I love TELEX, but I was not connecting them to this song. At least not consciously.
What is 'Hell & Heaven' for you?
This song was made together with Elliot and Virgile from the band FAUX REAL. It was musically so dramatic so I had to go biblical in the lyrics. I got this idea on the island of Hydra in a pretty heavenly situation, but sometimes even to the most heavenly places you bring your own hell and vice versa. Life is full of Hell and Heaven, and everything in between.
'Night Walk' has haunting synthetic overtones, how did that song come together?
It´s based on one old jam and I wanted to make a new version of it. I spent quite a lot of time tweaking the synth sounds on this album. In the demo version of this song, I used a plugin synth bass sound that was kind of perfect, but I wanted to replace it with a hardware sound which was not easy at all. Finally I got it done by layering bass sounds on top of each other. I think hardware often sounds better and it's inspiring to touch the machines. The song is about some relationship moods from the past and of course the synth bass.
French actress and singer Alma Jodorowsky who starred in the electronic music film 'Le Choc Du Futur' adds some exquisite vocals on several tracks… what did you think of the film and how did she come to be involved in recording with you?
Oh I haven´t see that movie unfortunately! Have to correct the situation immediately! Last summer Alma was in Athens for a movie premiere (might actually have been 'Le Choc Du Futur') and my friend was hosting her. They came to a bar where I was DJing and we met and hung out. I was working on the album at that time and needed some female vocals to it. She was up for it and ended up doing much more for the songs that I had in mind.
'Palace In My Head' is quite different with darker claustrophobic overtones offset by a polar opposite chorus, was this a lockdown song?
Yeah, the chorus is pretty different from the rest of the song. The bassline is pretty evil and then it always brightens up for the chorus. I would say there are two characters in the song having sort of a conversation and the chorus is the reply for the verses. This song was written before lockdown, at least the music part.
'I Forget' touches all the spectrums in its delivery, but what did you forget? 😉
Well this song has inspiration from one trip when we were playing a show in a festival in the coast of Egypt. After the show I fell asleep in a beach chair and when I woke up, I could not remember where I was and why. Also I had a dream of some other place so it confused me even more. I called my sister and I was on the map again. I had this kind of experience as a kid in some sleepovers as well. It´s strange…
'The Chamber Of Love' appears to have a passing resemblance to 'Everything She Wants' by WHAM! Was this conscious or coincidence?
I wrote the song before I ever heard 'Everything She Wants' but the arrangement was different. I love 'Everything She Wants' so I arranged this song sounding more like that. It is more electronic now and yes with a big inspiration from WHAM!
You worked with Jimi Tenor on this album, do you see him very much as a kindred spirit musically?
Yes definitely. When I started to do my music, he was a big influence for me. He is a great musician and I very much look up to him. It's been great to have a chance to work with him.
'L'Horizon' explores a full electronic funk workout, how did that come together?
I thought the song was already finished but then when I listened it more, it seemed to lack something. So I came up with the funky slap bass riff which is pretty prominent in the song now. I also added the white noise phaser hi-hat to make it more upbeat and now it's perfect! There is always something on the horizon.
The Far Eastern favoured 'Galactic Romance' is an intriguing and hypnotic piece of music which you don't sing on, how was this constructed?
I had the song pretty much ready with the melody and all, but I felt like my voice was not fitting to it. So I asked my friend Yu-Ching to sing on it. The song has a pretty spacey atmosphere so Taiwanese Mandarin suits to that purpose perfectly. The song is a romantic space song.
Do you have any favourite production tools?
Yes many. A new thing for this album is this one tube preamp that is inspired by the Abbey Road Console from the 60s. I recorded almost everything through it. Also synth-wise, I like to use Korg PolySix and Korg 700s. Especially the 700s has a very special aggressively juicy sound.
You close the album with a 13 minute epic 'Let's See How Things Go', what seeded such a long musical excursion?
That was a collaboration with another Finnish legend, Vilunki 3000. The song was originally even longer but I edited it a little shorter. I like epic last song endings and this is one of those. The length is needed to create the right suspension.
ITALOCONNECTION recently covered your 2010 song 'Flexible Heart' on their album 'Nordisko', what did you think of what they did?
I felt like it was about time! It is such a perfect song to be Italonized so I think that justice was served.
You released your first album 'Dragon Quest' in 2007, how do you see the artist from back then compared to where you are now?
Kind of different but pretty much the same. Of course a lot of time has passed and I have explored music and life to another level, but I feel I still have pretty much the same approach to making music. Actually we are planning to reissue 'Dragon Quest' in the near future.
What are your hopes and fears for this record? How do you hope it will be received?
Of course I hope people will find it and enjoy it. It is a very diverse album but still I think there is a golden thread to be found. It is my strongest album so far in my opinion and I hope the audience will agree.
---
ELECTRICITYCLUB.CO.UK gives its warmest thanks to Jaakko Eino Kalevi
Additional thanks to Stasi Roe at Domino Recording Co
'Chaos Magic' is released by Weird World / Domino Recording Co on 17 November 2023 as a CD, double LP + download, pre-order from https://www.dominomusic.com/
https://www.jaakkoeinokalevi.com/
https://www.facebook.com/JaakkoEinoKalevi
https://twitter.com/JaakkoEino
https://www.instagram.com/jaakkoeinokalevi/
https://www.instagram.com/jaakkoeinokalevi/
https://jaakkoeinokalevi.bandcamp.com/
https://open.spotify.com/artist/20o7mwLphfnviZKGPw1gi3
https://music.apple.com/gb/artist/jaakko-eino-kalevi/361706924
---
Text and Interview by Chi Ming Lai
8 September 2023