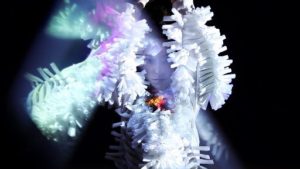 Greek songstress SARAH P. recently said that her debut release 'Free' was a love letter to her inner psyche.
Varied and enticing, 'Free'
is a vivid commentary on relationships and politics, combining pop and leftfield aspirations in a similar vein to SANTIGOLD or GOLDFRAPP.
And with her latest single 'Golden Deer'
, subtle GOLDFRAPP references adorn this great slice of dreamy electronic disco. Indeed, dreamy is an apt description as SARAH P. explained: "'Golden Deer' was inspired by a dream I had about this deer leading me to a magical forest where everything was possible. I guess, following the deer symbolized tearing down the fences I've built around me because of my fears". For her, the end result is "like an excited heart that's pumping for the new beginnings".
This enthused spirit is reflected in the visual presentation of 'Golden Deer' which comprises of not one, but three music videos directed by the Berlin based visual artists Schall & Schnabel. With instructions to "Decide how deep you want to dive into the dream…", 'ACT 1' is charming and playful. But things get more cerebral for 'ACT 2', before the kaleidoscopic intensity of 'ACT 3'.
Following first starting out in 2010 as the singer of KEEP SHELLY IN ATHENS, there is still more to come from SARAH P. and her spooky yet captivating voice. She told ELECTRICITYCLUB.CO.UK earlier this year: "My LP is already in the making. There is a whole concept behind it and I am very much looking forward to sharing it, although I've got to hold back and wait!"
And good things come to those who wait.
---
With thanks to Robert Helbig at Hellbig Music.
'Golden Deer'
is from the mini-album 'Free'
released by EraseRestart, available as a download via the usual digital outlets
The 12 inch vinyl edition is available from http://eraserestart.bigcartel.com/product/sarah-p-free-vinyl
https://www.facebook.com/sarahpofficial/
---
Text by Chi Ming Lai
28th July 2016