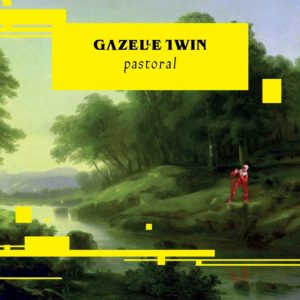 As innocent and idyllic as the new album title from GAZELLE TWIN sounds, those who are well familiar with Elizabeth Bernholz's previous output, won't be fooled.
The queen of all things weird and wonderful is back after the highly acclaimed 'Unflesh'
.
'Pastoral'
should be glorifying her new found life in the depths of Old England, a move amidst other life changing events; instead, it "exhumes England's rotten past, and shines a torch over its ever-darkening present".
No matter what century we live in, the evil, greed and consumption have gone full circle, no matter "What species is this? What century? What atmosphere? What government?", as questioned with choral voices in the opening 'Folly', with the intro like DEPECHE MODE's 'The Great Outdoors' played backwards.
If things were indeed 'Better In My Day', which is proposed in a house / rave notion with the additional twists from frenzied electronics, then "the world with jobs, no foreigners, no locked doors and kids full of respect" was "much better in my day".
The tribal sounds of what promised to be lovely and cuddly in 'Little Lambs' is nothing of the kind. Almost ritualistic, the mantric rhythm sounds scary, and the "little lambs" are us: the little island dwellers, fed lies and distractions to keep us away from the bigger picture. "Save yourselves" the synthesised voice warns, before 'Old Thorn' ushers the "multi-gender voices, in vernaculars old and new" as if.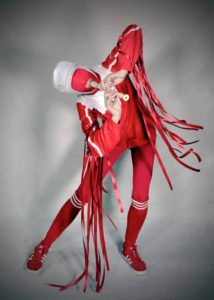 'Dieu Et Mon Droit', sung with a KATE BUSH poise, crown the otherwise sad state of affairs described here. Bernholz's vocal goes male on 'Throne' in monophonic rhythm, spitting out words with disgust: "Scratching, Picking, The wound, Bleeds, Pus, Flows, Sticks, Stinks".
'Mongrel' describes a new breed of humans and the new behaviours which are ridden with self-assurance, opinionated yet easily offended over nothing, but it suits them. The opening questions from 'Folly' return, "What species is this? What century?"
The glorious Old England won't come back as in 'Glory', delivered in the style of ZOLA JESUS goes mediaeval.
The Wiccan imaginary beaten out of the drum ritual sees new found sounds and experiences Eastern influences in the plethora of styles, each as distant from each other, as they are close.
The meeting in the good Old English 'Tea Rooms' won't bring the illusion of "pastoral picture"; the reality is far uglier than the idyllically drawn "hedgerows and steeples" or "cattle, tearooms", because there's also the "roadkill" and the village square sees executions as well as happy country summer fetes.
'Jerusalem' mocks the "ideal citizen", with the sneer from the riddler, while 'Dance Of Peddlers' utilises early instrumentation in the form of recorders intertwined with courtly jester music, spitting out the truth at once: "It's the Middle Ages, But with lesser wages".
The first single from 'Pastoral', 'Hobby Horse' is as deranged and as mysterious as any work of GAZELLE TWIN, but this time she spells it out: "Pack on the loose but I can't let them in here, My fears are growing, My wounds are showing, My time is up I want to get the f*ck out of here NOW". She mocks 'Ye Olde' and 'The Everyman' of the English cliché, brandishing a sneer and a hobby horse.
Certainly not the 'Sunny Stories' expected by the title, it's "All your history's happened now", mystically performed with a compelling, eerie vocal, whistling in the country winds and reverberating in the darker skies, with no stars present. Darkness, just darkness out there…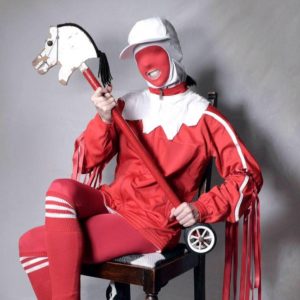 Maybe a better life lies 'Over The Hills', a happy country song delivered while riding and we are back to the "good old days", where "King George commands and we obey", and there are still "Flanders, Portugal and Spain", even if they're getting further and further.
Elizabeth Bernholz hasn't disappointed in the "deranged, absurd reflection of deranged and absurd times". Her village square isn't a source of empty joys, her country cottage isn't the perfect, magical place and her Old English neighbours aren't the friendly country folk, ready to help in need.
No, there is horror in every idyll, and danger lurking beyond the 'quaint' and she's not fooled. She will sit there in her red 21st century jester outfit on and make you laugh!
I'm sorry, did I say laugh!? No, she'll make you reflect and cry over the state of affairs, but only if you choose to see it.
---
'Pastoral'
is released on 21st September 2018 by Anti-Ghost Moon Ray as a red vinyl LP, CD and download available from https://gazelletwin.tstor.es
GAZELLE TWIN 2018 live dates include:
Gent Vooruit (20th September), Station Narva Festival (22nd September), Warsaw New Theatre (3rd October – 'Kingdom Come' performance), Manchester Soup Kitchen (5th October), Brighton Attenborough Centre for the Creative Arts (11th October), London Somerset House Lancaster Rooms (16th November)
https://www.facebook.com/gazelletwin
https://twitter.com/gazelletwin
https://www.instagram.com/gazelletwin/
http://www.antighostmoonray.com
---
Text by Monika Izabela Trigwell
18th September 2018