Since ELECTRICITYCLUB.CO.UKcaught THE SOFT MOON at the beginning of the year for their London date at The Dome in Tufnell Park, the act has been touring constantly in support of new album 'Criminal'.
Essentially the one-man project of Oakland multi-instrumentalist Luis Vasquez, THE SOFT MOON have just released a new promo video for the 'Criminal' album track 'Like a Father' and have been added to bill at the Robert Smith curated 2018 Meltdown Festival.
THE SOFT MOON will join a stellar line-up at London's South Bank Centre including NINE INCH NAILS, MANIC STREET PREACHERS, DEATH CAB FOR CUTIE, MY BLOODY VALENTINE, PLACEBO, THE PSYCHEDELIC FURS and THE KVB.
Luis Vasquez kindly took time out from his busy schedule to discuss the challenges of making of 'Criminal'
, his diverse range of influences and the impact of working as a solo musician.
Because the majority of your music is relentlessly dark, do you think people have a preconceived idea of your personality before meeting you?
Always, I've even been told a few times by journalists that they were a bit nervous to meet before an interview, thinking that I was some sort of dark and intense person. A lot of people are surprised by my outgoing exterior personality. I pretty much keep all my intensity internalized and only let it out through the music itself.
There is an enlightening Ingmar Bergman diary entry when discussing the link between pain and creativity which says "there is too much menneske in me" (Danish for 'human being'), do you subscribe to this notion?
Of course I do. I have a really hard time processing emotions and even physical sensations. Resistance to my own humanity makes it difficult for me to function sometimes, and is the culprit behind a lot of my anxiety.
You've lived a very nomadic existence; which of the cities you've lived in have had the most effect on your music?
Definitely Berlin. It's taken me to some extreme highs and lows and I've learned a lot about myself in terms of human limits. It's made me realize how emotional, anxious, sensitive, spontaneous, and daring I am. I've almost died in this city and it scares the hell out of me. It's the only place in the world where I've lost complete control of myself.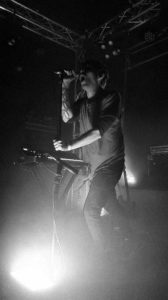 What sort of impact did growing up Catholic have on your music?
It's impacted the subject manner of some of my songs. All Catholicism ever did was leave me with a guilty conscience to which I've been working on myself ever since in order to banish it. Especially with my most recent release 'Criminal', the key emotion throughout the album is guilt.
Although you are not an Industrial act per se, some acts in that scene have changed their sound considerably. What is your viewpoint on bands that could arguably be seen as "selling out" or disassociating themselves from their original roots?
It's a natural process in life to grow, therefore making you change several times throughout your own personal evolution.
Also, in terms of music itself, there is only so much you can create before you start repeating yourself, so the only way is to give yourself more freedom to expand. I think it's not fair for fans to sometimes keep an artist imprisoned to that one favorite album of theirs, or sound, genre, or era.
There were 72 (!) credited writers on the last BEYONCE album, what is your viewpoint on the pros and cons of collaborating and why do you prefer to work alone?
When it comes to THE SOFT MOON, I do prefer to work alone, because in the end this particular project is about my personal life which includes self-discovery and self-healing. It's also about my curiosities as a human being living on earth. In general, I actually love collaborating with other musicians, there's no other feeling like that in the world when communicating with a fellow artist. I grew up playing in many bands sharing ideas and it wasn't until I chose to create THE SOFT MOON that I became a solo artist.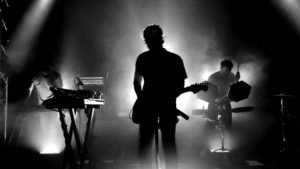 Which artists have had the most influence on the sound of THE SOFT MOON?
The Krautrock genre was the initial main influence for THE SOFT MOON, specifically CAN and NEU! because of their use of the motorik beat which I've used on several of my songs. Other influences would be PRINCE and MICHAEL JACKSON. My first exposure to music was pop.
JOHN FOXX is an acknowledged influence on you, what was it like working with one of your musical heroes on 'Evidence'?
Aside from feeling completely honored about the opportunity to work with JOHN FOXX, the collaborative process itself was very casual without any pressure (except for the pressure I gave myself). Foxxy sent me a skeletal idea to add flesh to. After a few exchanges over the span of a few months, what turned out was something beautifully polished.
You cite the ARP Odyssey as a go to synth, what is it about this particular instrument that makes it special for you and are there any other bits of gear that are important to you?
The ARP Odyssey played a big role in the Krautrock genre along with Moog. I really like late 70s and early 1980s space sounds so when I found out that KRAFTWERK were using an ARP Odyssey, I knew that was the synth for me.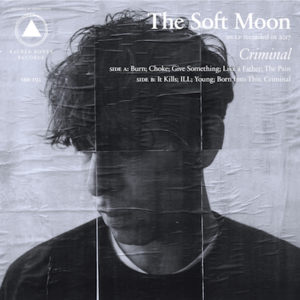 Some of your other influences are intriguing, can you tell us about the connection between the demon possession movie 'The Entity' and one of your songs?
I was hugely inspired by the film's theme song entitled 'Relentless Attack' for the creation of one of my songs entitled 'Black' on my third album 'Deeper'
. It was such a menacing sound and I completely connected it with it on a deep emotional level.
Did you have a particular plan for the sound of 'Criminal' and if so, did it end up the way that you hoped?
It actually took me about six months to figure out which direction to go into. I was confused and angry with my life during the early stages of creating 'Criminal'. I was upset about living in Berlin, I felt I was a slave to my own music, and I was even questioning whether or not I wanted to continue making music as THE SOFT MOON. When I almost reached the breaking point, I spewed out 'Burn' and it paved the way in unfolding the rest of the album.
'Give Something' is a standout track on 'Criminal', is the lyric written about a specific relationship?
It's about my relationships in general, but I have found myself contemplating my actions more so in recent relationships, which is why I felt the urge to finally express this particular subject.
ELECTRICITYCLUB.CO.UK caught THE SOFT MOON at their recent London show, how does performing live work for you, especially having to bring in other musicians?
I feel it works very well in a live context. In fact, when I write music I always keep the live show in mind and can picture what it would look like. In the beginning I never intended to perform live with THE SOFT MOON, so I never wrote music that I thought would translate well in a live environment. Because I use so many layers and create heavily rhythmic patterns, I don't think THE SOFT MOON would work without additional members on stage.
One of the unique elements of THE SOFT MOON live show is your use of percussion, how did this evolve?
This all stems from my Cuban heritage. I grew up around percussion instruments, but ultimately it's in my blood.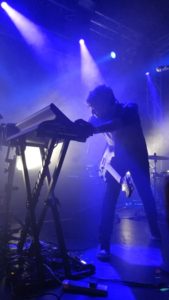 Prior to a 2016 Las Vegas show, you had all of your equipment stolen, how much of a blow was that and did any of it get recovered? Or did you see it as an artistic opportunity to evolve your sound?
It was a pretty major blow. We posted a fundraiser right after and were able to make up for some of the loss thanks to the generosity of our loyal fans. Unfortunately we weren't able to recover any of the equipment or merch.
The majority of what was stolen was all our merchandise, so the next morning we drove around Oakland searching through dumpsters and keeping an eye out for people on the streets wearing THE SOFT MOON T-shirts *laughs out loud*
What is next for THE SOFT MOON?
As of right now, we're 100% focused on touring 'Criminal'. I have a hard time doing too many things at once but I am making my way toward soundtrack work.
---
ELECTRICITYCLUB.CO.UK gives its warmest thanks to Luis Vasquez
Special thanks to Frankie Davison at Stereo Sanctity
'Criminal'
is released by Sacred Bones Records in CD, vinyl LP and digital formats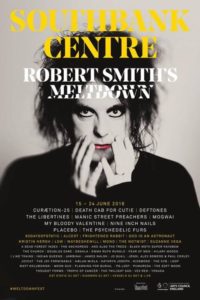 THE SOFT MOON perform at Robert Smith's Meltdown Festival 2018 on London's South Bank Centre with MY BLOODY VALENTINE on Saturday 23rd June and with THE KVB on Sunday 24th June, more info at https://www.southbankcentre.co.uk/
https://www.facebook.com/thesoftmoon/
https://twitter.com/thesoftmoon
https://www.instagram.com/the_soft_moon/
https://www.sacredbonesrecords.com/collections/the-soft-moon
---
Text and Photos by Paul Boddy, except where credited
2nd June 2018