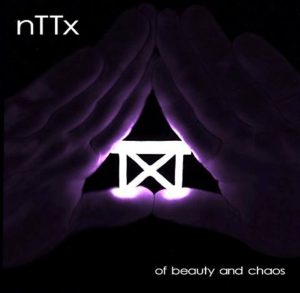 Deep into his love of EBM, the Toronto based Gord Clement, known as NTTX, has made a comeback to follow up his first EP, 'Objective'.
Known to the die-hard fans of DEPECHE MODE for his infamous cover of 'New Dress', with its beefed up, stomp beats and a politically charged change of lyrics (this time it's Princess Kate, with an adequate video for good measure), the Canadian, formerly the singer and songwriter of ATOMZERO, ushers in some more heavy sounds on newly released 'Of Beauty & Chaos'.
Since his departure from ATOMZERO, Clement has been utilising his strong vocal over some FRONT 242 inspired tunes, and the present offering is a good example of his harsher ear teasers.
The opening 'Move Dark' brings out the Doc Martens and isn't at all suitable for the gentle synth lover. 'Prey' continues with a further dose of the "to be used responsibly" on the dance floor; it has some interesting elements to it, similar to the following 'True', which bears more refined concepts, along with almost vintage electronica in the choruses.
The EP's gem however, is the slower tempo 'Earth'. A synth ballad of sorts, not shying from a gentle guitar, it's almost like AND ONE on 'Virgin Superstar'. It's as if Clement spent a month at a German retreat with Steve Naghavi, the latter playing the role of the master.
Enter ROTERSAND on the rework of 'Falls Beautiful'. Clement's voice on this one feels more redirected and manly, and it raises in line with the upward feel of the track. NITZER EBB-y in places, PRODIGY-like in others, this truly is a fascinating mix of what can be achieved when working outside of the otherwise laborious EBM genre.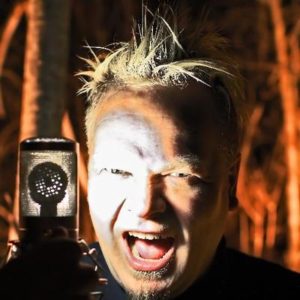 Clearly loving his covers, the closing rework of the FM rock biggie 'Eye Of The Tiger' begs the question as to "why?"
Not the classiest of renditions, because the SURVIVOR's version can't be beaten, certainly not when bumped up to the industrial status, but clearly Clement had some fun there.
If you love your EBM, you'll love this, but the feeling persists that NTTX may be a little more than an industrial monkey; the clear examples being 'Earth' and 'Falls Beautiful'.
A very strong vocal presence and some interesting ideas place the man from Toronto well above many, and perhaps on the next outing, the audiences will hear something spectacular. After all, the Canadians have a long history with the good old synth…
---
'Of Beauty & Chaos' is released by WTII Records as a download EP, available from https://wtiirecords.bandcamp.com/album/of-beauty-and-chaos-2
https://www.facebook.com/nttxmusic/
---
Text by Monika Izabela Trigwell
5th August 2017