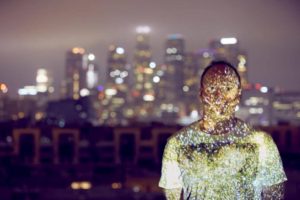 LOST IN STARS is an electronic music project from downtown Los Angeles.
Led by British born musician Dylan Willoughby, the floating ensemble also includes Darren Burgos, Alysa Lobo, Jon McCormick and Elena Charbila aka KID MOXIE; the latter described Willoughby's production mind as one that had "a lot of that synth mentality".
Having released two singles and then an EP 'Once You Were Fire' in 2015, a self-titled debut long player from LOST IN STARS emerged earlier this year. With style and sophistication as well as more radical influences such as dubstep and rave, the album was received warmly by critics and electronic pop audiences alike.
ELECTRICITYCLUB.CO.UK chatted to Dylan Willoughby and several of his willing conspirators about the LOST IN STARS concept.
The 'Lost In Stars' album has been a long time coming, how has the journey been for you?
Dylan: Journey is a good word for it. In a galaxy and time far, far away, in the place from which DEVO sprung, I was a teenager who loved the synth music I had heard during my summer stays with my family in London. I would bring back sheet music for all the songs and learn them, much to the chagrin of my classical piano teacher.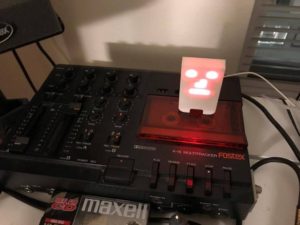 I was not one of the kids with an Emulator II in the bedroom; I had a humble Casiotone but a good imagination. At the end of high school, my pals Jon McCormick, Paul Lyren and I got together and recorded some original music. I rented some real synths (Yamaha DX-7 and Roland D-50), programmed the sounds, Jon wrote lyrics and sang, and Paul programmed the drum machine (a Casio RZ-1), added some sounds from his Casio CZ-101, and produced the music on a Fostex X-15 4-track cassette recorder. One of the songs was called 'Growing Circles.' That was 1989.
Flash forward to Los Angeles, July 2012: DJ Travis Holcombe plays 'Growing Circles' on KCRW and inspires me to start making synth music again. At that point, I had returned to classical piano training with a great piano teacher from Juilliard, Young Yoo. I then met Darren Burgos by taking his Electronic Music Production class, which introduced me to a whole new world with regard to composing, mixing and mastering.
A bit later, I met Alysa Lobo, who shared my love of synthpop, and then Elena Charbila who was already established as a singer and praised on ELECTRICITYCLUB.CO.UK, which is how I discovered her! So it was a confluence of all these lucky meetings and the great privilege of being played on KCRW. A team had formed, which included me, Darren, Alysa and Elena.
How did THE LOST IN STARS material start coming together?
Dylan: Our first song was 'Flown,' which I composed with Darren and Alysa. The song was straight-up synthpop, so it felt like I was continuing on from my past. We recorded in Studio A of Village Studios, a converted Masonic temple haunted by ghosts and huge hits. When Darren finished mixing the song, I knew we had something special.
I had also started to get into dubstep. My friend Sanjay had recommended BURIAL, and I was blown away by it. It turned out that Elena also loved BURIAL. So that was how 'Once You Were Fire' and 'Elephant & Castle' were born. As I was learning about dubstep and the Hyperdub artists in particular, I read about the untimely passing of The Spaceape, who was a poet and musician, and who was close to my age. So I wrote 'Once You Were Fire' for him, confronting my own mortality. 'Elephant & Castle' I wrote in memory of my father, incorporating spoken word from my uncle and glitched poems. Elena's singing on these two tracks was ethereal, otherworldly, transporting. She gave true tribute.
The next song was 'Disappear,' which Darren, Alysa and I composed. I wanted to branch out a bit from the straight synthpop of 'Flown' and we tried to mix a number of different genres, including synth pop, dubstep and 50s vocals. It was the first song whose lyrics I wrote 'on the spot', a strange love song lamenting a love that could have been. That was our debut EP, which formed the foundation of the album.
I got a lot of encouragement to continue: Earmilk premiered the EP, the songs continued to get airplay on KCRW and charted on college radio stations, DJ Rusty Egan picked 'Once You Were Fire' as one of his favorites of the year, and my friend Bert Ryan, a new wave connoisseur, said it was his favorite music of the year. I like to fool myself that I only care about composing as an act in itself, but without the encouragement I wouldn't have made this album.
You faced adversity on several occasions?
Dylan: Throughout this whole period, I was battling catastrophic illness, which nearly literally killed me several times, so I couldn't go as fast as I would have liked. Alysa too was severely injured in an accident and trying to recover. But we all pressed on, and the next batch of songs came to fruition, starting with 'Light (Triumph & Disaster),' which I wrote with Darren and Alysa as a companion to 'Disappear.'
We'd all had our share of triumph and disaster. I wanted Darren to do a lead vocal, and so we wrote the song 'Sky' (which I'll talk about later) based on some rough sketches I had put down with the bass line and strings. A friend of mine who was the screenwriter of 'Monsters, Inc' had sadly passed away at that time, so 'There Were Stairs Here' was a short song honoring him.
'Secret Language' had many different versions, from Italo-disco to dubstep, but it really came into its own when Darren added the synth arpeggiation at the beginning of the song, which I joked sounded like a possessed COREY HART, and we created a synth out of a vocal sample.
We ended with the recording of two covers, BAUHAUS' 'All We Ever Wanted Was Everything' and THE BEE GEES' 'Holiday.' On this second batch of songs, I also wanted to incorporate some acoustic and electric guitar, and a very talented guitarist named Gaku Murata did some fine work. Darren then donated his excellent 'Take It All' (inspired by a devastating US election result), and I felt we had reached completion.
So you see, it was a journey, and making the music saved my life. I could have given up so many times and just given in to the weakness, the darkness, the pain, the illness, but the music pulled me through, as did Darren, Elena and Alysa.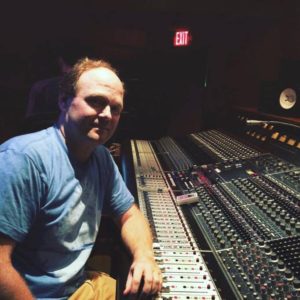 When did you discover synthesizers?
Dylan: You will laugh at me for this answer.
I lived in Toronto when I was younger, and my first instrument was the organ.
This was the time of shopping malls and old men with mustaches going nuts on those souped-up organs with all the multi-colored levers. I guess they were their own kind of rock star. As cheesy as they seemed at the time, those organs revealed that you could play the keyboard and manipulate the sounds.
I moved to the US and started taking classical piano. We didn't have enough money for a real piano, so we went to the local music shop for a keyboard. When we walked over to the keyboard section, the salesman was engrossed in playing a STYX riff on a Korg Mono/Poly. It was a beautiful looking and cool sounding synth, and I think at that moment I decided that the synth would be my instrument. Soon after that, I was in London staying with my grandmother, and new wave was sweeping the UK. I saw FREEEZ play 'IOU' on Top of the Pops, with one of the singers rocking out on a Roland SH-101 'syntaur' strapped around his shoulder, and that sealed the deal.
How did you decide this was the musical path you wanted to take?
Dylan: The synth appealed to me on many levels. It was a cool combination of piano and technology, and it wasn't just about playing keyboard but about designing cool sounds. So there was that mad professor element. The synth had also moved from the backstage to the front — here were people standing behind keyboards with weird hairdos and outfits, as opposed to long-haired dudes wailing on guitars like SPINAL TAP. You could be a pop star and a keyboard player! New wave was tight and sharp, and there was an aura that was sophisticated and urbane.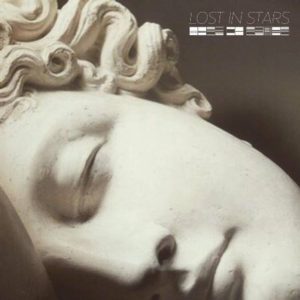 What was your first synth and what was it like to use?
Dylan: At the music shop mentioned, the salesman convinced my parents to buy me a Casiotone CT1000P and hold off on the dangerous synths until I learned the piano. I played on that keyboard literally hours a day, imagining that I was Alan Wilder on the Roland Jupiter 8.
The first real synths I got my hands on were the Roland D-50 and the Yamaha DX-7. I remember the Roland D-50 having a pretty clean, crisp sound, and that one of the presets had been used by Phil Collins. The DX-7 was a 'frequency modulation' synth and it took me a little time to get my head around it. But the outcome was pretty cool.
On 'Growing Circles,' for example, I was able to get a bass line that didn't sound overly digital, and some decent pad sounds for the higher frequencies. I didn't have the money to buy these synths, so I would compose the songs on the Casiotone, and then rent the real synths for short periods of time for our actual recordings. I also didn't know about sequencing, and couldn't afford a sequencer anyway, so I would play all the parts out by hand in one take. I suppose that's where the classical training helped.
In college, a friend of mine Ko Matsuo had an Ensoniq ESQ-1 synthesizer. I used to wake the poor guy up really early on Saturday mornings to use it, and he would teach me sequencing and sound design, and give me input on song structure. I wrote a lot of songs on his synthesizer, and woke him up a lot of times! Eventually, I bought my own Ensoniq VFX-SD, which was a great synth for multi-tracking and sequencing, but my songs sounded a bit muddled. I then got a hold of a beautiful Roland Juno 106, which is a simple synth, but has pretty great analog sound and this incredible Chorus effect. After that, software was getting better and better, and I gravitated towards soft-synths.
What equipment and software were you using for the album?
Dylan: On the 'Lost in Stars' album we stayed 'in the box.' Darren and I used Logic Pro X for recording and mixing, and Darren also mastered in Logic. Both of us relied on a lot of great synth plugins, including iZotope Iris 2, Native Instruments Massive, FM8, and Battery, u-he Diva, ACE and Bazille, Xfer's Serum, Cataract's glitchy synths, Rob Papen's Blue II, Roland System 1 plug-outs, D16's luSH-101, Dune 2, Sylenth1, Spire, Kick 2, Omnisphere, and the Arturia Jupiter-8.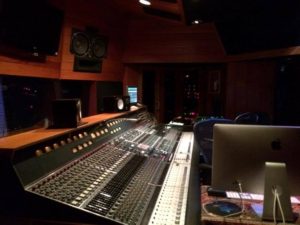 In mixing, Darren and I used a lot of the SoundToys, Fab Filter, Eventide, Celemony, Antares, SugarBytes, Waves, and Universal Audio plugins.
For songs like 'Elephant & Castle', SugarBytes' Effectrix played a key role.
For drums, we heavily edited and chopped audio samples and used a number of drum machines, including Logic's own Drum Machine Designer.
We recorded vocals at Village Studios using a Neumann U-67 microphone, in my studio using an sE Electronics 4400a and various AKG mics, piped into a Universal Audio Apollo or through a Focusrite pre-amp. For microphones, we also used the Apogee Mic, and the Rode K2. We processed the vocals with Valhalla reverbs, UAD Neve 1073 and 88RS preamps, Waves, Logic and FabFilter compressors, and certain plugins like SonicCharge's Bitspeek.
I wrote and recorded the short song 'There Were Stairs Here' on my iPhone using Moog's Animoog app, and sent the audio file to Logic, adding a few sound effects later. The real guitars were played by Gaku, and then processed using Native Instruments' Guitar Rig and some of his own pedals.
The album is swathed in dubstep influences, what fascinates you about the form?
Dylan: Blame my friends Sanjay and Elena! When I think dubstep, I really think BURIAL. I love BBURIAL because the music casts a lot of shadows. You are always moving between light and darkness, and on the journey of the song, you find respite in particular silences. The beats skip and quiver, more like a tell-tale heart than the insistent pounding dictated by a DJ. Things are far away, muffled. Singing emerges from the distance, as if from a forgotten memory. The message is scratched and scraped, the imperfect slowly reveals its beauty. Burial reminds me of this TS Eliot line: "So the darkness shall be the light, and the stillness the dancing."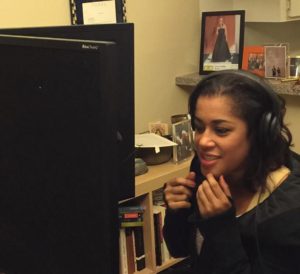 'Disappear' featuring the voice of Alysa Lobo is one of the highlights of the album, what was its genesis?
Dylan: First, thank you very much for that. That was our first song to reach No1 on a college radio chart. For me, it was a watershed moment because I wanted to mix dubstep and synthpop, and have a unique vocal as well.
The song started out with a strange sequence from Rob Papen's synth Blue II, a sample from a horror movie, some vocal stabs, and a pretty strong dubstep beat.
I think Blue II really inspired the whole song. Darren and Alysa composed the melody. Alysa was listening to Dionne Warwick at the time. So the song's vocals feel to me almost from a different era, yet are sung over a dubstep beat with a lot of synths. For some reason, I think of the wonderful SHIRELLES when I hear Alysa sing. Darren was instrumental in making all these differing genres work together.
It was one of the few songs where I wrote the lyrics mostly on the spot, while Alysa was recording with us. It's a strange love song — about the possibility of a love that never was but could have been. Gone are the days that never were! A certain person set my heart on fire, but the stars were crossed…
Alysa: At the time, I was studying and taking a sight reading course and found myself creating three part harmonies to everything that I was listening to. The girl group sound really came organically. I enjoyed how Darren and Dylan engineered the voices to sound like they were almost caught in a radio transition from another station crossed with a song from another time.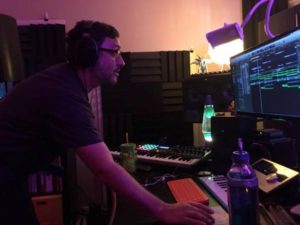 'Sky' has a bit of a NEW ORDER vibe doesn't it?
Dylan: That is very perceptive, wow! The song started out as a homage to 'Your Silent Face' and 'Love Vigilantes.' The first thing I wrote was the arpeggiated bass line using u-he Diva and mimicking a Juno 106. I then added some soaring strings that were also NEW ORDER inspired. Gaku's guitar was also in the vein of 'Love Vigilantes.' Darren composed the vocal melody, and his singing really made the song in my opinion.
Darren: I wanted to mix the feel of synth pop vocals like NEW ORDER, PET SHOP BOYS and DEPECHE MODE with a more soulful tone. I think the last great combination of this was Alison Moyet and Vince Clarke in YAZOO and wanted to carry on that feel in a new way.
Elena Charbila aka KID MOXIE contributes on a number of tracks, in particular two covers of songs originally by BAUHAUS and THE BEE GEES? What's the story behind these recordings?
Dylan: Elena really supported the dubstep direction, and she saw something in my rough versions of 'Once You Were Fire' and 'Elephant & Castle' that I was unsure about. I love the vocals she sang on those songs, and we had so much fun recording them.
The BAUHAUS cover idea came to me when I happened to listen to 'All We Ever Wanted Was Everything' on Spotify – I had not heard that particular song before, only the vampire, gothic songs that came later. When I heard it, I knew Elena could bring something out in that song, a voice of longing, a voice of time gone past. Darren, Elena and I worked very quickly on that song, and we kept it minimal. Elena sang her heart out, and then played the bass part, which we processed to recall JOY DIVISION and YOUNG MARBLE GIANTS. Gaku added a guitar that we wanted to sound a bit like THE JESUS & MARY CHAIN.
When we finished recording, Elena proposed 'Holiday,' another song I had never heard of. It was an early tune by THE BEE GEES that KID MOXIE used to end their live shows with. I thought it would be a good way to end the album.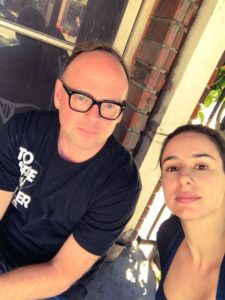 How did you come to be working with KID MOXIE on her 'Perfect Shadow' EP?
Dylan: By the time WestOne commissioned 'Perfect Shadow', Darren, Elena and I had worked together quite a bit, including on her album '1888', the 'Lost In Stars' songs and the remix of ERASURE's 'Sacred' for Mute and Undo Records. We worked great as a team.
So Elena trusted both Darren and I from a production and co-writing standpoint. We were all really in sync, and Elena could tell that we understood her vision for the new work
So how does the creative dynamic between you differ when it is a LOST IN STARS track as opposed to a KID MOXIE one?
Dylan: LOST IN STARS is ostensibly my project, with the heavy involvement of Darren Burgos. I consider it a collaborative effort, and LOST IN STARS would not exist but for the stars: Darren, Elena and Alysa. KID MOXIE is Elena's project and is ultimately her vision, that cinematic pop that is not afraid to go to dark places. When Darren and I work on KID MOXIE music, it is a great collaboration but our contributions are intended to fit into the KID MOXIE world.
Are you planning any further collaborations with Elena Charbila?
Dylan: Yes, I hope that Elena will always be involved somehow. I definitely would like Elena to sing on some of the songs I'm writing that are inspired by the artist Ren Hang's 'depression diary'. I think her voice will capture the beauty and the sadness.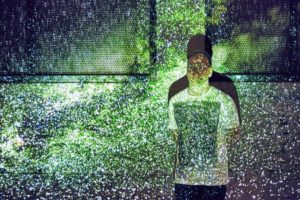 How do you think that electronic pop is seen within the LA environment you are based and where do you see it generally heading?
Dylan: I think electronic pop has been an important part of the LA music scene for quite some time, and didn't totally die out when grunge came along. The kind of fandom that you see in the DEPECHE MODE '101' documentary from the 1988 Rose Bowl concert has not really diminished.
I think that electronic pop has sparked interest in a younger generation who have been introduced to it anew with the resurgence of 80s music. It's not even just hipster-ironic to enjoy 80s music again – younger listeners actually like the music without condescension.
A lot of the great music venues in town feature electronic acts, from the Hollywood Bowl and The Greek Theatre to the Wiltern, the Regent, the Echo, and the Troubadour, to name a few. Alpha Pup Records and the Low End Theory concerts have also enabled electronic artists to flourish, including musicians like FLYING LOTUS, THUNDERCAT, THE GASLAMPKILLER, ASTRONAUTICA, DAEDELUS and TOKIMONSTA. Musicians who are masters of modular synths, like Kaitlyn Aurelia Smith, are also gaining a good deal of attention. Radio stations including KCRW and dublab have been big supporters of all kinds of electronic music.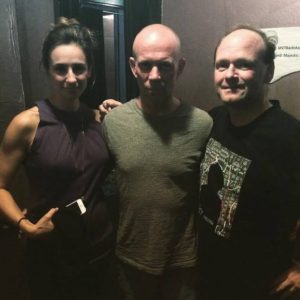 Where it's heading? Hopefully not rows of people each wearing their own Virtual Reality headpieces and accidentally hitting each other.
The thing I love about electronic pop is that it makes you dance. And dancing is joy. And dancing with other people takes place in the real.
I think that electronic music will keep broadening in appeal and will not be limited to niches. I think it will continue to become more legitimate as a genre and as an influence on other genres.
What's next for LOST IN STARS?
Dylan: Health permitting, I will try to write a sequence of songs inspired by the artist Ren Hang, whose journal I discovered in Guernica Magazine, translated by Amanda Lee Koe. The journal entries are almost unbearably sad and gut-wrenching, but also beautiful, well-observed, insightful and poignant.
---
ELECTRICITYCLUB.CO.UK gives its warmest thanks to LOST IN STARS
'Lost In Stars' is released by Dark Sky Covenant Records and available via https://lostinstars.bandcamp.com/album/lost-in-stars
https://www.lostinstars.space/
https://www.facebook.com/LostInStarsMusic/
https://twitter.com/LostinStarsBand
---
Text and Interview by Chi Ming Lai
3rd August 2017