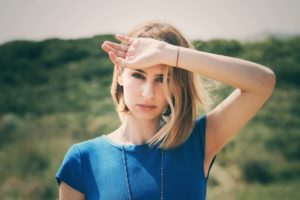 KID MOXIE is Elena Charbila, the Greek born singer and actress who likes to make music with friends.
Working best in collaboration, with her well-received album '1888', Charbila effectively blossomed and displayed an inventive maturity on both electronic and organic sides of her work after the gutter pop of her early releases.
Her latest release 'Perfect Shadow'
is a six track EP, bolstered by five remixes from an assortment of contributors including MARSHEAUX and TAREQ. The opening song '4AM'
is both lovely and haunting, oozing a nocturnal electro folk atmosphere. Meanwhile, the sumptuous 'Dirty Air' adds little piano flourishes over the driven synthwave soundtrack as a new element to the KID MOXIE sound. Enigmatic and sexy, Charbila comes over as a fine electro femme fatale.
But 'Still High'
is mighty, with Charbila's voice as seductive as ever. Co-written and co-produced by our heroine with Darren Burgos and Dylan Willoughby, this is gloriously cinematic synthpop with a touch of maiden iciness.
With guitar and string machine sitting in unison, 'Under This New Light'
sees some aggression by recent Moxie standards, courtesy of a hard percussive backdrop and a chunky lead synth riff.
Percolating synths and meditative vocals dominate on the two minute interlude 'Girl Without A Secret'
before the closing title instrumental helmed by regular collaborator THE GASLAMP KILLER. Utilising filmic orchestrated textures and VANGELIS type sweeps, it echoes early GOLDFRAPP by adding echoing whistles in that classic Morricone style over the arpeggiated bliss.
Of the five track appendix, the MARSHEAUX rework of 'Dirty Air'
is superb, with a sprinkling of metallic DM fairy dust added to proceedings while TAREQ adds a faster house tempo to 'Still High'.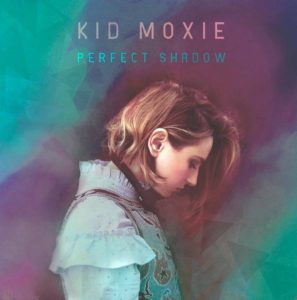 The dPEN remix of 'Girl Without A Secret' will work well in those club DJ sets that feature no vocals, but the other remixes won't be missed once the final playlists are assembled.
'Perfect Shadow' is a natural progression for KID MOXIE following the artistic leap from 2009's 'Selector' to '1888', and reflects how Elena Charbila has finally found her voice and style, "in and out of sight". Remixes aside, this six song sequence of dreamy elegance is KID MOXIE's best body of work to date.
---
'Perfect Shadow'
is released on CD by Amour Records, available via https://kidmoxie.bandcamp.com/album/perfect-shadow
http://www.facebook.com/kidmoxie
http://soundcloud.com/kidmoxie
https://twitter.com/KIDMOXIEMUSIC
---
Text by Chi Ming Lai
Photo by George Geranios
1st August 2016, updated 30th December 2017