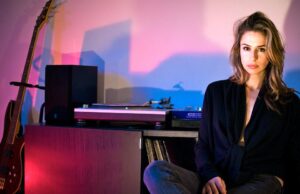 KID MOXIE is the musical moniker of Elena Charbila, the Greek born bass playing singer and actress based in Los Angeles.
Her 2007 debut EP 'Human Stereo' featured the atmospherically Gallic 'La Romance D'Hiver'
which appeared on the soundtrack of the TV series 'The L Word'. A full length album 'Selector' was released by Undo Records in 2009.
Continuing her association with Undo, she guested on NIKONN's album 'Instamatic'
in 2011. On it, her contributions on 'The Sea' and 'Moby Is Around' provided the most perfect of Aegean chill out tunes while 'Nikonn Vals'
provided a dreamy Hellenic take on GOLDFRAPP's 'Oompa Radar'
This year, she recorded possibly her best song yet as KID MOXIE with the beautiful transience of 'The Bailor'; the song has become a favourite of DJs like Rusty Egan. Meanwhile, a Wayfarer remix was recently commissioned in aid of the David Lynch Foundation.
The second KID MOXIE album is slated for 2014 and is set to feature a collaboration with renowned film composer Angelo Badalamenti via a new version of 'Mysteries Of Love' which he co-wrote with David Lynch and originally recorded with JULEE CRUISE. Meanwhile, her marvellous collaboration with FOTONOVELA called 'Freeze Frame' has just been released on their new album 'A Ton Of Love'.
Keeping herself busy with a variety of musical and acting projects, Elena Charbila kindly took time out to speak to ELECTRICITYCLUB.CO.UK about her varied career so far…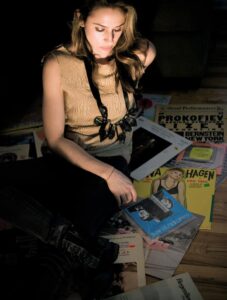 The KID MOXIE project has developed quite considerably since the 'Human Stereo' debut EP and your first album 'Selector'. How have your found your musical journey so far?
I feel that making albums is much like keeping a very personal diary of your life. The time that has passed since 2007 has changed me and that gets reflected in the sounds I'm inspired to create.
If I were going to explain in terms of genre crossing, the music I was making back then was closer to electro pop/gutter pop, whereas now it's more cinematic pop.
Who or what have been your main influences?
Caves with stalactites and stalagmites. I have always liked the way they make me feel.
MARSHEAUX's remix of 'Medium Pleasure' was the track that many came to know your work. How does it feel to have your work reinterpreted by others, especially when the resultant consensus sometimes judges the rework to be better?
It's very refreshing to have my stuff remixed by musicians whose taste I trust. MARSHEAUX are so talented and I might even agree that they made the song sound better than the original!
Working with NIKONN on his 2012 'Instamatic' album appeared to have pointed you to a more breathy continental vocal style which influenced the sound of 'The Bailor'?
I am not sure if there was a direct influence between NIKONN's album and 'The Bailor' but I tend to believe that everything is interconnected so there is a chance that this might be true. NIKONN's album is definitely a very beautiful and ethereal musical journey, which really agrees with me aesthetically.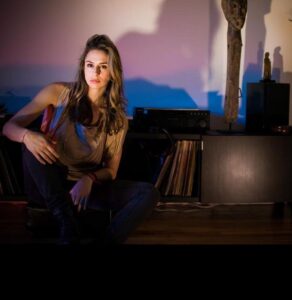 Where did the idea for 'The Bailor' come from and how did it take shape in the studio?
My good friend who I co-wrote the song with, Seth Olansky, came to me with that title and I found it to be pretty ambiguous and therefore, inspiring.
The definition of a bailor is "someone who gives something to someone for safe keeping". That idea sparked much of the lyrics and the melody that followed. Then Dan Hoal (producer for most of the KID MOXIE stuff) added his beautifully scratchy baritone vocals to the track and when they were layered underneath mine, they created a really nice sonic sandwich.
A Wayfarer remix of 'The Bailor' has been released in aid of the David Lynch Foundation. How did you become involved with the organisation and what are its aims?
Apart from having been a hardcore David Lynch fan since I was a teen, I am also a great fan of the causes of his Foundation, which are mainly to help underprivileged populations across the world by raising awareness towards their issues and implementing Transcendental Meditation, along with other methods in order to heal traumatic stress. The David Lynch Foundation has accumulated a great roster of artists (including Moby, Dave Stewart, Iggy Pop, Katy Perry etc) that help raise awareness through performance and music creation, whose proceeds benefit the DLF's charities. I feel fortunate to be part of the DLF family.
You have a further connection with David Lynch in that you've recorded a version of 'Mysteries Of Love' from 'Blue Velvet' with none other than Angelo Baladamenti himself?
Angelo Badalamenti apart from being one of the most innovative film composers of all times is also one of the most generous and gracious people I have ever met. I am truly grateful that he trusted me with his newly recorded composition of 'Mysteries Of Love'. The lyrics were written by David Lynch himself.
The more recent KID MOXIE material including 'Freeze Frame' for FOTONOVELA on their album 'A Ton of Love' has a much more widescreen, atmospheric template than your previous work. How will your new album differ from 'Selector' and does it have a title yet?
There is no official title for the new record yet but it will be out next spring. It is a very different sound and atmosphere from 'Selector'
which was more playful and girlie. The new album is a more cinematic approach to pop.
'Selector' was released on Undo Records and you are very much part of the extended Undo electro family; they have a reputation for innovative packaging. Have you decided how you will release your next album and how the artwork will reflect the music?
The artwork will definitely have to reflect the essence of the album. There is nothing set yet, but I am talking to a very talented UK photographer whose aesthetic really matches the music in the album.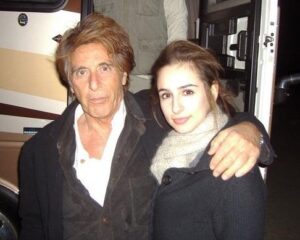 Do you see yourself as a musician, actress or just an all round artist? Do you find it difficult to be taken seriously with such a varied portfolio of abilities?
Both acting and music come from the same need, the need to express myself. With music, I have a greater freedom cause I get to write, direct and perform exactly what I want, the way I want to perform it. I feel that as long as you love and respect the work you do, being taken seriously should be a natural consequence of that.
But music isn't that straightforward to earn a living from these days, certainly compared with other artistic professions, not that it's easy anyway! How do you keep yourself motivated?
My experience has been that if you create something of quality, and you believe in it enough, it will (sooner or later!) earn you a living. Loving what I do is the motivation itself.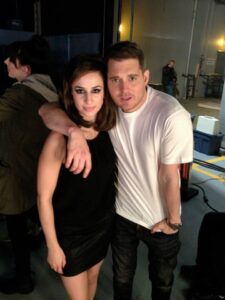 You recently appeared in a Michael Bublé video. How did that come about and what was that like?
I flew to Canada to shoot three videos with Michael Bublé as part of his band. His production team was looking for a (real) female bass player to support him and after seeing my videos, they got in touch with me through my agent and a few days later, we were shooting in Vancouver. Buble was such a sweet and down to earth kind of guy and made every one feel like we were a little family.
You've also worked with Al Pacino in the film 'Wilde Salome' … is there anyone else you would like to work with?
There are so many people I would love to work with still. I would be thrilled to collaborate with musicians like BAT FOR LASHES, ZOLA JESUS, TRENTEMØLLER and so many more. As far as acting, I do love comedy so much so I'm looking forward to getting more parts that make room for a lot of silliness to take place.
What are your future plans, either as yourself or KID MOXIE?
I am currently putting the finishing touches on my album, to be released next year. I will also be acting in a movie in January that stars Malcolm McDowell; it's called 'Bereave'. I am also involved in making some music for that film, and that's something I am very excited about.
---
ELECTRICITYCLUB.CO.UK gives its warmest thanks to Elena Charbila
'The Bailor' is available as a download single
'Selector' is available as a download album via Amazon and iTunes
http://www.facebook.com/kidmoxie
http://www.reverbnation.com/kidmoxie
http://soundcloud.com/kidmoxie
http://www.davidlynchfoundation.org.uk/
---
Text and Interview by Chi Ming Lai
19th December 2013