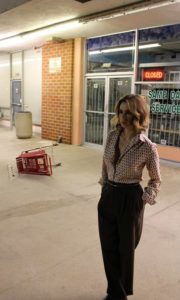 'Dirty Air' is the first new material to be previewed from KID MOXIE's upcoming EP 'Perfect Shadow'.
The musical project of LA based Elena Charbila, the acclaimed accorded to her second album '1888' from magazines such as Mojo led her to be dubbed "the Greek GOLDFRAPP".
With the gentle piano flourishes and Film Noir atmospherics on 'Dirty Air', the cryptic promo video sees Charbila doing her femme fatale thing within a suitably cinematic, but surreal environment. She said: "The whole video has to do with appearances being deceiving. With love being a guttural feeling. How we 'vomit' emotion. How falling for someone can feel like falling into an abyss. That black oil serves as a portable abyss."
The sumptuous Hellectro vibe of 'Dirty Air' is deeply reminiscent of fellow Athenian songstresses SARAH P. and MARSHEAUX. It's a sign of how musically creative the region has become over the years and with artists of similar heritage such as MARINA & THE DIAMONDS and FEATHERS also making waves around the world, Greece is the word…
Meanwhile, the new KID MOXIE EP scheduled for release in July is a natural progression following the artistic leap from 2009's debut 'Selector' to '1888'. A MARSHEAUX remix of 'Dirty Air' will also be featuring. Prepare for a work swathed in darkness and light with a luscious nocturnal moodiness, layered in melancholy.
---
'Dirty Air' is available as a download single
http://www.facebook.com/kidmoxie
https://twitter.com/KIDMOXIEMUSIC
---
Text by Chi Ming Lai
Photos by Jamie Clarke
11th June 2016