Fe-Mael Intuition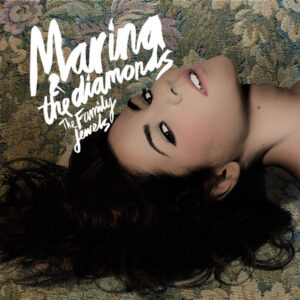 With cackles of laughter and neo-operatic vocal energetics, MARINA & THE DIAMONDS brings us the first great album of 2010.
Coming over like a LENE LOVICH fronted version of SPARKS, 'The Family Jewels' is both kooky and accessible. Amongst all the baroque arrangements and expressions of self-doubt, there are hooks galore and singalong choruses.
While one of her best early tracks 'Seventeen' may be missing from this debut, the thirteen (fourteen if you buy from iTunes which features the title track as a bonus) that occupy this very Eurocentric opus will not disappoint.
While Marina Lambrini Diamandis (for it is she) may be obsessed with the mess that's America on the brilliantly glitzy single 'Hollywood', she remains attached to her Greek heritage as some of the melodic interfaces on the bimbo baiting 'Girls' show. Co-written and produced by Pascal Gabriel, his influence also shapes the most synth-poppy item on the menu 'Shampain'. Reprising the double claptrap percussive hook that made LADYHAWKE's 'Magic' (also the work of Gabriel) so hypnotic, this is a potential hit single
Proving she can do electro as well as LA ROUX or LITTLE BOOTS, Marina also turns her attention to other styles such as the neo-Bond theme 'Rootless', auto-tuned angst rock on 'Are You Satisfied?' and her beautiful girl on a piano ballad 'Obsessions'. There's even an amusing mini boho-rhapsody in 'Hermit The Frog'.
Aided for most of the album by ex-SNEAKER PIMP-er Liam Howe at the production helm, he allows her the freedom to experiment with all her quirky ideas while shaping them into something artful but accessible. One of the most outstanding outcomes of this partnership is 'Mowgli's Road'. It's KATE BUSH doing the Dr Who theme riff and is just so wonderfully cuckoo with its references of spoons scooping into your brain that can't help but make you raise an eyebrow and smile!
Back to the SPARKS theme though, 'I Am Not A Robot' has to be one of the most heartfelt pleas for solidarity since the Mael brothers' 'Never Turn Your Back On Mother Earth'. The Greg Kurstin directed 'Oh No!', a last minute addition to the album is that fantasy collaboration of Russell and Ron working with GOLDFRAPP!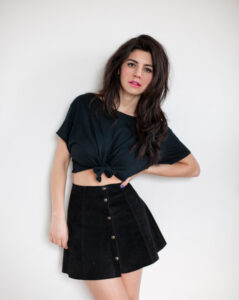 Another spectacular highlight is 'Numb' which possesses an orchestrated drama. 'The Outsider' pulses wildly with piano and synth while the percussive closer 'Guilty' exposes another of those emotional conflicts that Marina sings about throughout this album.
So to Marina's contralto voice – you'll either love it or hate it. With inflections and quivers in syllables where there shouldn't even be syllables, for some she will be annoying.
For others, she will be the most startling vocalist in this generation dominated by ladies. Diva-esque and magnificent, in many respects, she could be 2010's LA ROUX!
Ignore if you must, but you really will be missing something!
---
'The Family Jewels' is released by 679/Atlantic Records
http://www.marinaandthediamonds.com/
https://www.facebook.com/marinaandthediamonds/
---
Text by Chi Ming Lai
15th March 2010, updated 20th October 2013