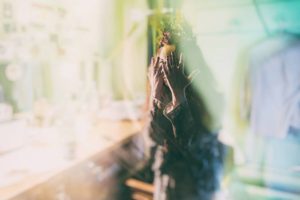 As a trailer to her first lull length album 'Who Am I', SARAH P. has unveiled a striking video for the title track…
Having previewed the introspective synthpop of 'Teach Me How To Love' and the haunting 'Berlin During Winter' already, 'Who Am I'
comes over as possibly her sparsest and most emotive number yet.
With hypnotising hints of KATE BUSH, percolating Sakamoto-like textures prevail as the Greek-born songstress announces "I don't know where I come from… do you know my name?" before a metronomic beat kicks in to lead a dramatic house-laden climax. The song is an ode to "humanity, the world we live in and our importance (or unimportance) as individuals and / or as a whole" according to SARAH P.
The video by Italian director Oirot Buntot is a mini-arthouse movie filmed at the Teatro Rossi Aperto in Pisa and paints a moving picture of the philosophical question "Who am I and where I come from?"
Strangely perhaps, the film was actually conceived to another song. But as SARAH P. eloquently puts it: "Science may have proved that opposites attract each other – but that doesn't always apply in life; like-minded people attract each other, too – perhaps more often than rarely. And since I'm a romantic, I like to think that a series of events brought Oirot Buntot and me together to magically intermix our artistic work and serve each other's vision, while enhancing our own. How many chances for two independent artworks that were made at a different time, to find each other and become one thing?"
And it all comes together perfectly in this musical tale of modern day disorientation.
---
'Who Am I'
is available now as a download single, the album of the same name out on 12th May 2017 via EraseRestart Records.
https://www.facebook.com/sarahpofficial/
---
Text by Chi Ming Lai
Photo by Christoph Neumann
6th April 2017