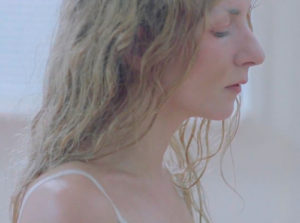 IAMAMIWHOAMI is the enigmatic electronic multimedia project fronted by Jonna Lee and managed by DEF, the same stable that represent THE KNIFE, ROYKSOPP, ROBYN and MOBY worldwide.
First coming to the attention of the musical cognoscenti via a set of mysterious viral videos with alphanumeric code titles, media speculation was rife that this was a side project by BJORK, THE KNIFE and even CHRISTINA AGUILERA!
Following another YouTube campaign, the first purchasable full length download releases which featured single letter titles and eventually formed the 'B.O.U.N.T.Y.' indicated that even without the visuals, behind the mystery and the perceived pretence, there was accessible avant pop. From that collection, 'T' was an undoubted highlight.
But the best was yet to come with two outtakes from the sessions, 'Clump' and 'John'. 'Clump' was a synthetically charged amalgam of vintage sounds with a toy piano thrown in for good measure. Delightfully odd in that BJÖRK-like fashion, 'John' continued the tradition. And now, following a track-by-track audio visual campaign, Jonna Lee with silent partner and producer Claes Björklund release their long-awaited first full length physical album 'Kin'
The album opens superbly, 'Sever' is surreal and otherworldly while 'Drops' is more uptempo, almost trancelike but without the overbearing beats that a lot of contemporary dance music suffers from. The fits of noise and shivering textures add to the hypnotism. Although comparisons can be drawn immediately with FEVER RAY, 'Kin' is quite different in that musically, it is low on drones and atonal experimentation. But while still sonically leftfield, there are ice station melodies, primitive rhythm units that are strangely futuristic and windy widescreen effects that hop from channel to channel.
Indeed, 'Kin' is head music, probably best suited to headphones for the full drama to be appreciated. The high standard is mantained with 'Good Worker', while 'Play' offers a cacophony of KATE BUSH-like voices to an off-kilter beat before the deviantly wonderful 'In Due Order' takes hold. A vintage sequence drives 'Idle Talk' over glacial atmospheres while 'Rascal' takes a funereal pace with Jonna Lee's vocal samples coming over like Arctic gospel as of snaps of synth burst in.
The frosty 'Kill' acts as an eerie basecamp before the final ascent into 'Goods'. Here, the percussion and bass take on classic synthpop territory while a brilliantly freeform electronic lead line segues the verses on possibly the most immediate song on the album. It's almost like THE KNIFE meets LITTLE BOOTS!
Jonna Lee's piercing larynx will polarise listeners like Karin Dreijer-Andersson or Björk Guðmundsdóttir have done before her but they do provide a raw edge to accompany the wintry soundscapes. Nordic weirdness in all its glory; across its nine tracks, 'Kin' is dreamy and trippy, a mind expansive experience that will satisfy aural curiosity.
---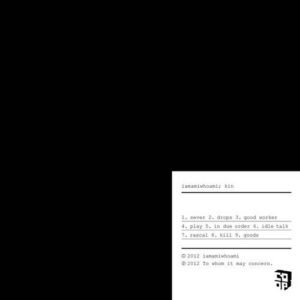 'Kin'
is released internationally in CD+DVD, download and vinyl formats on 3rd September 2012 by Co-Operative Music/To Whom It May Concern
IAMAMIWHOAMI plays the UK for the first time at London South Bank Centre's Ether Festival on 10th October 2012
http://www.youtube.com/user/iamamiwhoami
http://www.facebook.com/pages/iamamiwhoami/270417754335
---
Text by Chi Ming Lai
30th August 2012