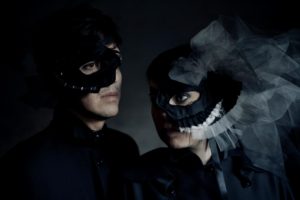 EVOKATEUR are Sarah and Hector Villaraus, a duo who blend electro gothic cinematics and mechanised beats with emotive melodies.
Even in "a dark world of ashes", one needs hope in moments of despair. Melancholic they maybe but doom merchants they are most certainly not… Sarah's vocals provide a dreamy contrast to the occasionally post-apocalyptic soundtrack. Time Out have called them: "Sinister mecha-pop".
Their first single 'Wolf Girl' released in March 2011 launched their stark but accessible sound. But the single's B-sides also showed an appreciation of the darker side of the Moog with a sinister remix of 'Wolf Girl' by GARY NUMAN and ADE FENTON plus a beautifully resigned cover version of TEARS FOR FEARS 'Mad World'.
From their first EP 'Crow's Wedding', the lovely 'Wildflowers' was glittery but tinged with sadness, while there was also the slightly more dance laden 'Be Careful What You Wish For'. The duo's accompanying grainy self-made video certainly added a gone to earth aura. Meanwhile, 'Same As You' was pretty modulating synthpop, up there with the Nordic influenced crystalline demeanour of QUEEN OF HEARTS. 'Undone' though adopted a more unsettling shade but despite the drones and distorted noise, it was carried off without being dour or resorting to witchery.
Their new six-track release 'Chime Hours' is the second in series of three EP releases which will gradually form an album's worth of material. From it, 'White Horses' is laced with Eurocentric grandeur and angelic beauty. It is perhaps has hints of SCHILLER's 'Playing With Madness' but with grittier overtones.
'1684' ups the tempo and is almost like MEDIAEVAL BAEBES meets DEPECHE MODE, while the moodier 'Post' adds operatics and swirling neo-theremin. Continuing their downtempo excursions, 'How Long' is held together by a sparse framework with minimal percussive elements that build for some chilling breathy atmospherics.
EVOKATEUR do dark but they do pop as well, although the spectre of LAMB's 'Gorecki' does loom. It sounds very promising so their development will be observed with interest.
---
The 'Crow's Wedding' and 'Chime Hours' EPs are available as downloads via iTunes and Amazon
http://soundcloud.com/weareevokateur
---
Text by Chi Ming Lai
1st September 2012