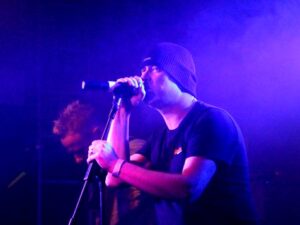 Exciting are the times when two great bands come together to do a gig, one that will lighten up the darkest and coldest January night.
MESH and VILE ELECTRODES performed at The Garage and the event was certainly one to remember. Richard Silverthorn of MESH mentioned that he would never choose mediocre bands to support them, as he was more interested in the overall experience for the ticket buyer, rather than being the top dog and shining above all others.
That certainly was true for this gig; the headliner being one of the most celebrated alternative electronic acts that the UK has to offer with years of experience and multiple albums to showcase their immense back catalogue; and the main support, an extremely unique duo with superb synth interplay and quirky vocals, fast gaining popularity both in the UK and Europe. The Garage was certainly the place to be.
2014 closed a chapter for VILE ELECTRODES, a period which has seen them support OMD and JOHN FOXX as well as playing live in front of ex-members of KRAFTWERK. So for their first gig of 2015, the South Coast based synth couple took the opportunity to air some new material.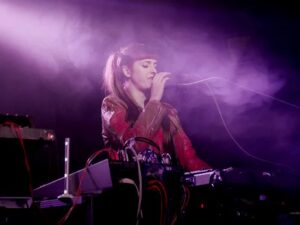 Despite taking a running start with the accessibly groovy 'Empire of Wolves' from their first album, it was straight onto the road test with 'Drive', a great little electronic ditty that was pleasingly immediate, yet fresh as well.
The dynamics of studio and live performance are quite different so although very promising, 'Last Of The Lovers' went on a bit too long, a fact that was dwelled upon by Anais Neon who endearing admitted to forgetting to cut out the last verse in the planned edited version they had rehearsed.
But while not yet fully formed, the other new songs 'Evidence' and 'Stark White' showed why VILE ELECTRODES have been winning music awards in Germany and enthusiastically championed by OMD's Andy McCluskey.
Non-album EP track 'Re-Emerge' made a welcome return to the set, its energetic arpeggios now augmented by a barrage of Simmons drums from Martin Swan.
Meanwhile 'Proximity' and its haunting synth line borrowed from JOY DIVISION's 'Decades' closed a well received set in front of an almost capacity crowd. MESH began their part proceedings with singer Mark Hockings standing by the mixing desk with stripped down renditions of 'Trust You' and 'Not Prepared'.
This was a brave way to start with the beany capped Hockings exposed, but fully relishing his challenge. The full live band of Silverthorn, Sean Suleman (drums) and Richard Broadhead (keyboards) launched into 'Flawless' as the singer rejoined his bandmates on the stage and so began a passionate set, dealing with the downturn of relationships, both personal and virtual.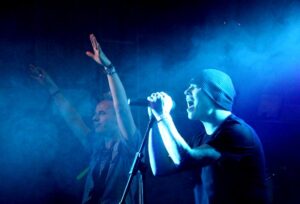 Indicative of the Bristol combo's success in Europe, fans had come from all over the continent for this special show with German being the dominant language in the venue.
These fans were treated to a wonderful surprise in a terrific cover of YAZOO's 'Tuesday' as Hockings did a fine tribute to Alison Moyet without actually trying to imitate her. This early Vince Clarke song was effectively turned into one of MESH's own while still retaining its original essence and grace.
The dark yet uplifting 'Crash' from 2006's 'We Collide' provided a great dance rock moment with plenty of anthemic qualities. And it's this that MESH do best, emotive gothic tinged electro with melodies and the occasional dancefloor tendency. There was another surprise when REPUBLICA front woman Saffron made a special guest appearance on 'Who Says', a number from 'A Perfect Solution' which was originally a boy/girl duet with Julia Beyer of cult German band TECHNOIR.
The surprise pairing certainly kept the crowd in good spirits as they went on to enjoy further excellent songs from MESH's most recent album 'Automation Baby' such as 'Never Meet Your Heroes', 'Just Leave Us Alone' and 'Adjust Your Set'.
Incidentally during 'You Didn't Want Me', former MESH live keyboardist Geoff Pinckney made a passing remark that watching his former colleagues live from the other side was "very emotional".
The rousing stomp of 'You Want What's Owed to You' and a fine crowd singalong conducted by Richard Silverthorn during the closing bars of 'Taken For Granted' was warmly embraced by all in attendance, with that latter now possibly MESH's own 'Never Let Me Down Again'. Returning with fan favourites 'Born To Lie' and 'Friends Like These' for the encore, MESH ably delivered to their loyal public.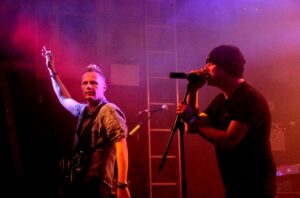 With every UK MESH gig, the audience receives a rare treat. First of all, the exquisite performance from the band themselves, both musically and vocally, with Mark Hockings being indistinguishable from the album recordings.
Secondly with the choice of their main support; VILE ELECTRODES were a perfect pick and followed in the footsteps of KLOQ, DE/VISION and TORUL, each unique and fresh, making the whole experience truly one to remember. It was a most satisfying way to begin the year's busy gig schedule.
---
ELECTRICITYCLUB.CO.UK gives its warmest thanks to Richard Silverthorn
MESH play 'Gothic Meets Classik' with COVENANT and ANNE CLARK at Leipzig Haus Auensee on SATURDAY 24TH OCTOBER and Lepizig Gewandhaus on SUNDAY 25TH OCTOBER. Details at http://www.gothic-meets-klassik.de/
VILE ELECTRODES play 'A Secret Wish' at The Lexington in London on SUNDAY 18TH APRIL with SISTA MANNEN PÅ JORDEN and guest DJ JOHN FRYER. Tickets are £10 in advance or £15 on the door, available from https://billetto.co.uk/asecretwish
http://www.facebook.com/vileelectrodes
---
Text by Chi Ming Lai with thanks to Monika Izabela Goss
Photos by Ray Davis and Andrew Garley
4th February 2015