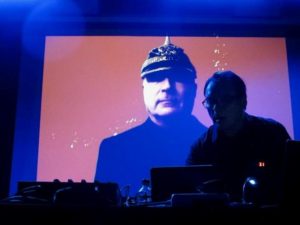 A packed Hoxton Bar was filled to capacity including the DJ who helped popularize KRAFTWERK in UK, Rusty Egan, Stevo Pearce of Some Bizarre, Clive Pierce from HARD CORPS, VILE ELECTRODES and assorted members of SPEAK & SPELL and ANALOG ANGEL.
Support DJ Annie Hogan did a sterling job in warming up the crowd with spins of SOFT CELL's 'Memorabilia', a remix of FAD GADGET's 'Coitus Interruptus' and the 'Travelogue' version of 'Being Boiled'.
During the evening's main set, several of the background images flashed up "WOLFGANG FLÜR – ex-KRAFTWERK", but in reality, the man (machine) himself needed no such introduction.
There was a huge sense of anticipation as to what Flür would perform, as aside from his time spent with KRAFTWERK and YAMO with MOUSE ON MARS, there has been little in the way of solo work and only the recent release of 'Activity Of Sound' by iEUROPEAN (coincidentally Sean Barron of that project was present tonight too).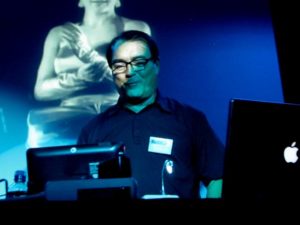 The set started promisingly with a hard-edged remix of 'Home Computer', whilst behind Flür were projected images of his time spent in KRAFTWERK, many of them from his private collection, showing an often unseen and candid side of the band that Hütter and Schneider have constantly tried to suppress. Taken alongside Flür's controversial book 'I Was A Robot', many of the show's images seemed calculated to help destroy the myth of the band as being automatons who only exist to clock in and out of Kling Klang studio, didn't have girlfriends, and (God-forbid) enjoyed a social drink or two!
One could easily imagine the sight of Ralf Hütter walking in on the set and face-palming at the sight of some of the (less than flattering) images on show here. However, for the crowd, it provided a fascinating insight into some of the lesser-seen life and times of this iconic German band.
Throughout the set, Flür DJ'd using a Mac and occasionally manipulated a Korg Kaoss pad to filter some of the tracks, and after about 20 minutes it soon became apparent that the set was going to be far from a laurel-resting KRAFTWERK 'Greatest Hits' performance despite the reliance on images which seemed to suggest otherwise.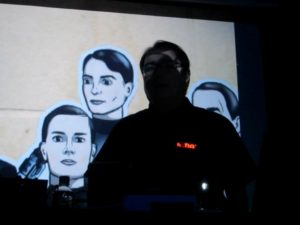 Tracks such as 'Overdrive' from Karl Bartos' 1993 ELEKTRIC MUSIC album 'Esperanto' and the unreleased proposed sequel to 'The Model': 'Cover Girl' by the YAMO project provided some welcome relief from a set of mainly vocal-less techno which made up 80% of the tracks played. Despite a dogged determination not to play the nostalgia card, Flür seemed to thoroughly enjoy himself on stage, mimicking some of the animations behind him, throwing a few dad-dancing shapes and bringing out his Pickelhaube army hat at the climax of a driving techno set.
Ironically, the music and images seemed to click best when there wasn't the distraction of the KRAFTWERK images behind Flür, with the venues lighting flashing to accompany time-lapse footage synced to the driving beats coming from his computer.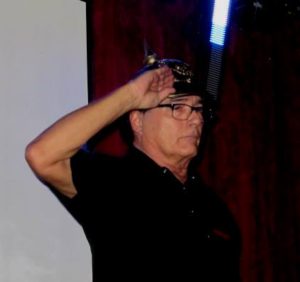 After about an hour the set was over and despite desperate shouts for an encore, Flür came back onto the Hoxton stage and explained that he didn't have one. Such is his reputation, WOLFGANG FLÜR could have probably played anything vaguely electronic and the majority of the crowd would have travelled home happy.
But for many, it may have felt like a missed opportunity not to showcase some more KRAFTWERK songs. A snippet of the "21st Century" vocal from 'Expo 2000'
made a tantalizing appearance half way through the set, but that (alongside the opening 'Home Computer' remix) was all you got.
With the unexpected passing of TANGERINE DREAM's Edgar Froese a few days earlier, it did however feel reassuring to be able to enjoy an evening in the company of one of electronic music's legendary founding fathers, and although the music played may not have been quite what was anticipated, it was still an hour spent with an undeniable legend who's band and technology formed the blueprint of much of the music we listen to today.
---
'Activity of Sound' by iEUROPEAN featuring WOLFGANG FLÜR is released on Subculture Records. The download bundle including a remix by Clive Pierce and Rob Doran of HARD CORPS is available from http://subculturerecords.bandcamp.com/album/activity-of-sound
https://www.facebook.com/musiksoldat
https://twitter.com/iwasarobot
---
Text by Paul Boddy
Photos by Richard Price
31st January 2015