Best known as a founder member of JOY DIVISION and NEW ORDER, Peter Hook is the bassist with the low slung melodic style that has spawned many imitators including Simon Gallup, Carlos Dengler, Rodney Cromwell and Pavel Kozlov.
Since his more than well-documented joyless division from NEW ORDER, Peter Hook has focussed on his biggest love, the live stage to present the albums of JOY DIVISION and NEW ORDER in full to The True Faithful. He has also published books about his time in both bands and as a co-owner of the Manchester night club 'The Haçienda' subtitled 'How Not To Run A Club'.
There have also been the side-projects REVENGE, FREEBASS and MONACO, the latter of which with David 'Pottsy' Potts was the most successful, spawning the No11 hit single 'What Do You Want From Me?'.
As well as undertaking an Autumn tour of Europe performing the material from the JOY DIVISION and NEW ORDER compilations 'Substance', PETER HOOK & THE LIGHT will be playing a number of festival dates including Rochester Castle Concerts in Kent with SOFT CELL on Friday 7 July 2023.
When the people listen to you, don't you know it means a lot? In a break from rehearsals, ELECTRICITYCLUB.CO.UK had an interesting lively conversation with Peter Hook about his past, present and future…
You are going to be opening for SOFT CELL at Rochester Castle, did you know that 'Temptation' came out the same week as 'Torch' in May 1982?
No I didn't! You've been doing your homework…
Haha! I'm just old enough to have bought both on release day! Did you feel you were onto a breakthrough when you recorded 'Temptation'?
Not as such, we'd already experimented with the synths and drum machine on 'Everything's Gone Green' which was the B-side of 'Procession', so we felt we were well on the way with that. 'Temptation' was jammed live which seems quite radical these days. Barney would have a few Pernods and then warble; we would listen to the tapes and pick bits that we thought sounded good, work on the lyrics together and then the song was done.
So 'Temptation' and funnily enough, all those early songs, we finished them afterwards live, we honed them and used the record as an experiment as well as using the live renditions. My god, we don't do that anymore! *laughs*
But we did have a very strange attitude as soon as we'd written a song… to be honest, we had very little interest in it after it was done and the big interest was the next one. So after 'Temptation', we were off doing 'Blue Monday' and working on through to 'Power, Corruption & Lies'. It was a very young attitude, we played them live because we needed to, but every time you got a better song, it would knock an older one off y'know… they were heady days shall we say!
Does this explain why in the rarer days back then that NEW ORDER would get on the telly, it would tie in with the release of a new single, but then you didn't perform that new single and played something else? *laughs*
Yeah, we would just move on, we really weren't made to "play the game" as such by Factory and we could more of less do what made us happy. It's quite interesting because it's quite naïve, we weren't interested in chart success, we still wanted to act like THE SEX PISTOLS acted, to be awkward, to be anarchistic! The whole point about being in a group was to tell everyone to f**k off and enjoy it, to get your own back on all the people who made you do what they said etc and all this cr*p.
The thing was, we were very happy to "cock a snoot" shall we say, in the true tradition of punk bands by not doing what people expected. It got us into a few nasty situations all over the world from Bradford to bloody Hamburg to Australia, we'd have riots with people quite rightly not agreeing with what we were doing! It was intensely exciting and intensely intoxicating, we were very awkward for a very long time! *laughs*
'Torch' was actually a dancefloor favourite during the early days of The Haçienda, it was No5 in the first Members' End Of Year Newsletter while 'Temptation' was No9!?
There you go, how interesting…
… but The Haçienda was quite different in 1982?
Oh my god! Y'know, The Haçienda was quite post-punk then, there weren't many people there, it was very much a "dressed-up" audience… when you get to acid house and Madchester, it was very dressed down. But those days in 1982-1983-1984, the audience dressed up in The Blitz mode, that New Romantic style, there was quite a fashion aspect to the very few people that were there at that time. So I can well imagine 'Torch' being popular because it was very much of its day musically at that time, but things changed completely in 1986-1987 onwards!
For an event like this at Rochester Castle where you are not headlining, how do you go about choosing the setlist? Do you get all bloody minded and not play any hits, or… what's your take on it now? *laughs*
Haha! My take on it now is that everyone is there to do the same thing, which is to enjoy themselves. And what we love is a bit of familiarity and shall we say, paying homage to great things that have happened to us while we were listening to this music. So it's much easier to throw yourself into it. I mean, I do loads of gigs, so if I want to do a really awkward gig and play all the daft B-sides or the album tracks that are really out there, I can do that and most of the audience still turn up and that's cool!
But the thing with a festival, it has a different vibe and you want to be part of it, it's a wave and you want to go with the wave and surf on the top of it! You don't want to be fighting your way through it. So it's much easier to be of the moment at these gigs. The thing is, it's SOFT CELL so if they didn't play their hits, people do feel aggrieved don't they because they want to celebrate the great times that have been a soundtrack to our lives.
So I will be doing songs like 'Temptation' and 'True Faith' etc enjoyably… the weird thing about NEW ORDER is we can safely say none of us enjoyed ourselves for year after year after year. I'm a lot happier and it's about having that freedom to be able to play what you want to play, when you want to play it, without some miserable tw*t giving you grief! It's just as simple as that! What do you need at a festival, you don't want someone miserable do you?
This year, there's been the 40th anniversary of 'Blue Monday' and 'Power Corruption & Lies', how do you look back on the making of those records?
Hahaha! The way I look at NEW ORDER, it's like a parallel universe! We were together for 31 years, Barney, Steve and I, we wrote all the music together, we did everything together and the thing is, we fell out, just like most groups do. But in a typical NEW ORDER fashion, we've managed to carry this for nearly 20 years and none of us have been big enough to put an end to it. I always view anything to do with a celebration with… we don't do celebrations in NEW ORDER because we can't! It's just the way it is! But 'Blue Monday' is still being used in motion pictures, five this week, it's a wonderful achievement after all that…
'Age Of Consent' is rightly hailed as a NEW ORDER classic but 'The Village' is very underrated…
Hahaha! Songs like 'The Village' and 'Face-up', they're such great pop tunes, yet never released as singles. 'The Village' has got an amazing sequenced keyboard line by Bernard, he really went to town in programming that! If you listen to the keyboard programme without taking notice of the vocals, he did an amazing job on it… it was really experimental, in a funny way like SOFT CELL or THE HUMAN LEAGUE than what people think of as NEW ORDER.
The thing is, NEW ORDER had to compromise between the rock side because of me (*laughs*) and the keyboard side because of Bernard, so you've got that wonderful marriage of rock and pop, whereas THE HUMAN LEAGUE or SOFT CELL would be much more keyboard-led. Do me a favour and listen to 'The Village' and the way the keyboard line builds and the way that it changes over those 4 and a half minutes…
I spoke to someone who Bernard has produced and he has definitely got this "something" when it comes to programming sequencers…
Oh god yeah, I mean Bernard really bored the arse off us while he was programming all these slightly different things. But then when you put them together, run it as a backing track and everybody goes over it, you got to give it to him, it's the mark of a genius… I can't stand the b*stard but I do have to give him his due for being such a wonderful musician.
The thing is, if you're not programming, you can't see or have the vision to wonder what's going to happen and what you are searching for. And when you are doing it and you are right on the moment, you have a knack of disappearing and Bernard did that, shall we say! *laughs*
The 'Low-life' boxed set came out earlier this year, is 'Brotherhood' on its way? How do you compare the two albums as I see those as like sonic cousins?
Yeah, the 'Brotherhood' one is on the way… obviously we don't work together on these! *laughs*
It's done completely separately and very coldly, the record company are usually the referee on those, but they have put some wonderful stuff together. On these two albums, we had a lot of money so we could actually experiment more and were able to do more versions because we could afford the tape. When we were doing 'Unknown Pleasures', 'Closer', 'Movement' and even 'Power, Corruption & Lies', we didn't have the money for tape, so we had to be very economical with what we were doing. We couldn't even afford to put a cassette into the machine, we just didn't have the money to do it.
So by the time of 'Low-life' and 'Brotherhood', there was a lot more freedom to have different versions, so that means the record company when they go through the tapes, they've got loads of different things that they can feature, even stuff that I'd forgotten about. They are exciting from that point of view. And also, you do get the thing about the rehearsal tapes which I don't have access to sadly. They do have access to a lot of unfinished songs like they did on 'Low-life'… these sounded quite interesting, even I was listening and thinking "we should have persevered with that one, we could have got a great song out of it". These boxed sets are interesting but because we can't stand the bleedin' sight of each other, they're always tainted…
You will be touring Europe playing both JOY DIVISION and NEW ORDER 'Substance' compilations this Autumn, is working out the running order some kind of art or is it actually really straightforward?
No, it's really straightforward because its chronological as they happen on the records. The only problem you have really is whether you play the vinyl or the CD, because the CD obviously a lot more tracks on it, so you're actually trying to work it out. The weird thing about the JOY DIVISION 'Substance' was a kind of clean-up album, it was everything that we left off or rejected from 'Unknown Pleasures' and 'Closer', so it's much more of an intense deal. 'Substance' by NEW ORDER was a collection of the singles that largely weren't on the LPs. So it's like putting in a heavyweight with a lightweight! *laughs*
So you've got to be careful how you do it. The lucky thing for me as a musician is that both JOY DIVISION and NEW ORDER left all their best tunes off the albums! So you can indulge yourself in the albums and there are some really good songs there, but they tend to be heavier and more intense than the single. The wonderful get out clause is that you've got the singles at the end! So even though you've had a heavy atmosphere, particularly with JOY DIVISION, you've got 'Glass', 'Transmission', 'Novelty', 'Atmosphere', 'She's Lost Control' and 'Love Will Tear Us Apart' to play.
For the people, and I must admit the whole reason I do this is to be with the people, who love JOY DIVISION and NEW ORDER and who've seen it before, it's interesting for me to put different tracks in each time. So this time, we're going to try and feature more tracks off the CD… because I don't want to keep them there for 4 hours, you do have to be careful, I'm not Ken Dodd! *roars of laughter*
It's funny now to think that 'Substance' partly came about due to the then-new technology formats like CD and DAT, yet decades later, the public want vinyl and cassettes?
I think it's because they have a lot of soul… I did a programme for the BBC about the 80s, it was dead wacky and I really enjoyed it… they sent me a cassette of the interview and when I got it, I thought "oh my god, that's wonderful"! *laughs*
Luckily for me, because I've got a huge collection of cassettes of JOY DIVISION and NEW ORDER, when cassettes started to go, I bought about 4 or 6 cassette players and I've got 3 of them still boxed downstairs in my studio. So I can play it… the noise, the imperfections on the vinyl and the cassette, it has a warmth and a personality that let's face it, a computer and a memory stick just doesn't.
What's next for you after the 'Substance' tour?
I'm getting ready funnily enough (Boom! Boom!) to do 'Get Ready', so I will be doing that in its entirety very soon after the 'Substance' gigs in the Autumn.
And finally, is there any truth in the rumour that you're going to do MONACO again?
Yeah, both Pottsy and I ARE going to play more MONACO when we do it… we've just had a request to do the first MONACO album 'Music For Pleasure' to be reissued on double vinyl with the singles and B-sides by a Dutch company, so you never know.
Both of us have actually moved on from MONACO, we did flirt with it for that festival in Belgium but then Covid came and it sort of just disappeared. It's one of those funny things, both Pottsy and I are having a great time doing what we are doing, he's now releasing a lot of music himself that he's amassed over the years, so he's happy now. And we're happy doing THIS together.
So I don't think we'd do MONACO again even though when we did the JOY DIVISION 'Orchestral' shows, we did a wonderful song inspired by Ian Curtis called 'Higher Love' which turned out wonderful… we never recorded it, just played it live at the gigs. It's one of those weird ones, it's a weird situation but you never know if this reissues LP comes out and it does well, maybe, but I'm not sure…
---
ELECTRICITYCLUB.CO.UK gives its sincerest thanks to Peter Hook
Special thanks to Sacha Taylor-Cox at Hush PR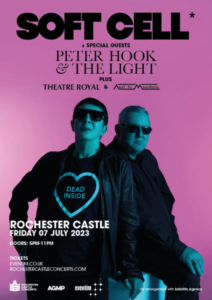 PETER HOOK & THE LIGHT play Rochester Castle with SOFT CELL on Friday 7 July 2023 – tickets from https://www.rochestercastleconcerts.com/events/
Details of the 'Substance' tour and other concerts can be found at https://peterhookandthelight.live/
https://www.facebook.com/peterhookandthelight
https://www.instagram.com/peterhook_thelight/
https://www.youtube.com/user/peterhookandthelight
---
Text and Interview by Chi Ming Lai
1 July 2023