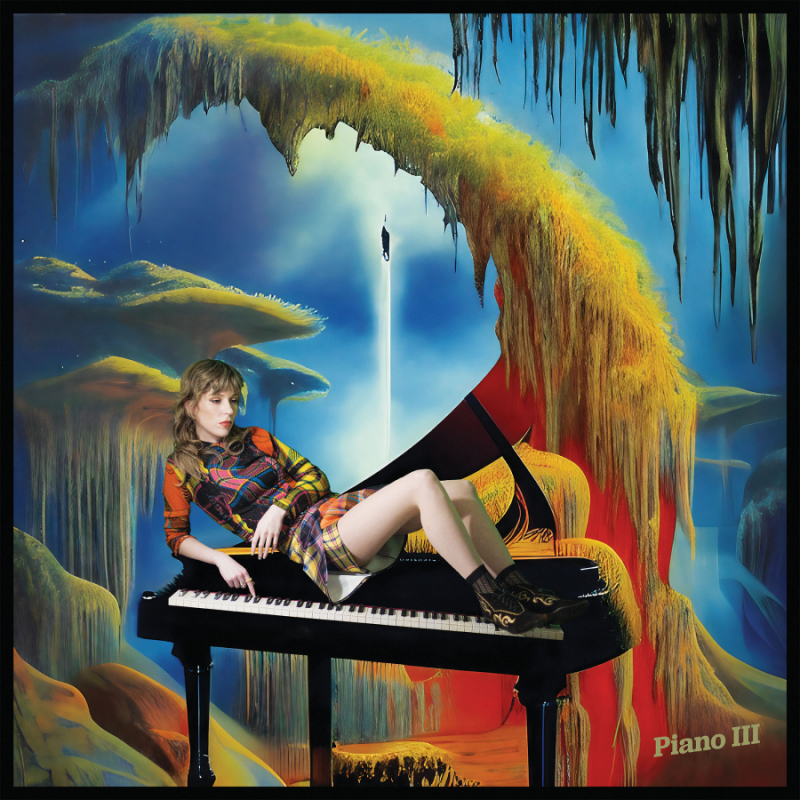 Robin Hatch is the Canadian composer whose 2021 album 'T.O.N.T.O.' experimented with the huge customised synthesizer system created for the music of TONTO'S EXPANDING HEAD BAND who also worked with Stevie Wonder on the 'Talking Book' and 'Innervisions' albums.
Having previously released piano works as well a pop album 'Noise' featuring vocals and drum machine, Robin Hatch returns to traditional ivories for 'Piano III' although despite its title, she makes use of an EMS Synthi AKS and ARP 2600.
Her sixth album in 5 years, the album was written during breaks while touring as a live keyboardist with Polaris Prize-winning hardcore punk band F*CKED UP. Recorded at the Electronic Music Education and Preservation Project in Harleysville using Keith Emerson's Steinway Model D, 'Piano III' opens the set with 'Abstract', a soothing solo piece that recalls the 'BTTB' pieces of the late Ryuichi Sakamoto.
'2600' is self-explanatory, making use of crunchy rhythmic electronics as accompaniment to the improvisation, recorded by placing contact microphones on the piano's strings run into an ARP 2600 controlled by ARP sequencer, all while synthetic strings and swoops provide a breezy atmosphere.
The more ambient 'Fairies' is gorgeous with its gently bubbling electronics and keyboard treatments reminiscent of Brian Eno's interferences in his work with Robert Fripp. However 'Manifesto' is much more boisterous, the skeletal ostinato cascades recalling Ryuichi Sakamoto 'Playing the Piano' and also John Cage when in his more tuneful mindset.
'Dispatches' makes more of an ominous piano statement with plenty of drama inspired by Igor Stravinsky's 'The Rite Of Spring'.
Perhaps not as straightforward as the other compositions, the idiosyncratic 'Waterfall' is artier and avant with the unusual sound of birds singing through Autotune.
A minimalist PREFAB SPROUT cover inspired by jazz pianist Brad Mehldau and classical player Christopher O'Riley (who is notable for his transcriptions of NIRVANA and RADIOHEAD), 'Bonny' ventures into pacier melodic inflections before the plaintive 'Fatal Attraction' closes proceedings.
Reflecting the deviating mind in solitude, with 'Piano III' being the final instalment of her piano trilogy, where will Robin Hatch head next? Not one to sit still, perhaps following her F*CKED UP touring experience, will a synth-punk album be next? Whatever happens, it will be interesting.
---
'Piano III' is released by Robin Records as a splatter green vinyl LP and download on 7 July 2023, pre-order from https://robinhatch.bandcamp.com/
https://twitter.com/robinhatch
https://www.instagram.com/robin__hatch/
---
Text by Chi Ming Lai
4 July 2023