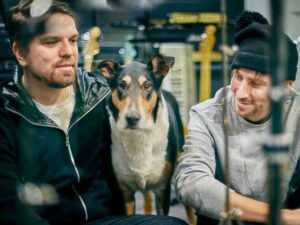 One of the best electronic pop albums of 2010 was 'Origin' by VILLA NAH.
The East Helsinki pairing of Juho Paalosmaa and Tomi Hyyppä consolidated their position by supporting OMD on their UK Autumn tour.
However, the two childhood friends went quiet afterwards and Paalosmaa formed SIN COS TAN with 'Origin'
co-producer Jori Hulkkonen;
SIN COS TAN's three acclaimed albums to date, 'Sin Cos Tan'
, 'Afterlife'
and 'Blown Away'
, plus their most recent EP 'Smile Tomorrow Will Be Worse'
, filled the void left by VILLA NAH. But the Finnish duo are now back, back, BACK!
VILLA NAH have just unleashed 'Stranger'
, a welcome return after six years that attaches Paalosmaa's melancholic songwriting prowess with Hyyppä's technical knowhow. Produced by the duo again with Jori Hulkkonen, 'Stranger' is a fine juxtaposition of swirling arpeggios and melodic tension.
Describing his outlook on life as "mostly cloudy with an occasional ray of sunshine coming through", Paalosmaa's magical but haunted voice compliments the track's fat detuned synths and hypnotic, but intelligent dance structures. It was this combination of dusty synthesizers and classic pop sensibilities that gained VILLA NAH many new fans when they opened for OMD.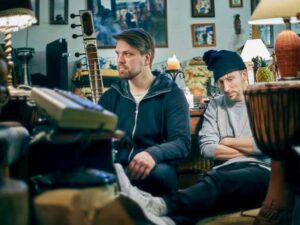 Answering a question as to why the Nordic region was a hub for great electronic music, Paalosmaa said back in 2010: "most of the time it's so dark and cold outside, you might as well just turn the synths on and stay inside…"
Live dates are planned for this summer, while the new as-yet-untitled album is set to feature songs such as 'Love Chance' and 'Lights Out' which were premiered on the OMD tour.
Now, if only MIRRORS could make some kind of return too…
---
'Origin'
is still available on CD, vinyl and download via Keys Of Life
https://www.facebook.com/villanah/
---
Text by Chi Ming Lai
Photo by Kimmo Virtanen
28th March 2016